Xtool X100 PRO3 is a professional key matching machine with 5 special functions OBD2/EOBD diagnostic function. It is an upgraded version of X100PRO2, adds EPB, ABS, TPS reset functions, which can meet the needs of multiple car owners.
XTOOL X100 Pro3 Highlights:
1. Professional key matching scanner support Pin Code Reading, ECU Initializing, Chip Programming.
2. Full OBDII Functions
3. Add "Recent Test" function. "Recent Test" can directly lead you to the menus you opened recently.
4. Compare with X100 Pro2, X100 Pro3 add EPB, ABS, TPS reset functions
5. Multi-language Available: English, German, Spanish,Portuguese, French, Italian, Polish and Russian
X100 PRO3 Functions:
1. Main works for most of Europe, Asia, America, Australia Car Models Key Programmer
2. Xtool X100 Pro3 Complete OBD2 Functions:
Reading Codes: Show the detailed description of the Diagnostic Trouble Code (DTCs)
Erasing Codes & Reset: Turns off Check Engine Light (MIL), clears codes and resets monitors.
Data Stream: Reads and displays live ECU/PCM data stream, plotting functions graphically and stores freeze frame data.
I/M Readiness Status: Shows whether the various emissions-related systems on the vehicle are operating properly and are ready for inspection and maintenance testing.
Read Live Data Stream: Show the information of continuous data stream from a vehicle in live graphic (waveform) display.
View Freeze Frame Data: Check the certain vehicle conditions which are recorded by the on-board computer at the time the emission-related fault occurs.
O2 Sensor Test: Allows retrieval and viewing of O2 sensor monitor test results for the most recently performed tests from the vehicle's on-board computer.
On-Board Monitor Test: Retrieves and displays test results for emission-related powertrain components and systems.
Read Vehicle Information: Display the information such as VIN (Vehicle Identification Number), CID (Calibration ID) and CVN (Calibration verification number), etc.
Component Test: Certain vehicle components can be actuated by commands sent from the scanner to test their operability.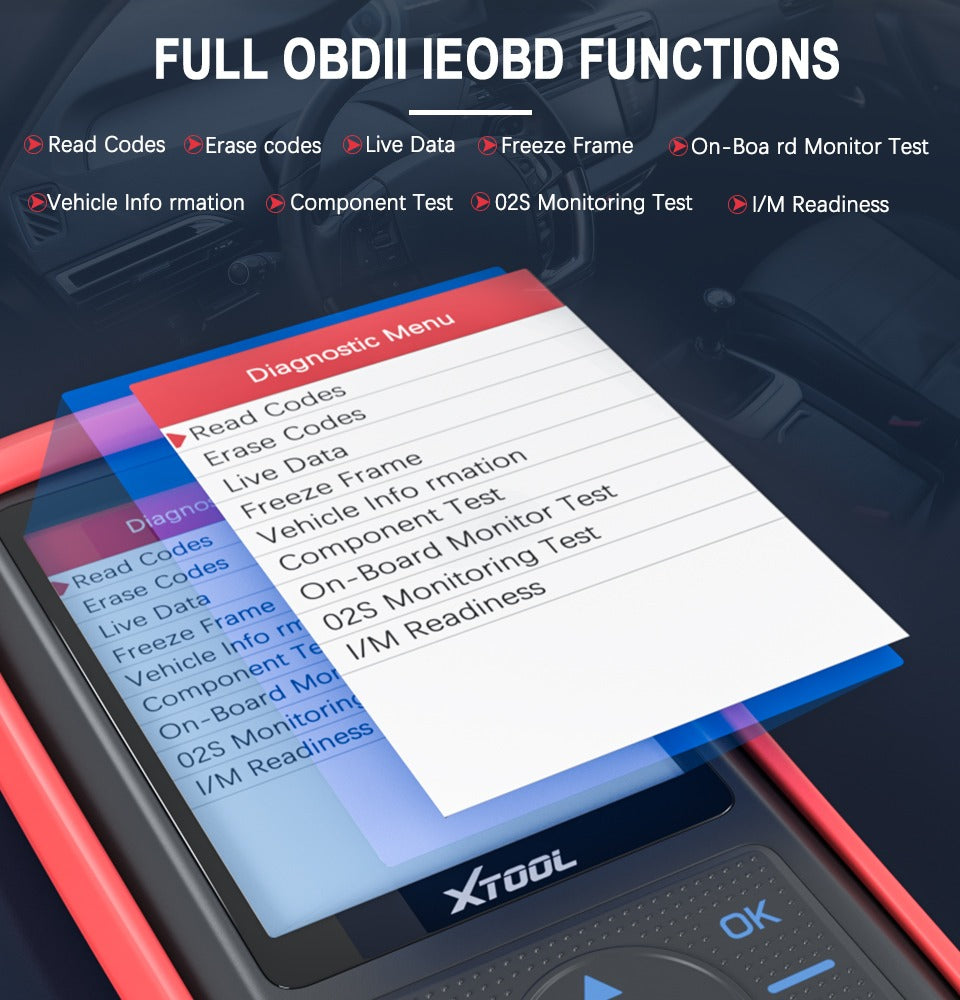 3. 5 Kinds of Special Reset Service Functions:
SPECIAL FUNCHON-EEPROM ADAPTER
SPECIAL FUNCTION-BLEED
ELECTRONIC BRAKE-American
ELECTRONIC BRAKE-Asian
ELECTRONIC BRAKE-China
ELECTRONIC BRAKE-Europe
EPS-EPSAM
EPS-EPSAS
EPS-EPSCH
EPS-EPSEU
SERVICE LIGHT RESET-OSTAM
SERVICE LIGHT RESET-OSTAS
SERVICE LIGHT RESET-OSTCH
SERVICE LIGHT RESET-OSTEU
THROTTLE MATCHING-American
THROTTLE MATCHING-Asian
THROTTLE MATCHING-China
THROTTLE MATCHING-Europe
X100 Pro3 Software Display: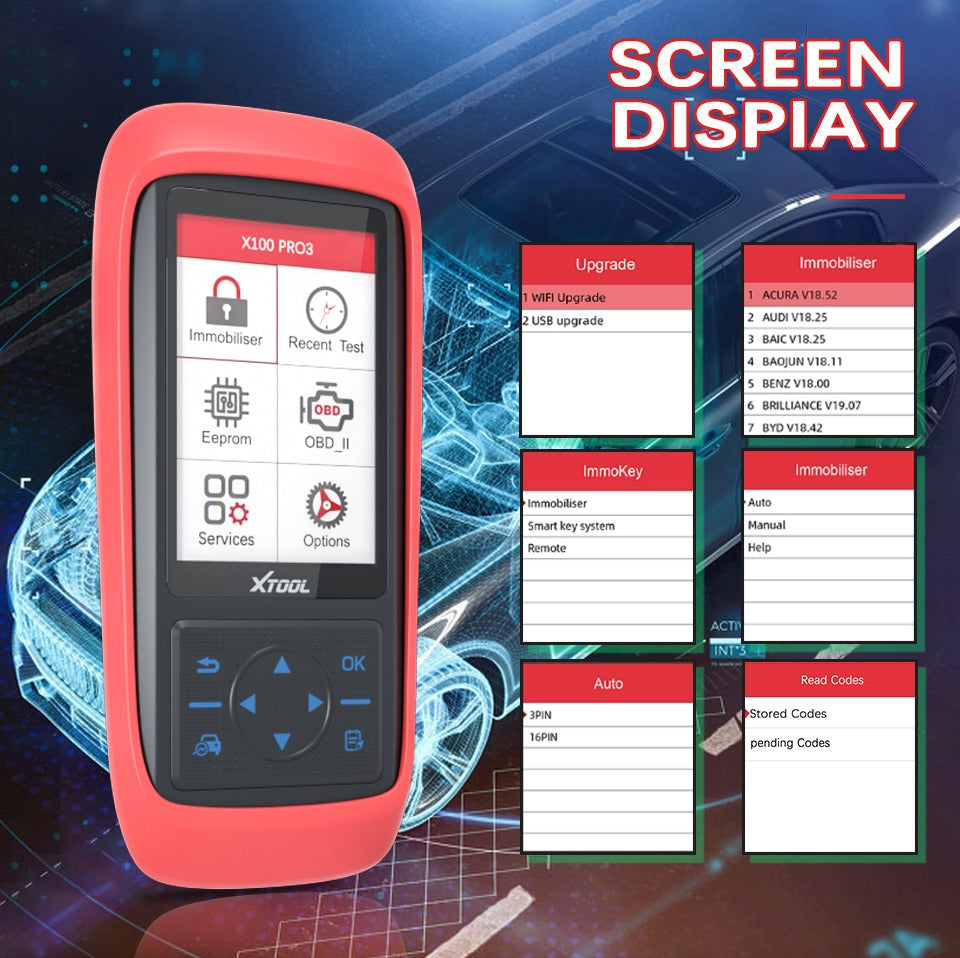 How to Update X100 Pro3?
1. Go to Xtool Official Website and go inside the X100 PRO3


2. Contact the X100 PRO3 with the Laptop

3. Download the Update helper then click the update for the newest software
How to back to normal when the device displays a white screen or no application?
Step 1: Connect PRO3 to a Windows PC, find the memory card, and format it.

Step 2: Log in the upgrade tool and click upgrade

Attention: During the upgrade, please do not operate the key of the machine or disconnect the data line. After the upgrade prompt is successful, unplug the data cable and reconnect it.
Package List:
Accessories
Tool Kit
Certificate of Quality
Packing List
Carton
User Manual
Main Units
Adapter EEPROM2
Charger AC100~300V DC5V 2A
Power adapter DC12V
Charger Convert plug US
Charger Convert plug EU
Charger Convert plug UK
X100pro3 Main Unit
Test Connectors
OBD II-16
HONDA-3
HYUNDAI/KIA-10
KIA-20
Main Cable
USB_TYPE-C