This Mercedes-Benz can filter should be added to car after odometer adjustment for most chassis model, EXCEPT for W222/W205/W447,those 3 chassis models should add can filter before odometer adjustment.
Universal CAN Filter 18 in 1 for Mercedes and BMW
CAN Filter is designed to support old mileage data blocking on Mercedes-Benz vehicles.  It is designed to prevent regeneration of the old mileage state in vehicle dashboard (odometer). CAN filter doesn't interrupt any vehicle electronic system, there will be no errors or DTC's after install.
CAN Filter 18 in 1 Support Model:
Benz 18 types chasis model: S(222), S(221), C(205), C(204), V(W447), E(W212), E(W207), A(W176), G(W463), ML(W166), SL(R231), GL(X166), B(W246), CLS(W218), SLK(R172), SLS(W197), CLA(W117), GLK(X204) 
BMW: CAS4/FEM Fxx


2. BMW Model:

BMW 1 series F2X, 3 series F3X, BMW X5 etc., FEM mileage adjustment
BMW 5 series F10, 7 series F01/02 etc., CAS4 Fxx chassis.( F01, F02, F07, F18, F10, F20, F25, X3 etc., applicable for 9S12 XEP series 5M48H/1N35H).
 
This filter is universal for multiple car models, small and convenient, easy operate, with stable performance and reliability.

NOTICE!!
New style: 222/205/217
Old style: 166/212/463
CHECK the car model correctly before adjust.
Old style W166 short circuit to GND
New style W222 short circuit to GND
Black wire connect to plug 1

YH Benz / BMW Universal filter --- Diagram for BMW


Below is wiring illustration: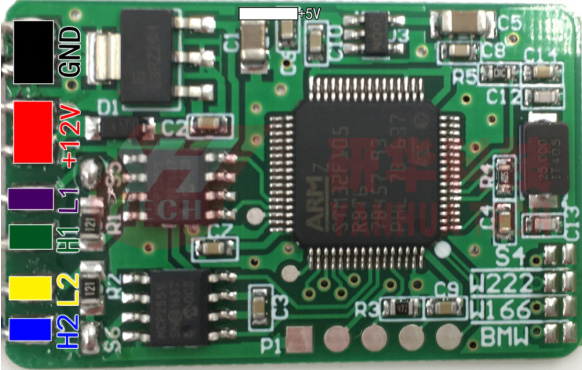 Black  --------- GND                   Red --------- +12V      White  --------- +5V  
Purple  -------- L1(CAN_L1)    Green --------- H1(CAN_H1)  
Yellow --------- L2(CAN_L2)    Blue --------- H2(CAN_H1)
NOTICE!
Please connect the 2 BMW dot together(short circuit) BEFORE connect to car!
Below is the diagram for BMW 1 series F20 instrument: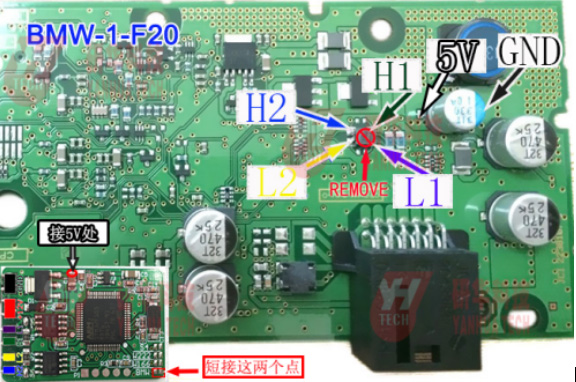 Below is the BMW 3 series F30 instrument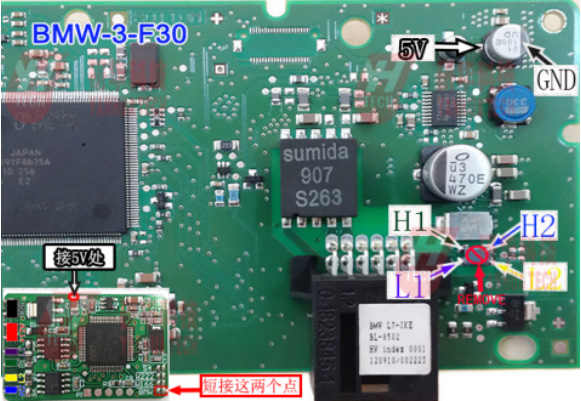 Below is the BMW 3 GT series F30 instrument: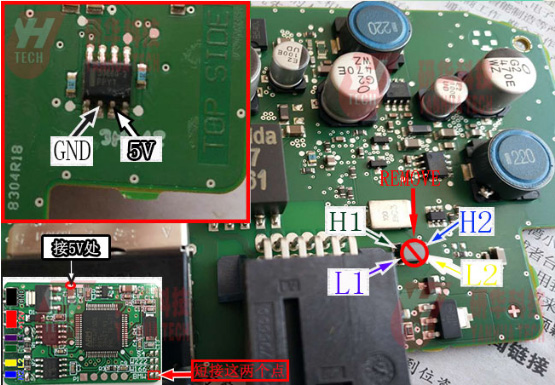 Below is the diagram for BMW X5 F15 instrument: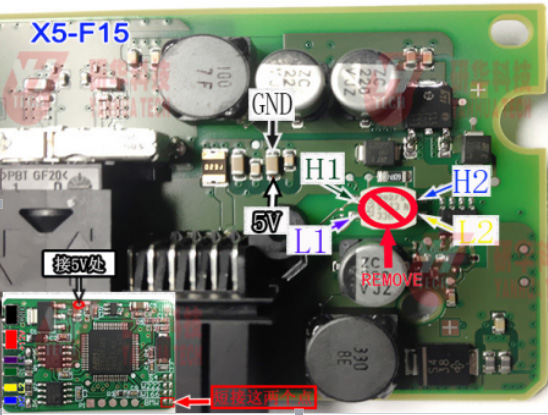 Below is the diagram for BMW FEM: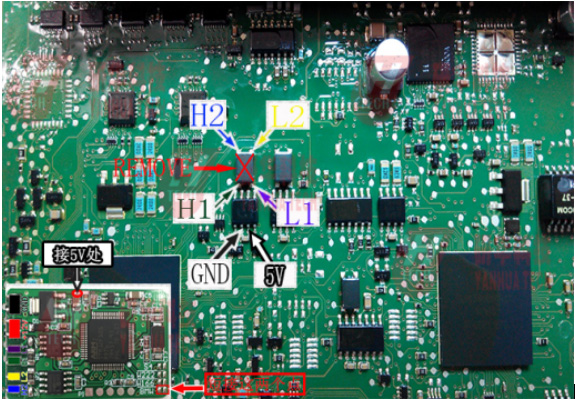 Below is the diagram for BMW CAS4(1L15Y/5M48H/1N35H)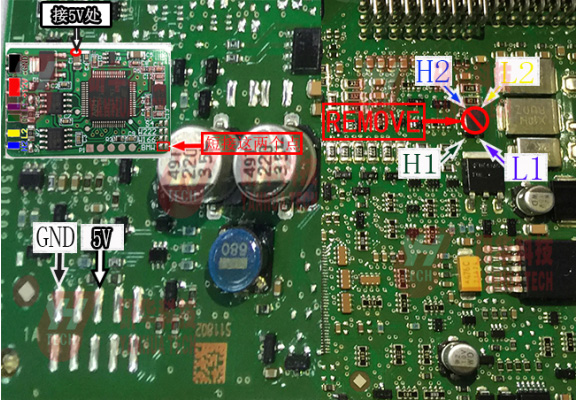 Package includeds:
1pc x MB CAN Filter 18 in 1 for Benz/BMW Universal filter
Contact Information
Whatsapp: +86 136 1282 7578
Email: info@getobdtool.com
Skype: getobdtool