Autel MaxiDAS DS808 is based on the Android operating system and has extensive OE-level diagnostic functions. The MaxiDAS DS808 has excellent OE-class system coverage for all electrical systems, and Smart AutoVIN technology enables easy vehicle identification.

Autel MaxiDAS DS808 Highlight:
1. Language: English by default. Autel Maxidas DS808 Support Customized Languages, If you need to change device languge, please send us serial number and your location first. And it will cost usd120.
We can authorize other language like Korean, Russian, Portuguese, Italian, Dutch, Swedish & Spanish.

2. Update: update online one year for free, update cost is 350.00USD/Year, after one year

3. Support Injector Coding and Key Coding

4. Autel DS808 is next generation of Autel DS708, with same functions and support the same car models as Autel MS906

5. Exclusive Sales, with big advantage of the price, much cheaper than market price
Autel MaxiDAS DS808 OBD Functions1. Diagnoses of Complete systems
The DS808 performs complete capabilities for all systems, not only includes 4systems diagnoses but all the other systems including Body, Chassis, Powertrain, Communication and more. You can get all the functions to fix your repair work more quickly with DS808.
2. Read hard codes on various systems.
You are able to know the meaning of the trouble codes and figure out what's wrong with your systems.
3. Erase different DTCs easily
After the problem has been carried out. Do remind that the check engine light will be turned off when you cleared the codes.
4. Retrieve live data
To make sure all the systems run normally. The parameter item can be displayed in different forms, such as text, waveform graph, digital and more.
5. Active test
Active test is to test output elements. You can figure out whether a specific subsystem or component in your car functions well or not by using this tool to make the tester outputs function instead of checking in ignition status.
Autel MaxiDAS DS808 Special Functions
DS808 includes the most commonly performed service functions : Oil Reset Service, TPMS Programming Service, EPB Service, DPF Regeneration Service, SAS Calibration Service, ABS/SRS Service etc.
Autel Maxidas DS808 Vehicle List:
1. European vehicle list: for AUDI, for BENZ, for BMW, for DACIA, for EU FORD, for LANDROVER, for MINI, for OPEL, for PEUGEOT, for RENAULT, for SEAT, for SKODA, for VW, for VOLVO, for SMART, for JAGUAR, for BENZ SPRINTER, for SAAB, for FIAT, for ABARTH, for LACIA, for ALFA ROMEO, for VAUXHALL, for MAYBACH, for BENTLEY, for BUGATTI, for PORSCHE.
2. USA vehicle vist: for GM, for CHRYSLER, for FORD
3. Asia vehicle list: for SUZUKI, for KIA, for DAWEOO, for ISUZU, for TOYOTA, for SUBARU, for SCION, for NISSAN, for MITSUBISHI, for LEXUS, for INFINITI, for HYUNDAI, for HOLDEN, for HONDA, for ACCURA, for MAZDA.
How to update Autel DS808 (With Conkit) software:
1. Make sure the Display Tablet is connected to a power source with stable access to the internet.
2. Tap the Update application button from the MaxiDAS Job Menu;
    or tap the update notification message when received one;
    or tap the Update icon on Vehicle Menu in Diagnostics application.
    The Update application screen displays.
 
3. Check all available updates:
If you decide to update all the items, tap the Update All button.
If you only want to update one or some of the item(s), tap the Update button on the right column of the specific item(s).
 
4. Tap the Pause button to suspend the updating process. When you tap Continue to renew the update, the updating process will resume
from the break point.
 
5. When the updating process is completed, the firmware will be installed automatically. The previous version will be replaced.
MaxiDAS DS808 (With Conkit) Specifications:
Operating System:                                Android™ 4.4.4
Processor:                                             Cortex-A9 processor (1.5 GHz)
Memory :                                                 32GB
Display:                                                   7-inch LCD capacitive touchscreen with 1024x600 resolution
Connectivity:                                           Mini USB 2.0 • USB 2.0 • Wi-Fi • Micro SD card (supports up to 32GB)
Sensors:                                                 Ambient light sensor for brightness auto changing
Audio Input/Output:• Input:                   N/A • Output: buzzer
Power and Battery:                               3.7 V/3200 mAh lithium-polymer battery • Charges via 5 VDC power supply
Tested Battery Life:                              Around 4.5 hours of continuous use
Battery Charging Input:                       5 V/1.5 A
Power Consumption:                          500 mA (LCD on with default brightness, Wi-Fi on) @3.7 V
Operating Temp:                                  -10 to 60°C(14 to 140°F)
Storage Temp:                                      -20 to 70°C (-4 to 158°F)
Operating Humidity:                             5% - 95% non-condensing
Dimensions (W x H x D):                     237.8 mm (9.4") x 148.6 mm (5.9") x 35.5 mm (1.4")
Net Weight:                                            788 g (2.42 lb.)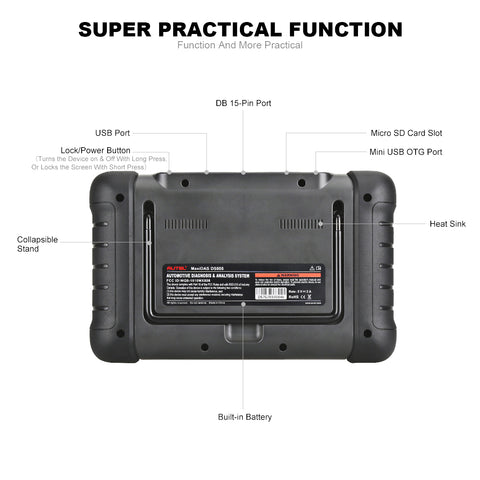 Autel Maxidas DS808 Full Set Questions and Answers (FAQ)
Question:Can you use this to program new keys
Answer:Yes you can reprogram keys with this tester

Question:Is it true that this model is no longer updateable? I was just going to purchase one,but if that is the case it is worthless
Answer:I can only tell you that I updated mine for Mercedes and chevy right after I registered it

Question:
can you program the abs module with this
Answer:DS708 can not program the abs module.Only maxisys pro can do it
Question:Is it availalable with standard package which has less adapters and cables?
Answer:Yes, we have standard package Autel Maxidas DS808.
Question:Is it difficult to register this device? And can it support Spanish?
Answer:Registering the device was easy. You simply go to autel's website and set up an account. Once you do that you take the registration code/passcode from the scan tool and register it on the website. You then make sure that the scan tool is hooked up to your wifi which is setup in settings. Then you are ready to update the scan tool with the latest software.
Changing the language settings is also easy. You simply do that in settings as well and have multiple different choices. I do know Spanish was one of them. I returned mine because it could not code or reset any adaptaions in any modules on my vehicles. My vehicles are about 15 years old and I think the support on older vehicles goes away with the updates. It probably has more capabilities on the newer vehicles. I should have purchased one of these 5 years ago and never updated it so that the scan tool could retain its capabilities.
Question:can it program tpms sensor
Answer:It can put the car into programing mode but you will need a tpms sensor tool
Question:Can it do a power balance on a ford 2006 f350 diesel?
Answer:Yes, it can be supported.
Question:can i use in Spanish language ?
Answer:may we know what's your serial No. of your DS708? To change language, you need to download all the software again, so your device needs to be within the updating period. If it is still within updating preriod, please provide us the serial No. and we can ask Autel to authorize Spanish for you.

Autel DS808 Package Includes:

1pc x USB External
1pc x Power Adapter
1pc x USB External Power AdapterUser
1pc x ManualQuick reference guide
1pc x Main cableCarry case
1pc x Mini USB Cable
1pc x User Manual
1pc x Quick Guide
1pc x For Benz-14
1pc x For Chrysler-16
1pc x For BMW-20
1pc x For Kia-20
1pc x For Nissan-14
1pc x For GM/Daewoo-12
1pc x For Honda-3
1pc x For VW/AUDI-2+2
1pc x For Mitsubishi/Hyundai-12+16
1pc x For Benz-38
1pc x For PSA-2
1pc x For Fiat-3