Autel MaxiIM IM608 PRO is an OBD2 diagnostic and key fob programmer with JVCI kit. MaxiIM IM608 PRO combines advanced key programming, all system diagnostics and advanced services. Equipped with XP400 PRO key programmer and MaxiFlash ECU programmer, providing full IMMO and programming function coverage.
MaxiIM IM608 Pro Description
Autel MaxiIM IM608 Pro Full System Car Diagnostic Tool XP400 Pro Key Programmer J2534 ECU Programming PK IM508 Pro IM508 Pro
Notice :We Sale IM608 + XP400 Pro . It is IM608 Pro and Support more function and Car model than IM608
The IM608PRO is a comprehensive key and immobilizer programming package of the MaxiIM IM608 Pro 10.1-inch Android touchscreen tablet, XP400Pro key and chip programmer, the wireless JVCI J2534 pass thru programming device and the Key Programming Adapter kit. The IM608 Pro enables key learning directly through the OBDII port for 85 percent of vehicles in North America. The tablet can read the immobilizer pins and password directly from the vehicle and store this information to use later when learning the newly programmed keys to the vehicle. The IM608 Pro is also an advanced diagnostics tablet featuring AutoVIN and AutoSCAN technology to automatically identify the vehicle and perform an all systems scan. The advanced diagnostics functions of the IM608 Pro include the ability to perform active test, coding and adaptations.
MaxiIM IM608 Pro Languages
English, Spanish, French, German, Polish, Italian, Japanese, Korean, Dutch, Portuguese,Swedish, Russia,Arabic,Hebrew,Turkish,Thailand,Vietnam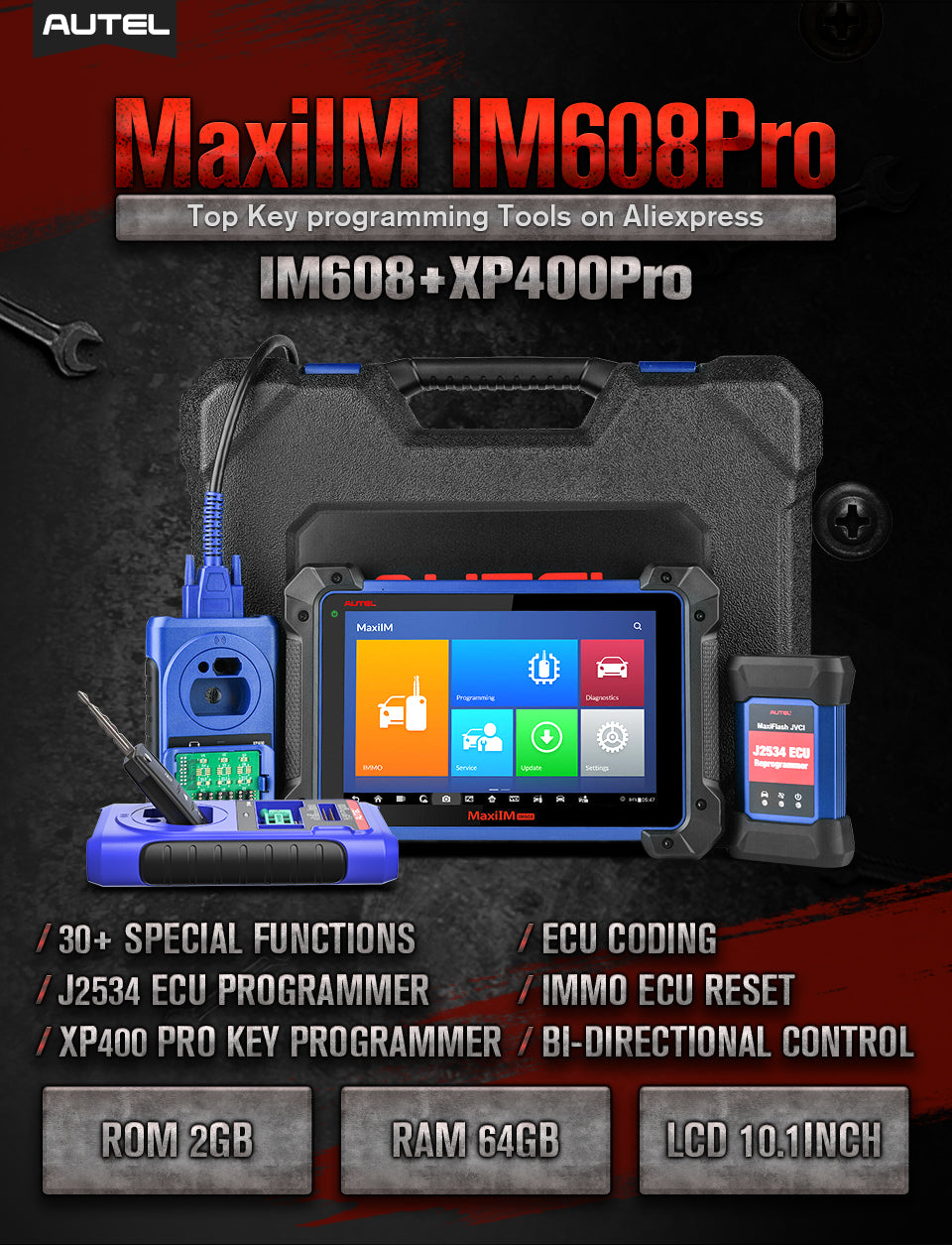 Reasons to buy Autel IM608 Pro
• IMMO & Key Programming Bundle
• MaxiIM IM608 Pro 10.1-inch Android Touchscreen Tablet
• Program IMMO & Keys for U.S., Asian and European Vehicles
• XP400Pro Key and Chip Programmer
• JVCI Wireless J2534 Pass Thru Programming Device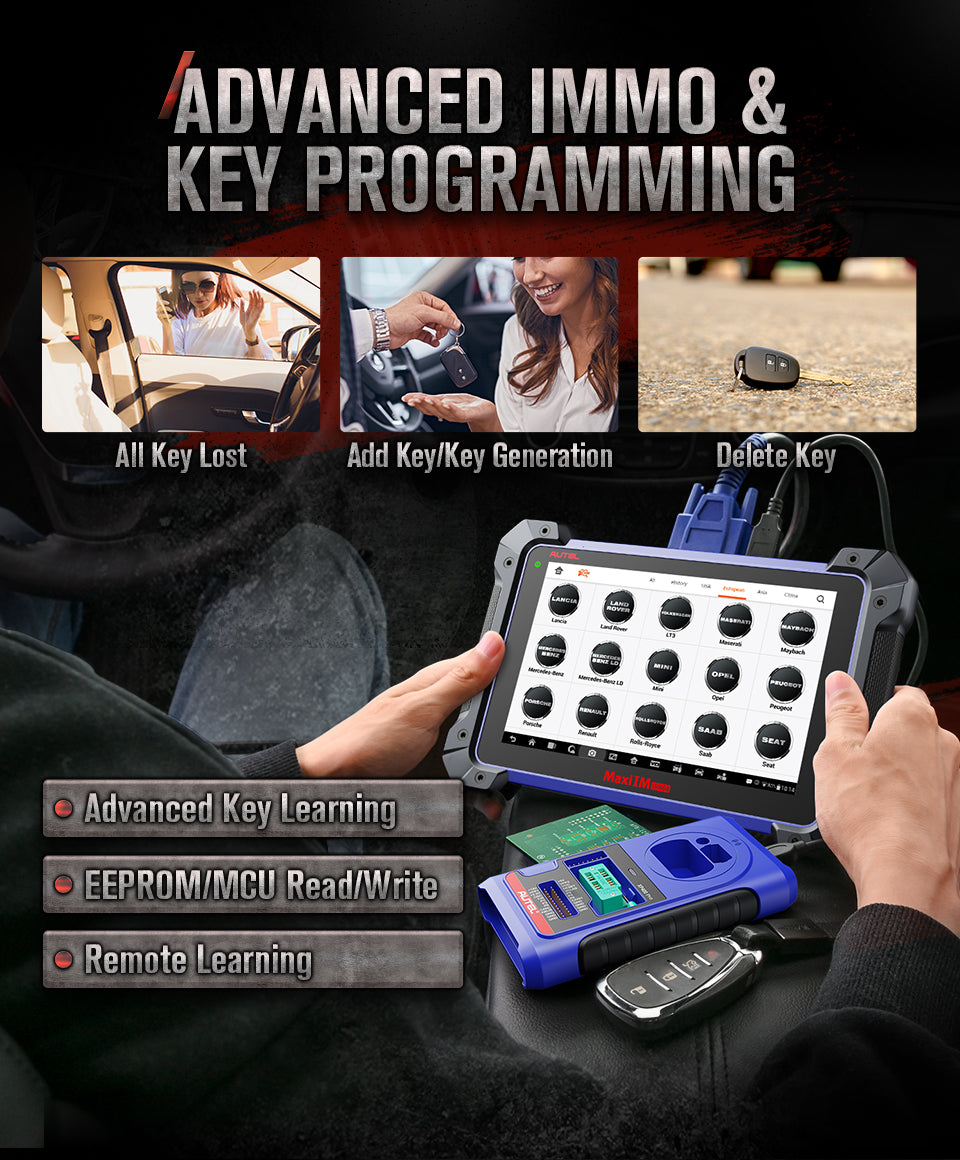 MaxiIM IM608 Pro ECU Programming
The diagnostic tool comes with a free J2534 ECU programmingdevice that helps Benz and BMW users replace the existing software/firmware in the ECU, program new ECUs and fix software-controlled driving performance and emission issues.
J2534 ECU programming tool (also used as a VCI box) that is a SAE J2534-1 & -2 compliant pass thru reprogramming interface device.
Using the updatedOEMsoftware, it is capable of helping BMW and Benz users replace the existing software/firmware in the Electronic Control Units (ECU), program new ECUs and fix software-controlled drivability issues and emission issues.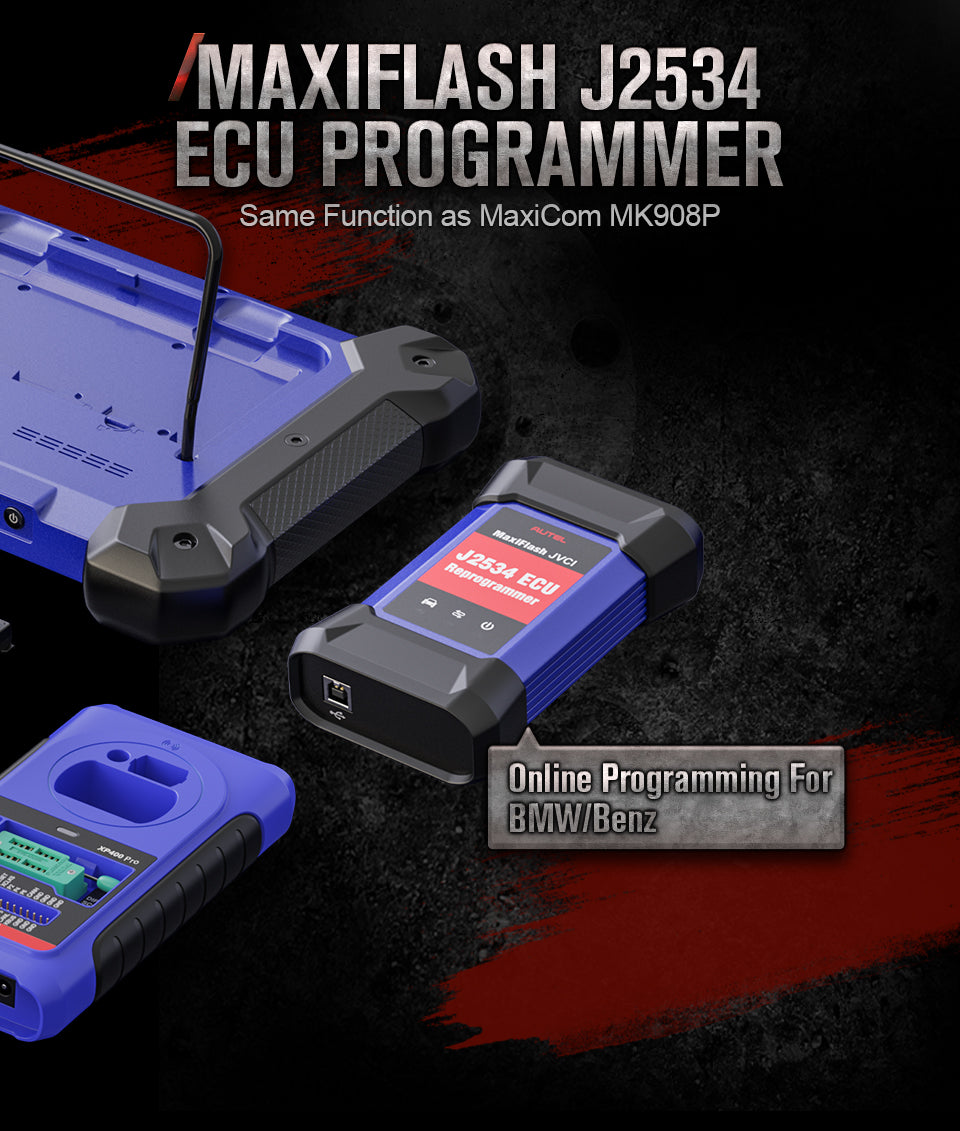 What Autel X400 Pro Supported?
• XP400PRO Advanced All-in-One Key Programmer
• XP400Pro Key and Chip Programmer Reads/Writes and Learns Keys to the Vehicle
• Performs EEPROM-data Functions Needed for European Vehicles
• Enables Programming of Infrared Keys for Mercedes Vehicles and IC Chip Keys on Late Model Hyundai Kia Vehicles
• Supports Data Read/Write of 3,000 Plus Chip Types (inc. EEPROM, engine ECU, MCU, IMMO ECU)
• Compatible with the IM508 and IM608
Please note that the product does NOT support Read/Write IC Card function. The "IC Card Induction Area" was also removed from XP400 Pro.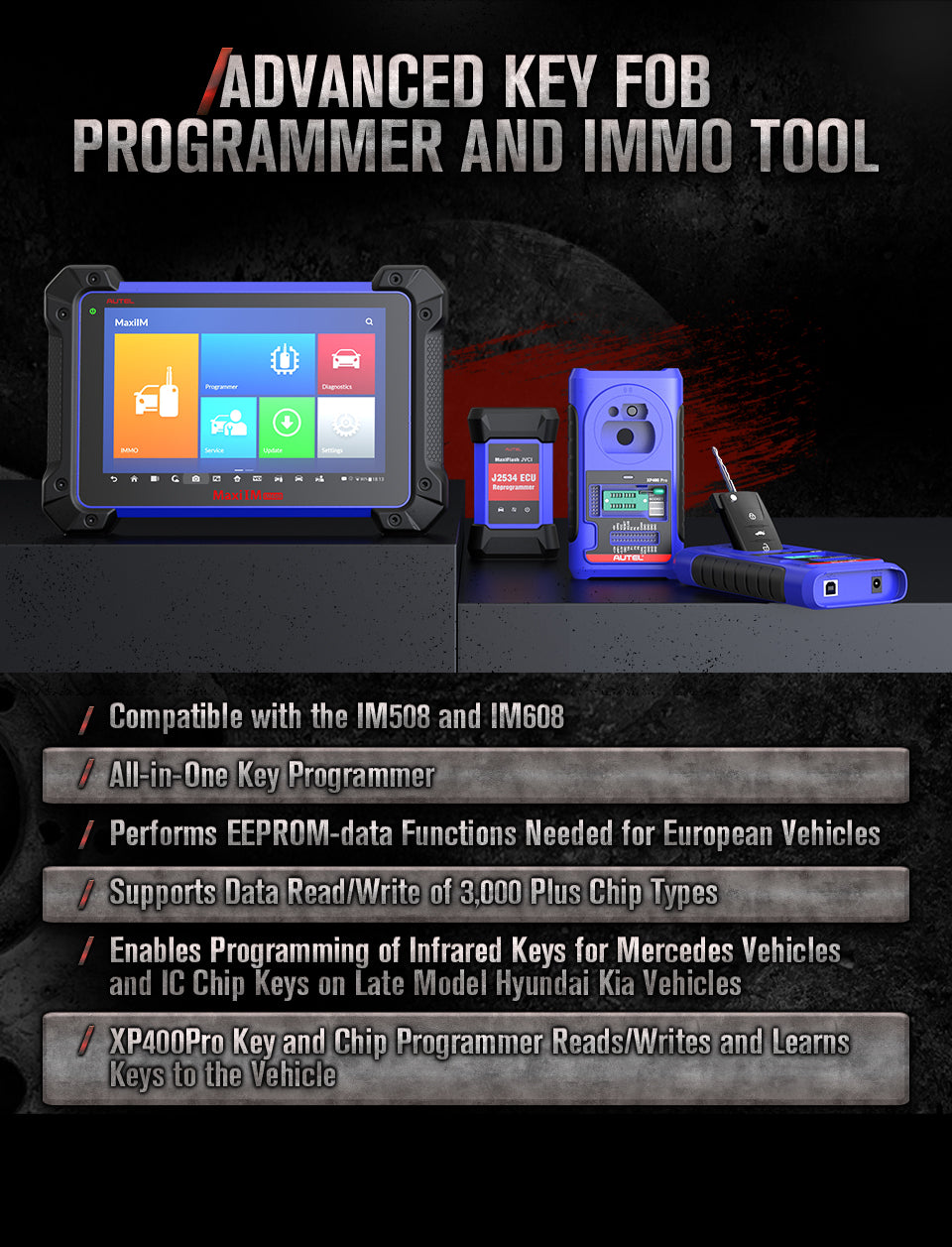 ADVANCED IMMO & KEY PROGRAMMING
Smart Mode: for Guided and Automated Key Learning
Expert Mode: for Advanced Key Learning
·Read PIN/CS(All Key Lost)
·IMIMO ECU Refresh/Coding
·Generate Key
·BENZ 3rd Generation IMMO Add Key, All key Lost, Key Learning
·Key Learning
·BMW FEM/BDC Key Learning and ECU Adaptation
·Remote Learning
·BMW CAS4/3/2 Key Learning
·Backup/Restore IMMO Data
·VW/AUDI MQB Key Learning,48 Transponder (96-bit) Add Key. All Key Lost, A6 All Key Lost, and More
·IMMO ECU Reset/Adaptation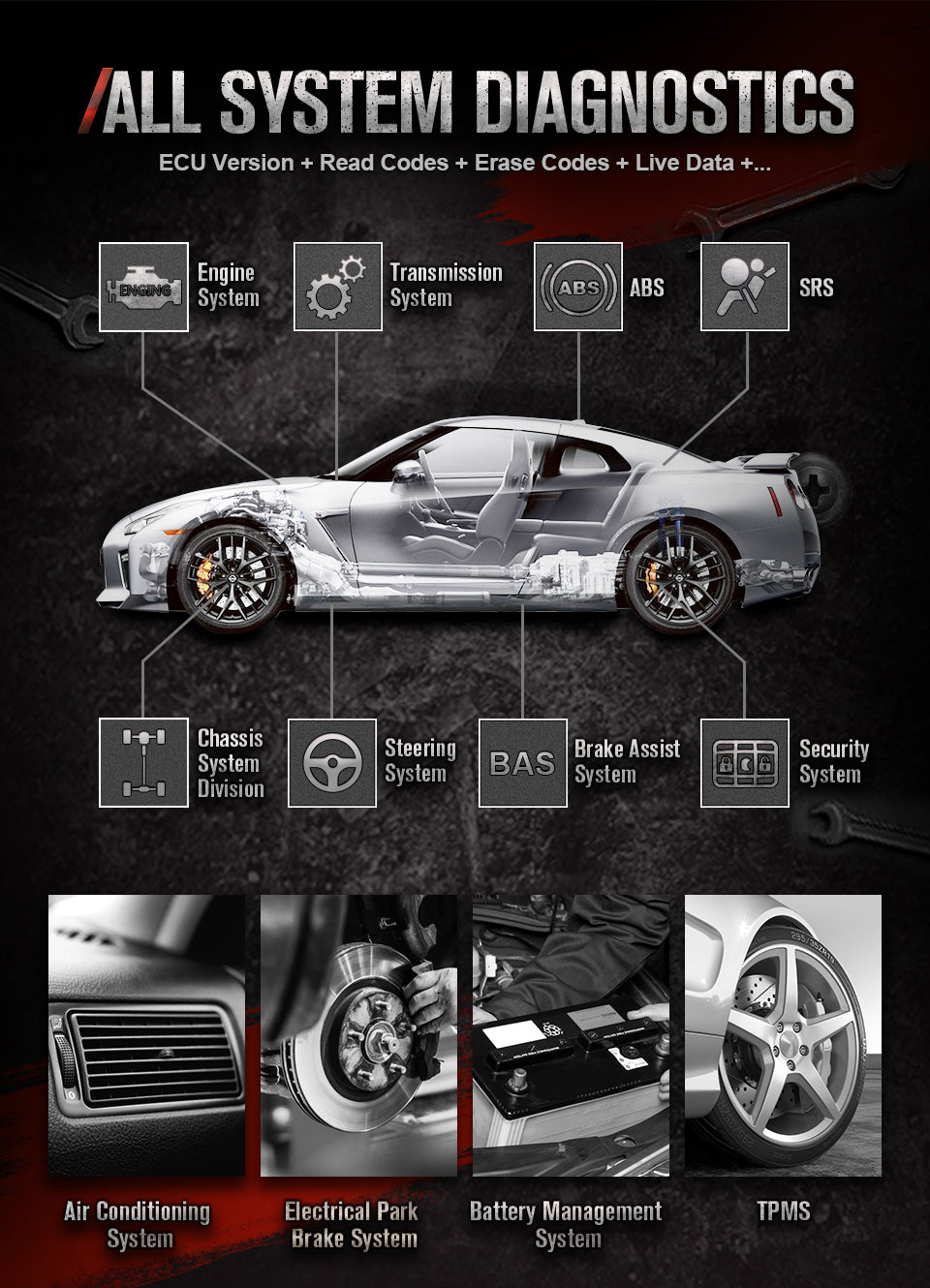 MaxiIM IM608 Pro All-system Diagnostic
Simply accessing the diagnostic modes via AutoVin or Control Unit, and you're able to perform diagnosis over all the systems on the vehicle's ECU in order to locate fault systems and retrieve DTCs.
ECU Information -provides the retrieved ECU information in detail.
Read Codes -displays detailed information of DTC records retrieved from the vehicle control module.
Erase Codes -erases DTC records and other data from the ECM.
Live Data -retrieves and displays live data and parameters from the vehicle's ECU.
Active Test -provides specific subsystem and component tests.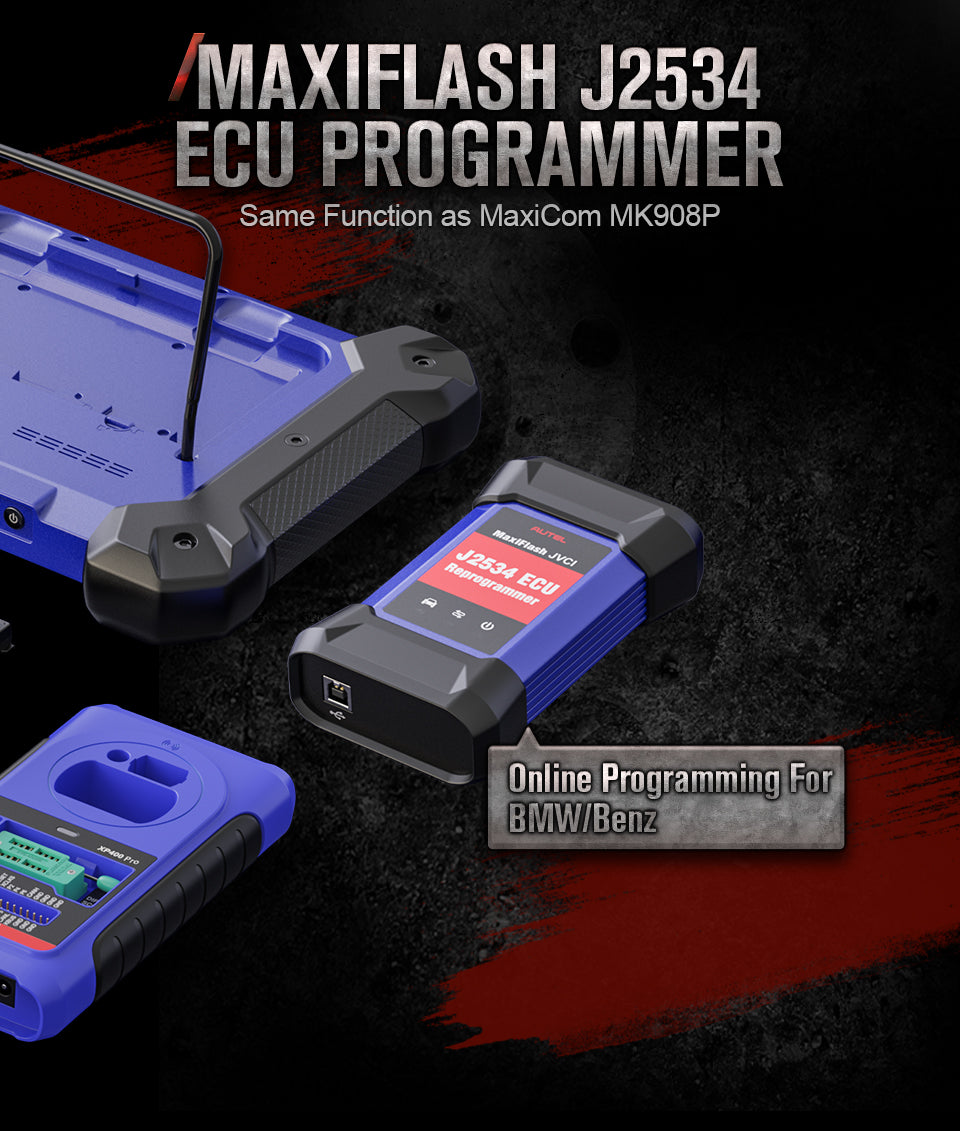 MaxiIM IM608 Pro ECU Coding
The Coding function is used to re-flash the vehicle control modules, it allows you to update the computer software on the vehicle to the latest version, as well as to reprogram adaptive data for certain components after making repairs or replacements, providing ways for the issues of Drivability, Fuel Efficiency, Power Loss, Fault Codes, Durability of Mechanical Parts.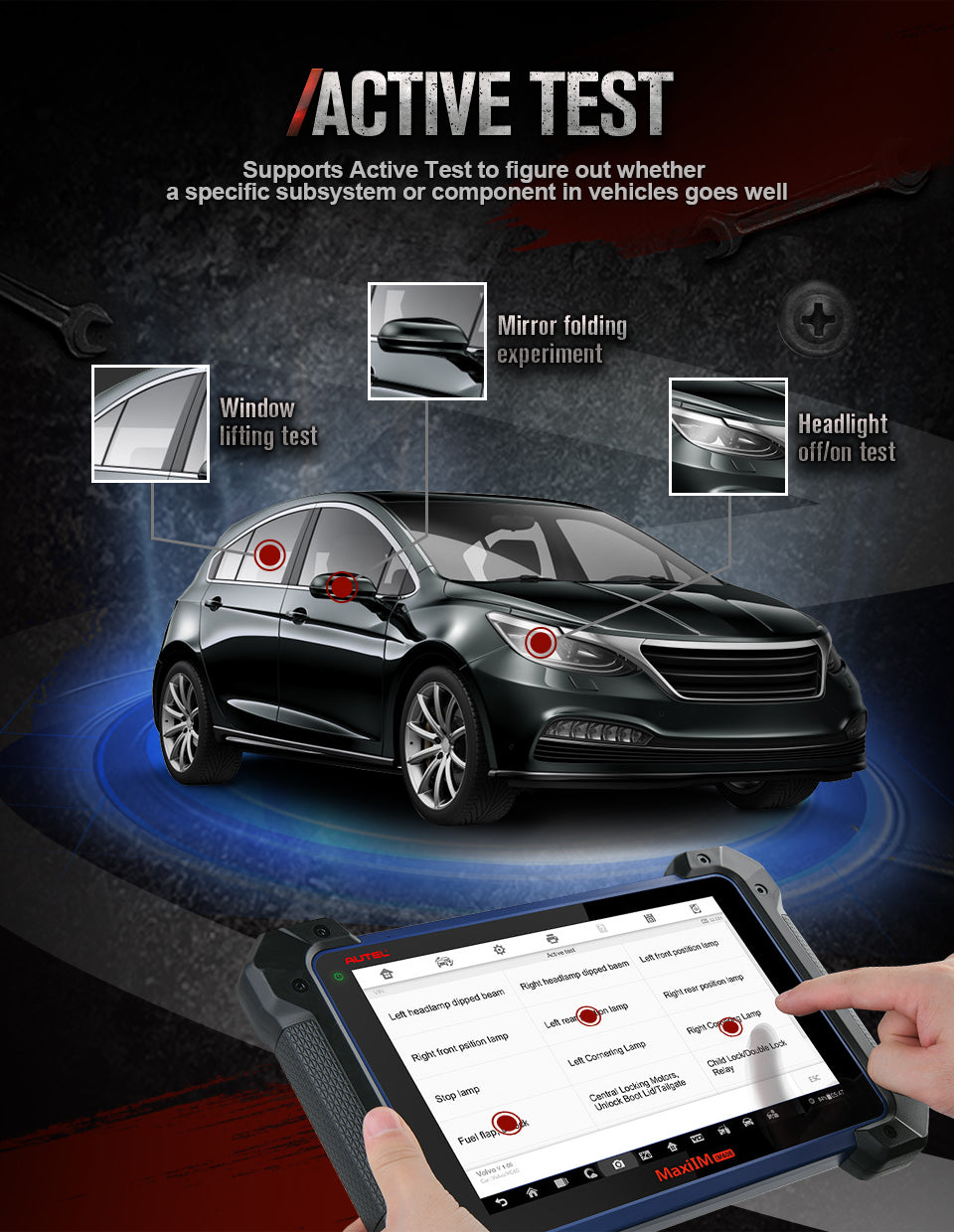 MaxiIM IM608 Pro Active Test
The process of sending and retrieving information from a vehicle control module with a device is known as Actuation test or bi-directional control. The main aim of the actuation test function is to request the control module to perform a specific function including system tests, actuator tests, functional tests, inspection tests, reprogramming or reinitialization, thus saving diagnostic time.
Eg: You connect a fuel pressure gauge, cycled the key and cranked the engine but you couldn't figure out anything regarding the fuel pressure. With the actuation test function of this diagnostic tool, you can send a fuel pump command on instruction and see the proper fuel pressure, figuring out if there is a problem with the fuel pump circuit or pump.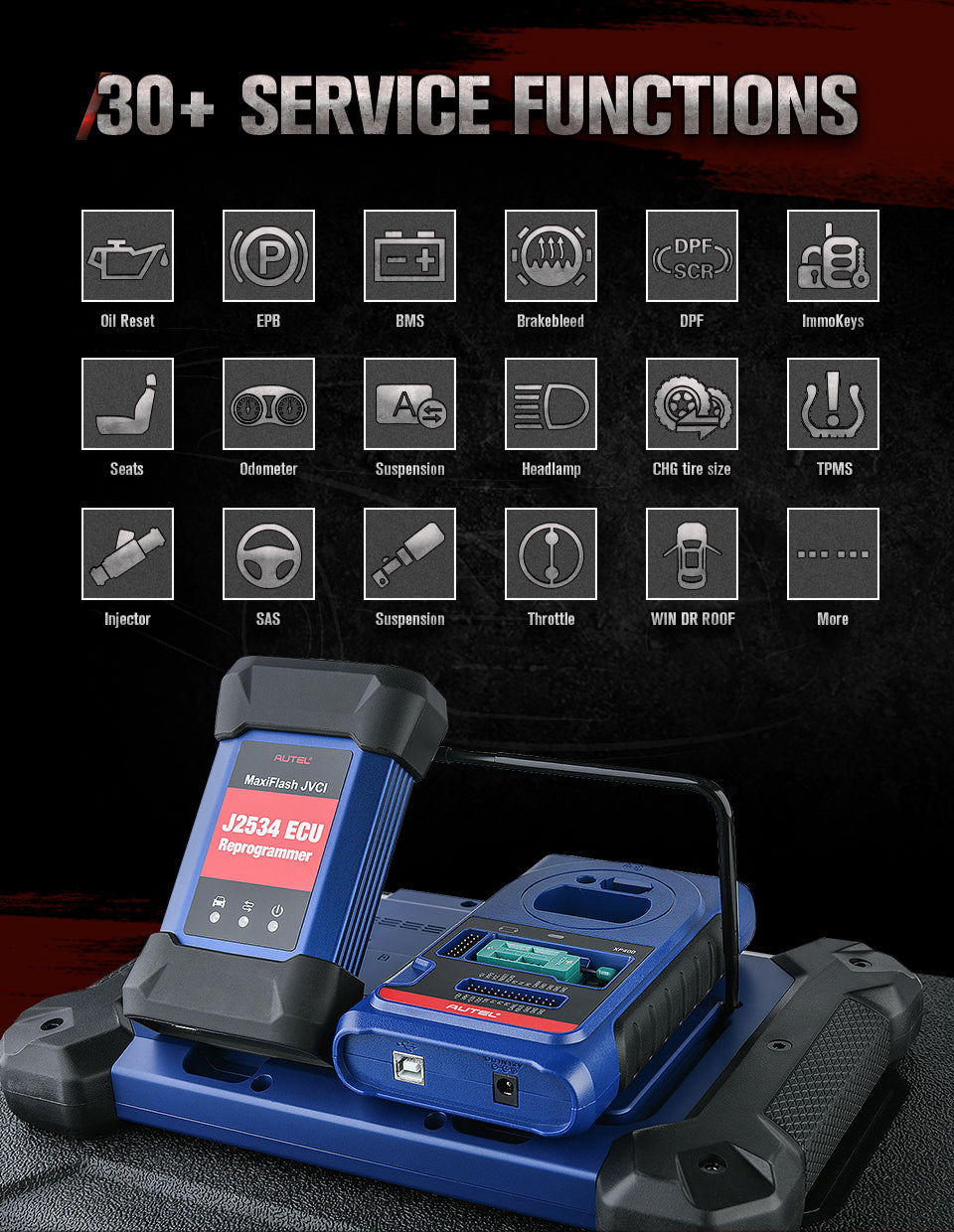 More than 30 Service Functions
30 Service Functions for various scheduled service and maintenance performances including : Oil Reset, EPB, TPMS, BMS, Brake Bleed, DPF, Immo Keys, Injector, SAS, Suspension, Throttle, WIN DR ROOF, Seats, Odometer, Lang Change, Headlamp, CHG Tire Size, TEC Learn, ABS/SRS, Cylinder, Turbocharging, Limit, Clutch, Trans Adaption, Airbag Reset.
Oil Reset Service: Allows you to perform reset for the Engine Oil Life system, which calculates an optimal oil life change interval depend on the vehicle driving conditions and climate.
EPB Service: Helps maintain the electronic braking system safely and effectively, deactivating and activating the brake control system, assisting with brake fluid control, opening and closing brake pads, and setting brakes after disc or pad replacement, etc.
SAS Service: Allows you to perform calibration for the Steering Angle Sensor, which permanently stores the current steering wheel position as the straight-ahead position in the steering angle sensor EEPROM.
DPF Service: Allows you to carry out numerous functions to the Diesel Particulate Filter system.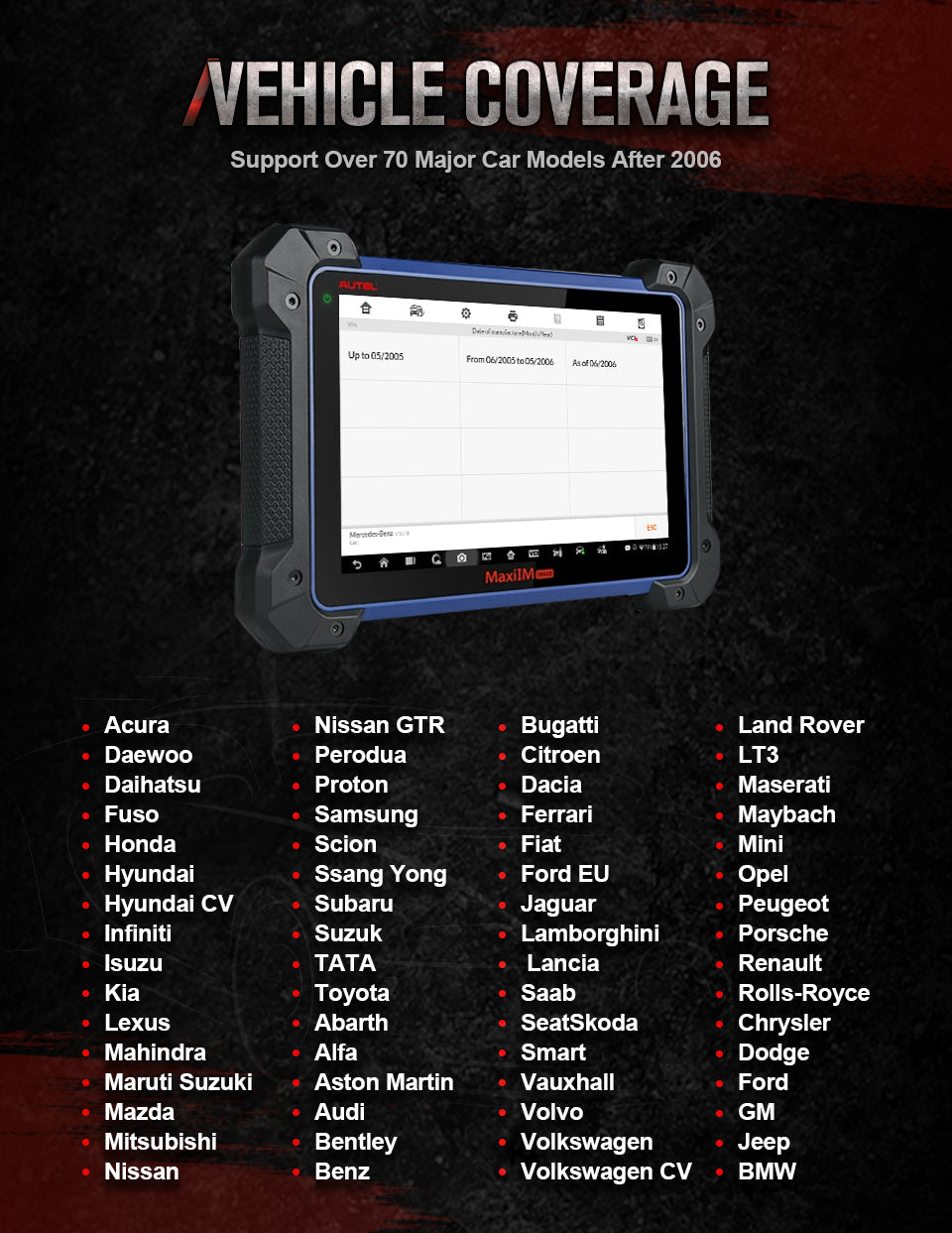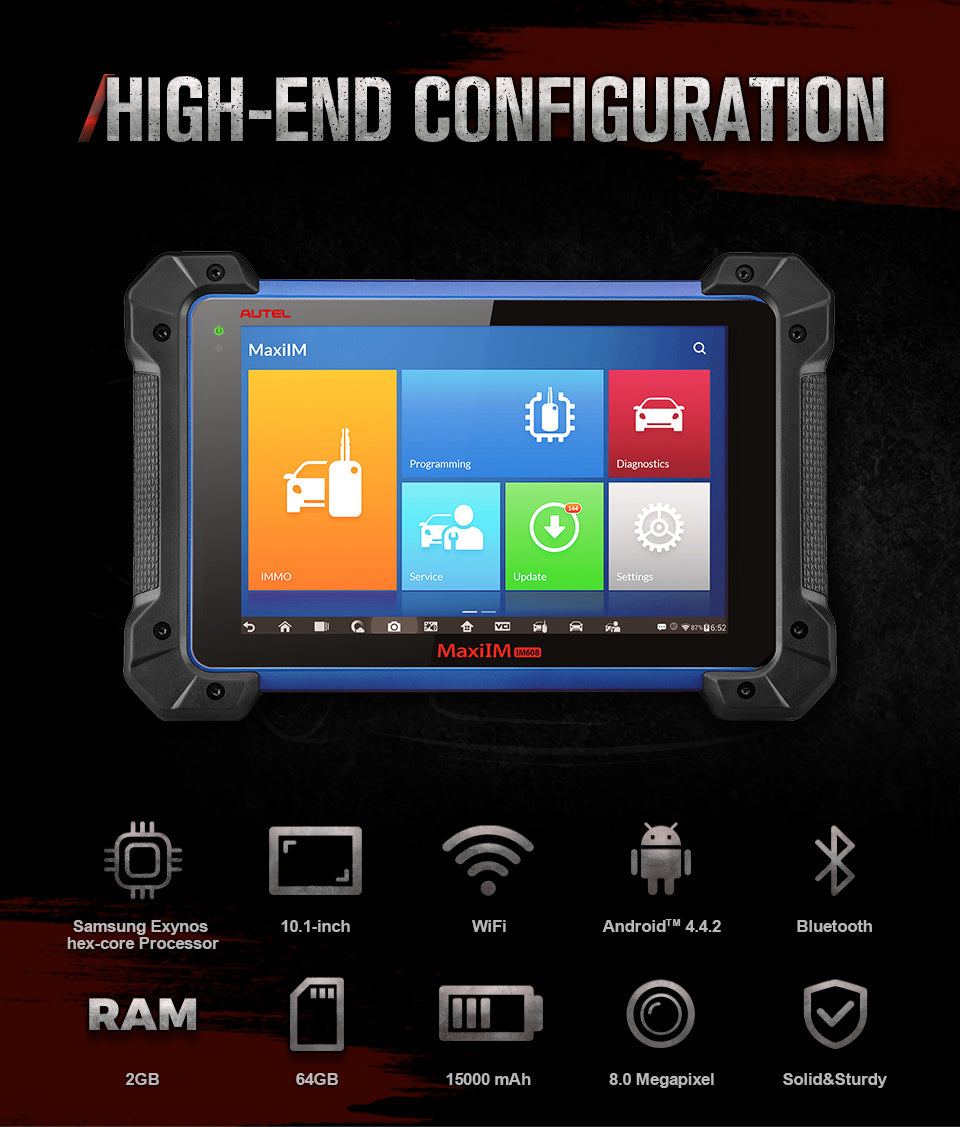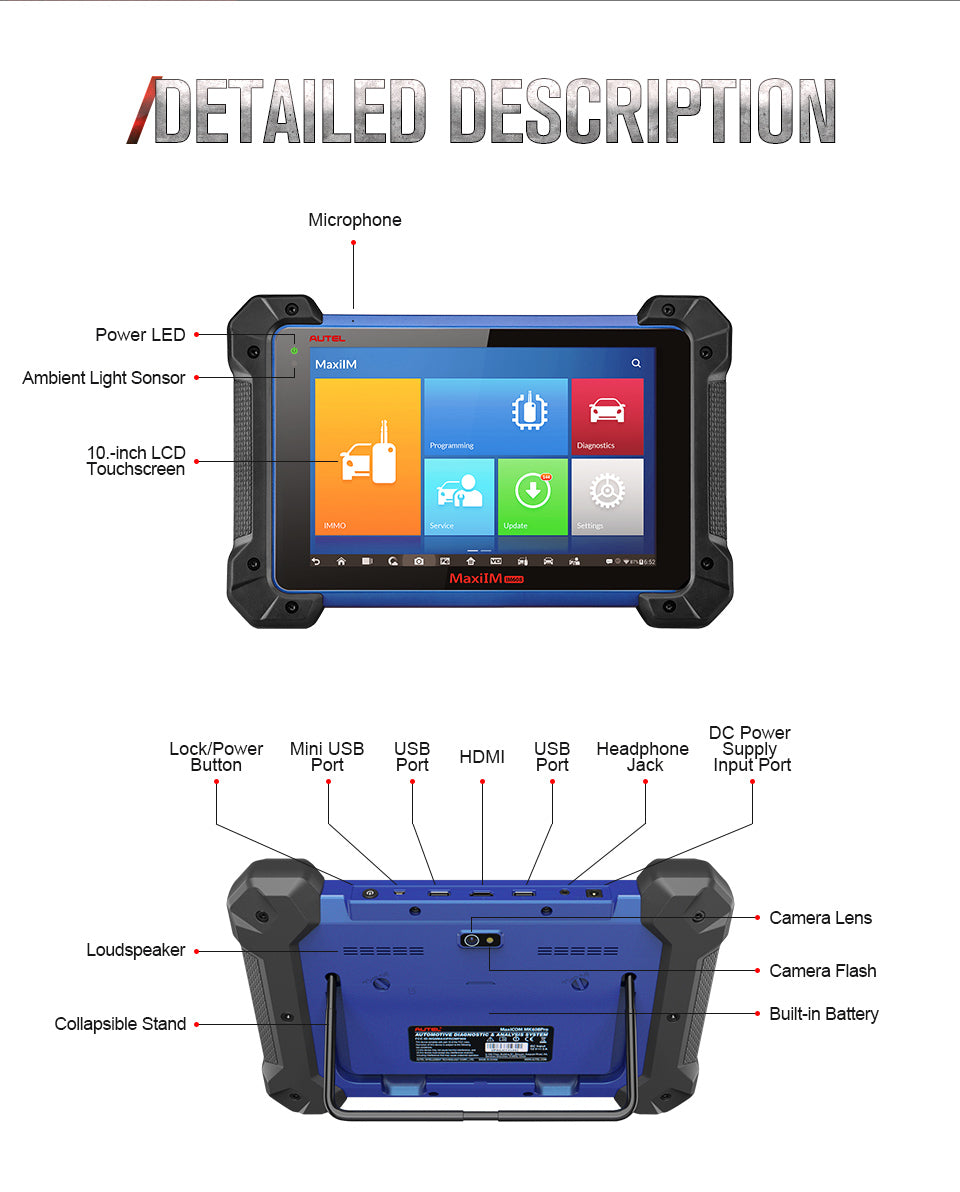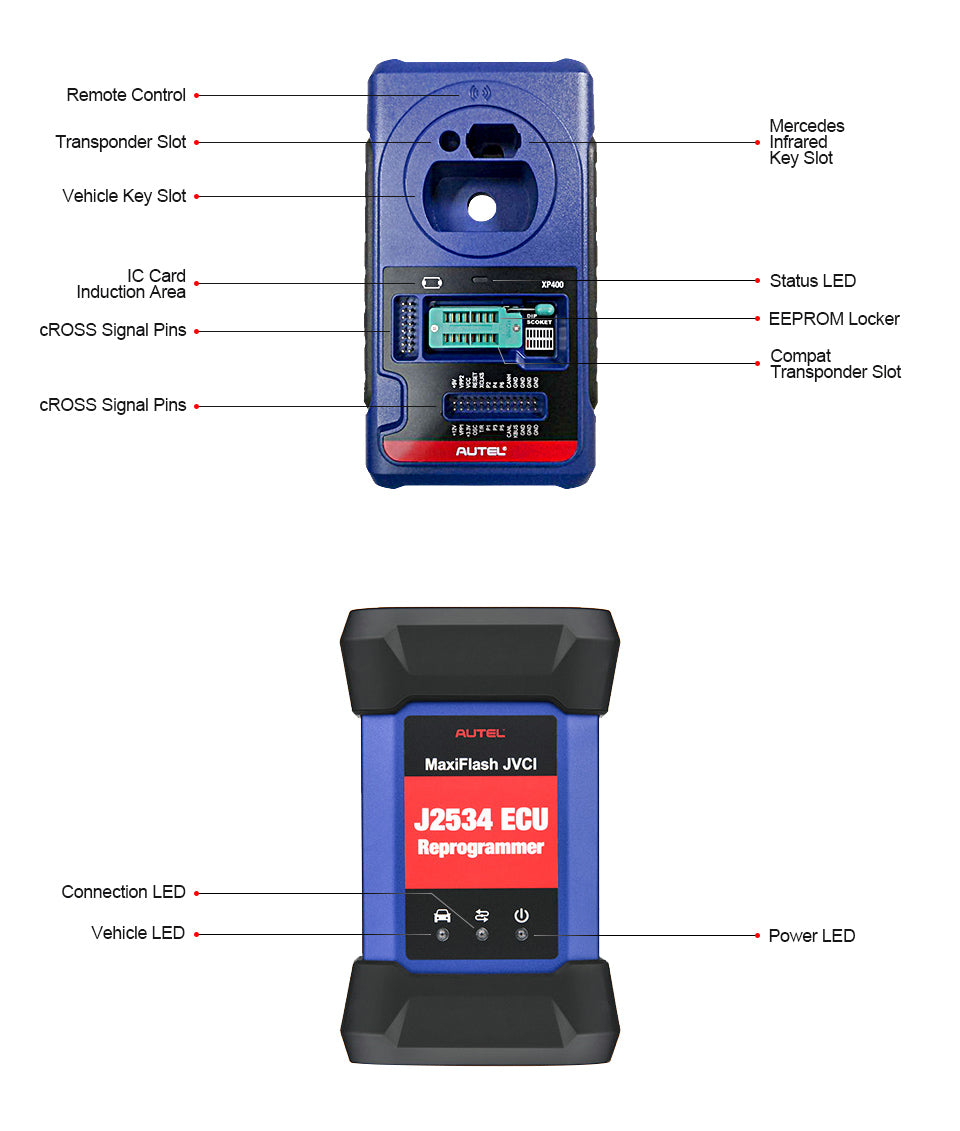 Package Contents