Autel MaxiTPMS TS601 is the world's most powerful TPMS diagnostic and service tool, capable of comprehensively diagnosing TPMS problems as well as activating TPMS sensors and reprogramming the vehicle's ECU. Autel MaxiTPMS TS601 features TPMS status screen overview, OBDII connected TPMS and vehicle diagnostics.
Autel MaxiTPMS TS601 Professional TPMS Diagnosis and Programming
The easy-to-use TPMS tool Autel TS601 provides users with unparalleled experience of efficiency and accuracy for complete TPMS diagnosis. Instead of simply checking the sensor data, sensor ID, tire pressure/temperature, battery condition, sensor position and diagnosing the TPMS to read/write sensor ID, read/clear TPMS codes (turn off TPMS warning light), retrieve TPMS ECU information, and perform actuation test, this TPMS tool allows user programming the sensor data to MX-sensor and replacing faulty sensor that is with low battery life or is not functioning.
Autel MaxiTPMS TS601 Fast Access to Accurate OBDII Diagnosis
Autel TS601 is the first one to integrate the TPMS tool with OBDII code reader. Except professional diagnosis to the TPMS, you can also perform the exceptional diagnosis to vehicle engine running conditions and the operating status of the exhaust after-treatment, which is called OBDII diagnosis.
With OBDII diagnostic functions, you can quickly check the vehicle self-inspection condition, accurately locate the fault that caused the Check Engine Light, and easily turn off the check engine light after the maintenance and repair.
Autel MaxiTPMS TS601 Easy and Fast MX-Sensor Programming
The TPMS sensor programming can and will only work with the Autel MX-sensor. There are 4 options available for you to complete MX-sensor programming, and they each have their own advantages and characteristics:
Auto Create applying random ID for the tested vehicle
Manual Create manually input the random ID or the original sensor ID
Copy by OBD read sensor ID with Relearn function, and write it to MX-sensor
Copy by Activation automatically write in the retrieved original sensor data to MX-sensor in the case of original sensor is triggered
Note: Please use its dedicated charger for the device.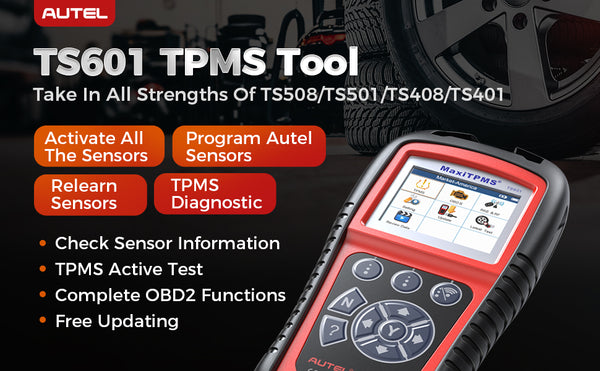 Autel MaxiTPMS TS601 Complete TPMS Functions
Activates all known OEM / Universal TPMS sensors using 125KHz continuous or modulated wave signals;

Reads sensor data including sensor ID, tire pressure, temperature, battery condition, OEM part number, OEM sensor maker and OEM frequency;

Allows you to directly read feedback from all 4 sensors, clearly view the status of all TPMS sensors, and compare sensor and ECU data to instantly pinpoint system faults;

Offers on-tool relearn procedure for every TPMS-equipped American, Asian and European vehicle. No need for relearn charts or internet lookups;

Programs AUTEL MX-Sensor with multiple options available including Auto Create, Manual Create, or Clone Sensor IDs with no sensor re-learn required for sensor positioning;

Offers OBD II Relearn to write IDs to vehicle directly without further procedures;

Offers visual / audio responses to make the operations much easier to complete;

Checks Remote Keyless Entry (Key FOB) for transmissions;

Incredibly easy to use with intuitive navigation and step-by-step on-screen instructions.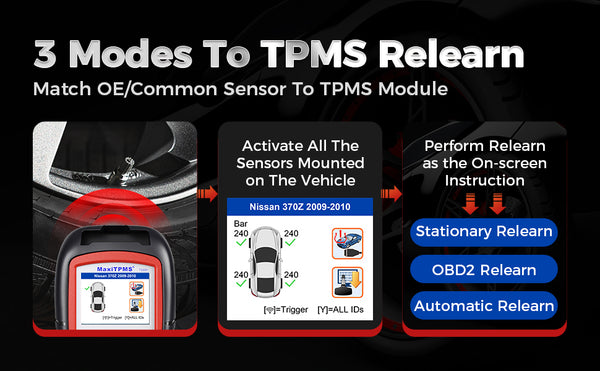 Autel MaxiTPMS TS601 3 Modes To Relearn TPMS Sensors
Same as Autel TS508 and TS508K, Autel TS601 diagnostic scanner also has complete TPMS sensor relearn functions which can work on all the 315/433MHz TPMS sensors on the market. To turn off the TPMS warning light after repair and replacement, The TS601 TPMS scanner possesses 3 modes of sensor relearn to suit various vehicle compatibility. TS601 OBD2 code reader gives detailed instructions for all the sensor relearn procedures.
OBD2 Relearn:

 

Directly write the TPMS sensor IDs to the TPMS module via the OBD connector to make the on-board TPMS modules recognize the new sensors. About 50% of the users' choice.
S

tationary Relearn:

 

Keep the car be in the "Learn Mode" and follow the guidance to operate "Relearn".

Automatic Relearn:

 

For some vehicle models, the "Relearn" can be completed automatically by driving.
And the Autel TS601 TPMS scan tool also performs TPMS diagnostics for reading/ clearing codes of TPMS system, reading TPMS live data, retrieving TPMS ECU information, doing actuation tests and special functions, and saving data for later reviews and printing.
Autel MaxiTPMS TS601 4 Options For Sensor Programming
The programming function allows users to program the sensor data to the Autel MX-Sensor and replace a faulty sensor with low battery life or one that is not functioning. The Autel TS601 scan tool is easy-to-use with proven efficiency and accurate results. The TPMS programming is only for Autel sensors.
Copy By Activation
Situation: The old TPMS sensor is not completely broken.
Solution: You can use the TS601 sensor programming tool to trigger the old sensors and obtain the old IDs, and then write them into the new MX-Sensors.
Manual Inputting
Situation: The old sensor can't be activated.
Solution: You can find the old ID from the cover of the old sensors, and manually input them to new MX-Sensors.
Auto Create
Situation: The old sensor is completely broken or the original sensor ID can't be obtained.
Solution: You can use the TS601 TPMS scan tool Auto create new unique ID(s) to program to new sensors.
Copy By OBD
Situation: Compatible with vehicles compliant with OBD protocol.
Solution: Connect the OBD cable to retrieve the sensor ID from the ECU and program the ID to the Autel sensor.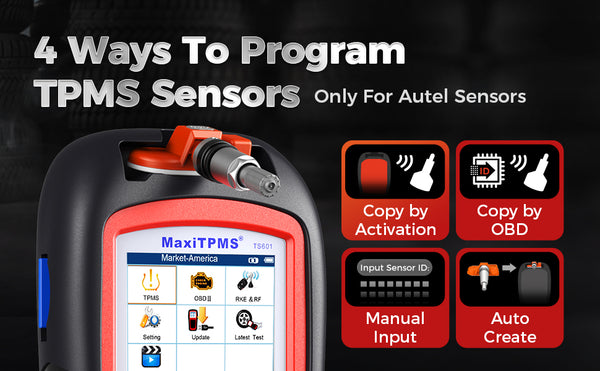 MaxiTPMS TS601 Package
1pc x  MaxiTPMS TS601
1pc x  SD Card
1pc x  CD
1pc x  Charger
1pc x  Magnet
1pc x  OBDII Cable
1pc x  User's Manual
Contact Information
Whatsapp: +86 1361282 7578
Email: info@getobdtool.com
Skype: getobdtool.com