BMW ICOM NEXT A + B + C with Lenovo T430 Laptop installed latest software version V2021.01 HDD/SSD Full Set Ready to Use.


BMW ICOM software is installed and activated, you can use them directly, which will help you save time and money.
BMW Ista Software Basic version:
1.Software Version:V2021.01
2.Support System:Win7 64bit
3.Software Type:HDD and SSD
4.Support Language:ISTA/D(Wiring diagram) Languages: English(Default), French, Spanish, Portuguese, Dutch, German, Thai, Italian, Russian, Korean, Japanese, Chinese, Swedish, Greek.
5.Support Vehicle List: for Mini, for Motorcycles, for Rolls Royce, for BMW i Series.
6.System Requirements: Dual-core processors above I5 with 4G Memory.
Note: Laptop is used one without logo, not brand new. If you need logo, please contact our sales to confirm.
Top reasons to get BMW ICOM Next Full Set:
1. Latest Version of BMW ICOM NEXT?Diagnostic Tool for?BMW, MINI, Rolls-Royce BMW-Model,?have the same functions and appearance with the original BMW ICOM Next.
2. Support WIFI, if you do not need WIFI, you can choose not wifi version
3. Backwards compatible to car adapters (ICOM B, C), and work with motorcycle adapters (ICOM D, E) which can support?BMW Motorcycle till the year 2021.
4. With Latest BMW ICOM Software V2021.01 on the package, can support cars till?the year 2021,?also Support BMW & MINI full system diagnosis and offline programming.
5. BMW ICOM Next Software Language Support : American English, British English, German, Spanish, French, Italian, polish, Portuguese, Turkish, Czech, Swedish, Dutch, Indian, Greek, Russian, Simplified Chinese, Traditional Chinese, Japanese, Korean and Thai.
V2021.01 Ista D/P ICOM Diagnostic Software Contains:

ISTA-D: 4.27.20
ISTA-P: 3.67.1.000 Support BMW motorcycle and electric car programming
VIN:?2020.09.22
SDP programming database:?4.27.20, support muilti language
ETK: 2019.12
KSD: 2019.11
INPA 5.00
winkfp 5.2.3
NCS 3.5.1
BMWAi: 4.6
E-SYS V3.27.1 and V3.30, database V67.0, E-SYS 3.31 Chinese version
E-SYS PRO 2.8 (Newly Added)
Database V67.0
Dr. GINI B020
FSC navigation arithmetic software?and IBAC code
Add BMW old car DIS software, DISV57 and DISV44, diagnosis and programming
Not connected 9000 days remaining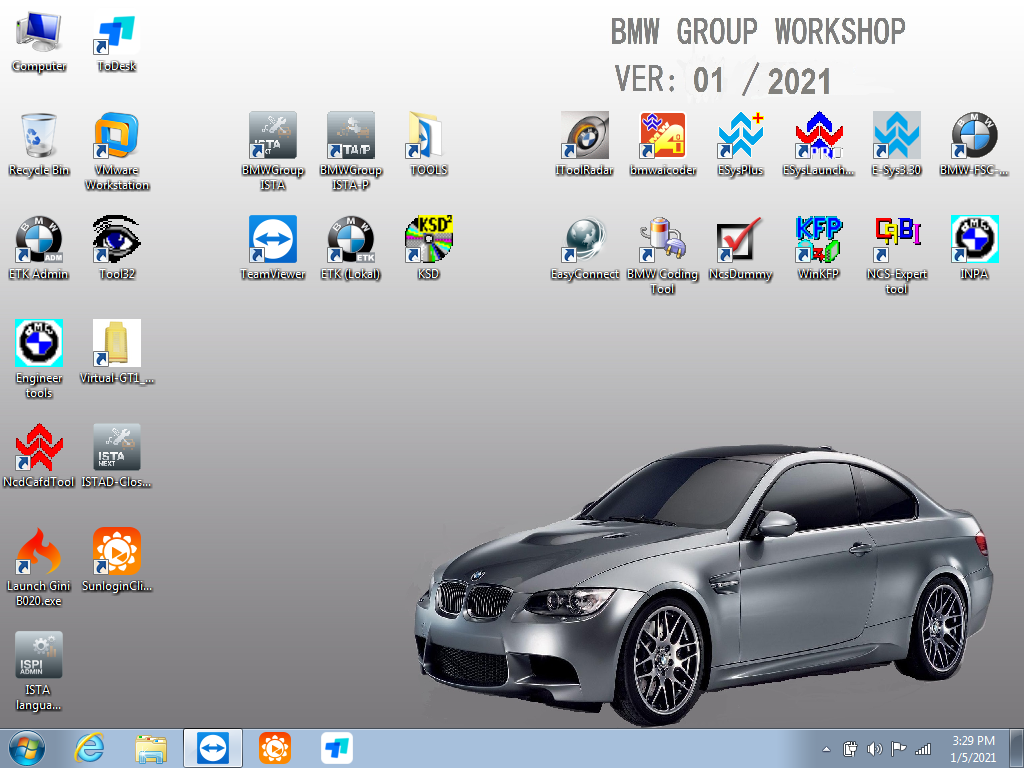 If you don't the laptop, you can choose BMW ICOM Next With Software
ICOM NEXT A+B+C Improved Functionality and Performance:
1. Gbit workshop LAN, backwards compatible
2. Preparation for Gbit LAN on vehicle OBD(cars do not yet support this and interface not
yet defined,ICOM Next hardware adaptation will be necessary for future Gbit car
interface,will cause adaptation costs)
3. Faster start-up times and high throughput
4. Through high-performance, low-power ARM SoC
5. Improved handling
6. More flexible OBD cable
7. Lighted button for logs etc.
ICOM NEXT A+B+C Connection:
Package List?
1pc x BMW ICOM Next full set
1pc x Lenovo T430 laptop (Used laptop, not brand new)
1pc x Latest BMW Diagnostic Software HDD/SSD
Contact Information
Whatsapp: +86 136 1282 7578
Email: info@getobdtool.com
Skype: getobdtool