CG FC200 ECU Programmer main for data reading & writing, ISN acquisition, disassembly matching, module clone, VIN modification and DTC shielding etc. CGDI FC200 supports 4200 kinds of ECU, 3 types of operation modes, and covers 80% of the models at the market.
CGDI FC200 ECU Programmer ISN OBD Reader Full Version Upgrade of AT200
Description:
FC200 ecu programmer is new device which is designed for ECU/EGS clone, supports functions including data reading and writing, ISN acquisition, disassembly matching, module clone, VIN modification and DTC shielding ect FC200 supports 4200 kinds of ECU, 3 types of operation modes, and covers 80% of the models at the market.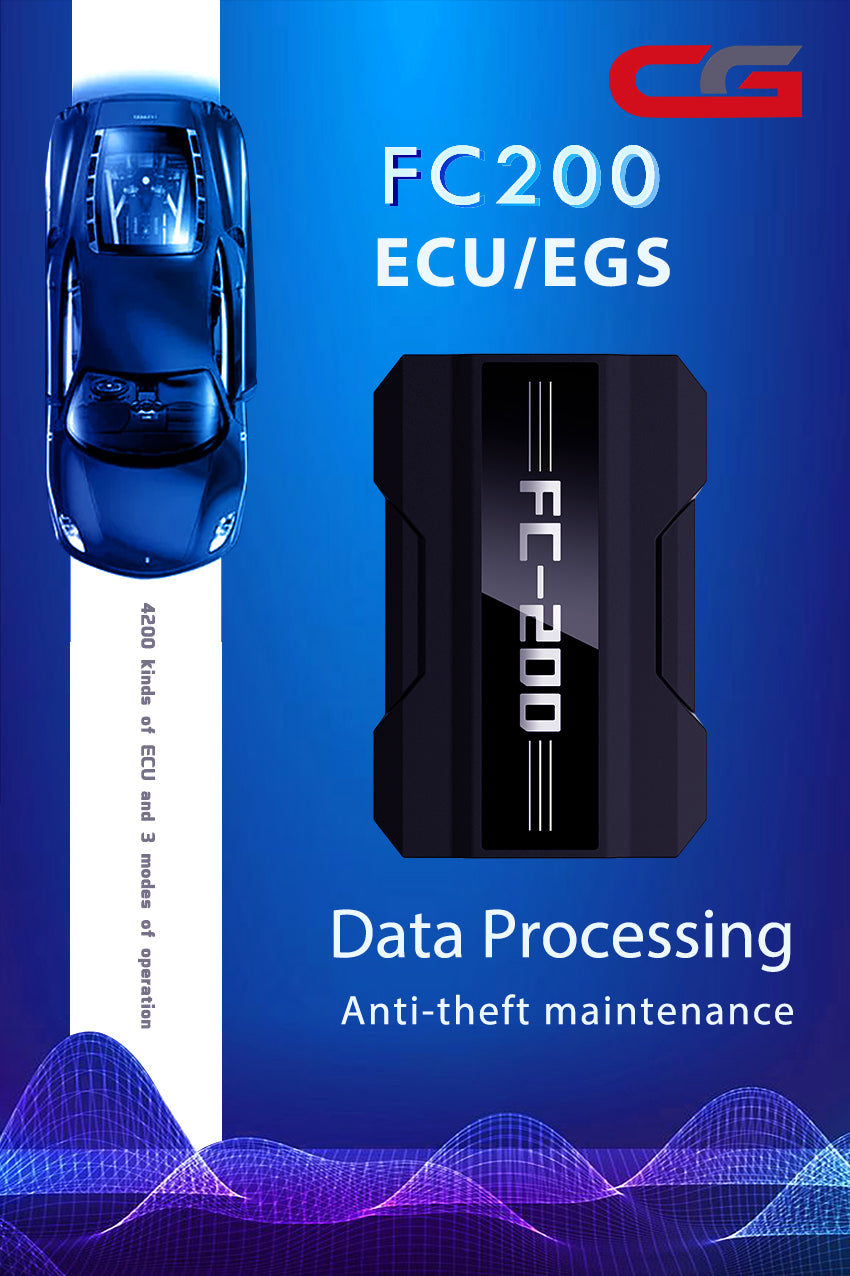 CG FC200 ECU Programmer Highlights:
1. Auto ECU Programmer for repair necessary--Support BMW ECU Data reading, writing and clone.
Effectively solve the problem of replacing the second-hand computer after the damage of BMW ECU control unit, just need to read the original computer data and then clone it.
Support almost all the BMW ECU models for reading and writing: MSV90/ MSD85 MSD87 N20 N55 B48 B58 etc.
Successfully make up the market for BMW ECU reading and writing equipment, save you high equipment costs.
2. Auto Locksmith necessary-Support BMW IMMO functions, Read BMW ISN Code by OBD
Quickly solve the problem for data collection of bmw all key lost.
With more stable and efficient unremovable functions.
If you want to do all key lost for BMW 3 Series 5 Series 7 Series X5 X6 GT535 Six-cylinder engine, must need ISN code to program the keys.
3. Work together with CGDI BMW and other equipment to program keys, save your money
(The cost of similar equipment is very expensive).
4. With stable and effective functions by professional quality test. and easy to operate and quick to start.
5. Add Mercedes-Benz 271 Audi Volkswagen 06J and other ecu types (Some are paid service).
6. Original from CGDI and Update Online.
7. Multi-Language: English, French, Spanish, Polish, Traditional Chinese and Simplified Chinese
8. With new update, FC200 not only supports BMW ECU but also support over three thousands of ECUs like KTAG, Kess, Kessy, Dimsport etc.
9. Bosch search: Free to find out what ECU type
10. With CAN-bus, and No disassembly(platform mode), and Boot mode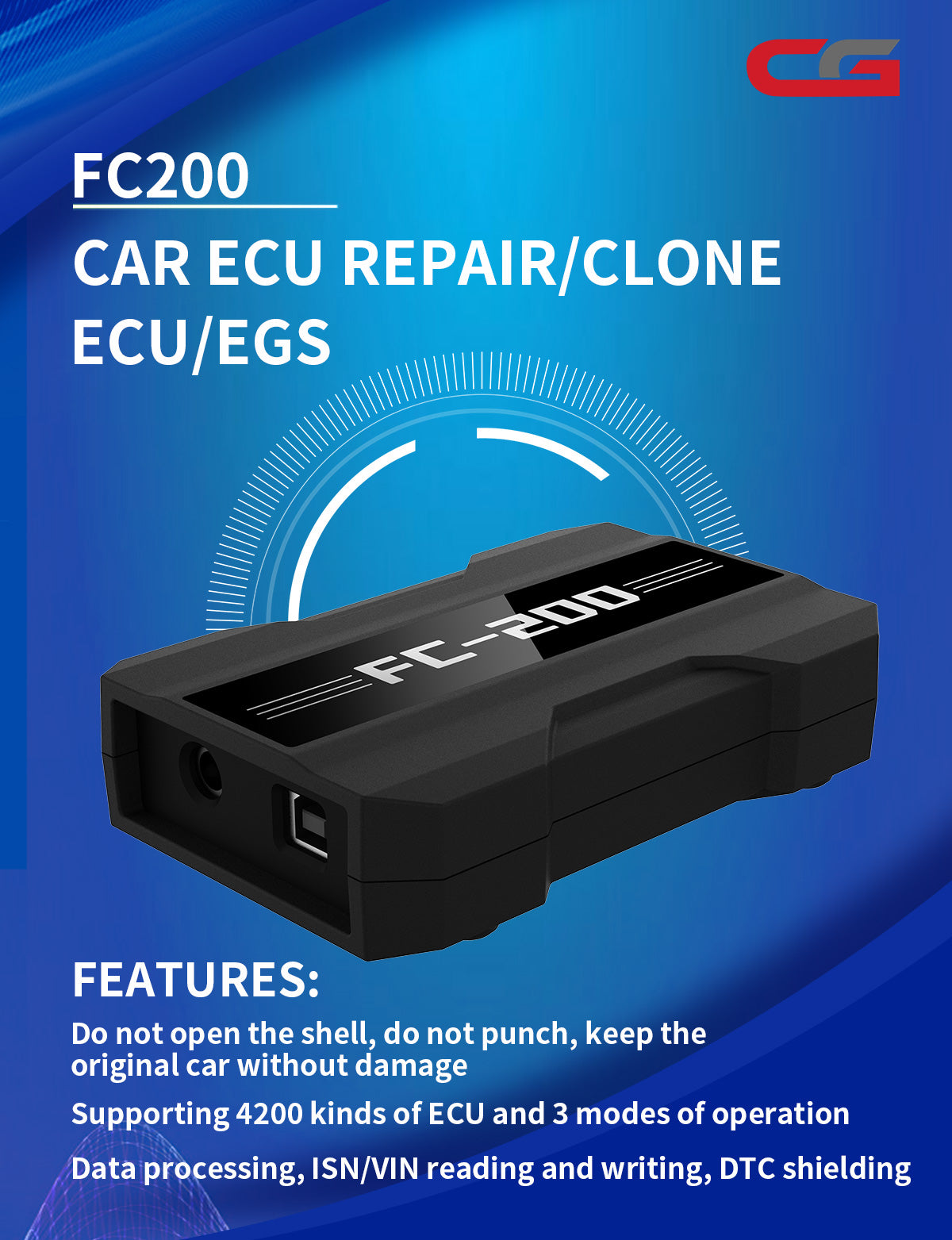 FC200 ECU Programmer Functions:
1. Original parts Protection
FC200 supports OBD and platform mode for more than 98% ecu and egs, no need to open shell, no punch, protect original parts of the vehicle.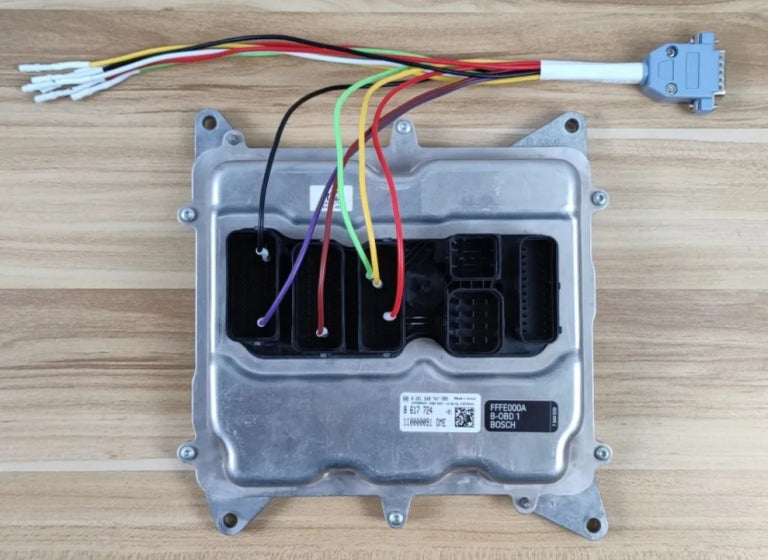 2. Smart Identification
The "identification" function can help users diagnose whether the ECU module is communicating and check whether the wiring is wrong.
If ECU module is not damaged and can be communicated, wiring is correct and identification is successful, can read chip and firmware information.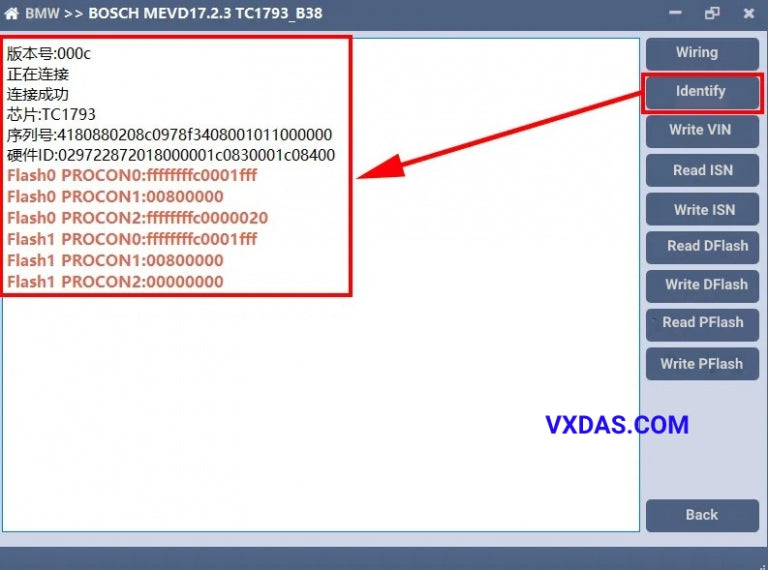 3. Module Clone
Supports ECU/EGS reading& writing and modules clone, synchronization matching free, no need online programming.
Flash data by area, automatically check, protect chips and modules furthest
4. ISN Reading and Writing
Supports all BMW series (including Mini) ECU ISN code acquisition, convenient for all keys lost matching and anti-theft fault maintenance.
5. VIN Writing
Solve the problem of double VIN or VIN mismatch of vehicles, convenient for vehicle maintenance.
6. Data Processing
Support data analysis and modification for the 4th and 5th generations of Audi/Seat/Skoda/Volkswagen ECUs
Turn off anti-theft system for Bosch MED/EDC17 series ECU
TPROT off function of Bosch VAG MEDC17 series, BMW/Mini MEVD17/EDC17 series, Hyundai/Kia EDC17/MED(G)17 series.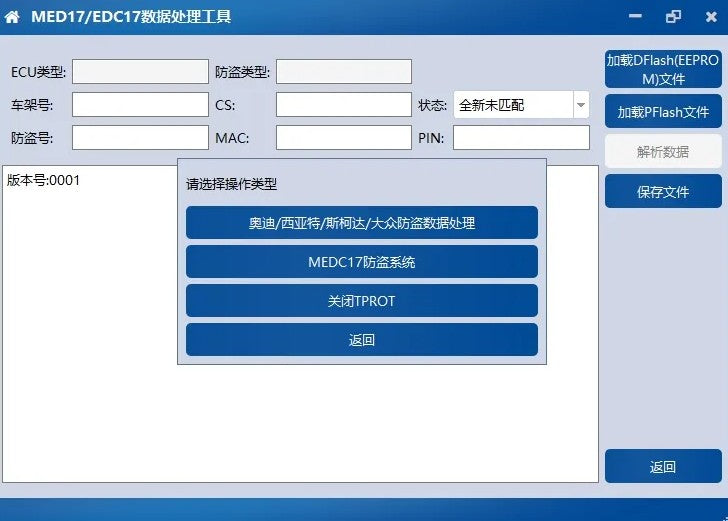 FC200 ECU Programmer Software Display:
1. Interactivate Software Interface
brand-model-engine/gearbox-ECU interface structure to help users save time and find the operating directory accurately.
2. Built-in Model Search Function
Support ECU model and Bosch search by number, avoid the trouble of level selection and enter the function interface as quickly as possible.
3. ECU Search
Take the BMW MSV90 ECU as an example, First select "BMW", select "ECU" as the search condition, enter "MSV90", click the search button, and the ECU type will show up.
Some search procedure for Bosch ECUs.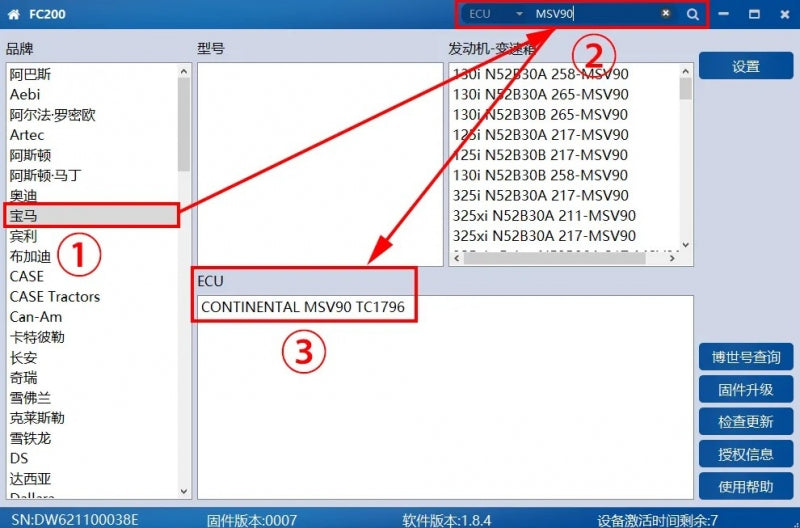 4. Visualized Wiring Diagram
1:1 simulation, bright colors, to avoid wiring errors.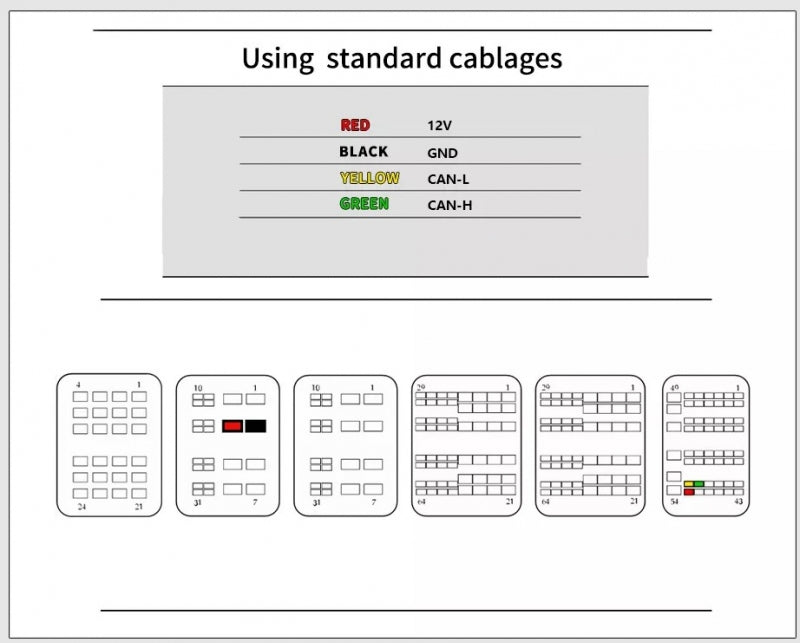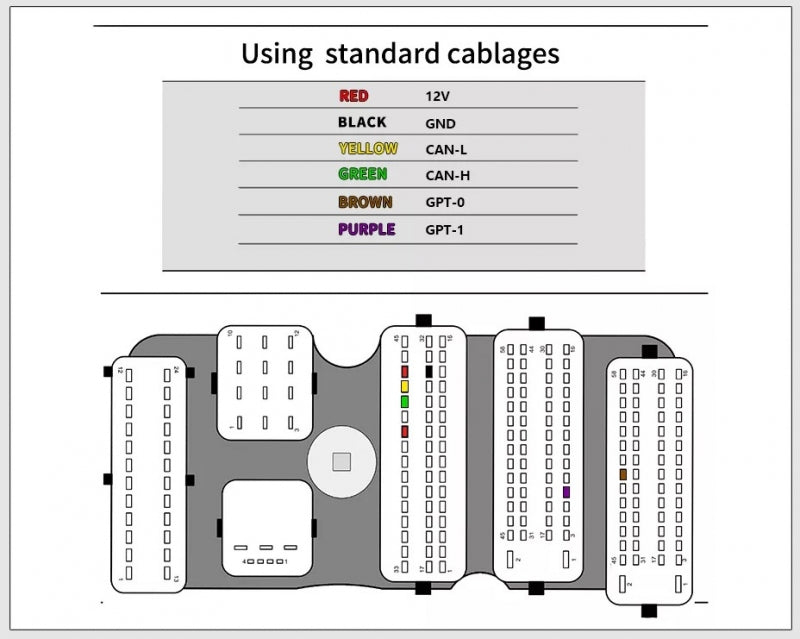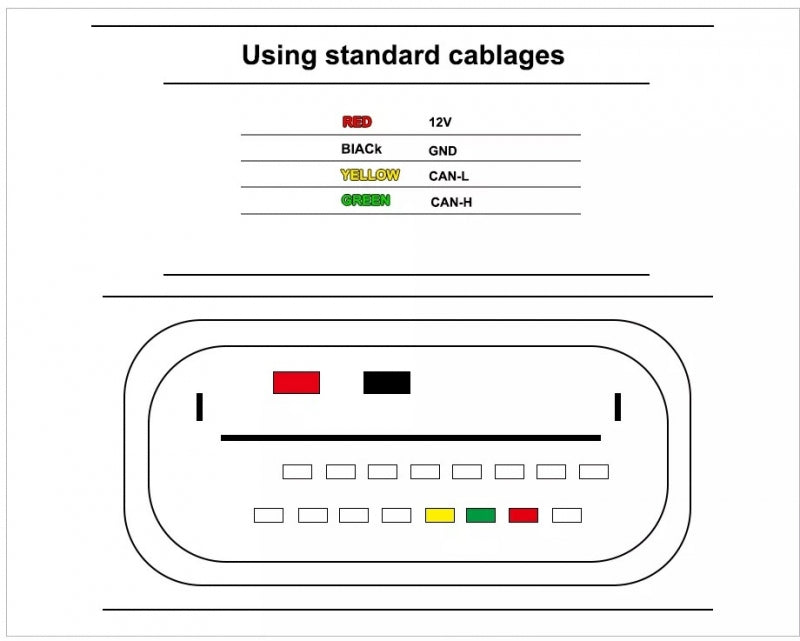 FC200 ECU Programmer Hardware:
FC200 Main Unit
1. Integrated injection of polymer materials, professional customized internal circuit boards, national patent certification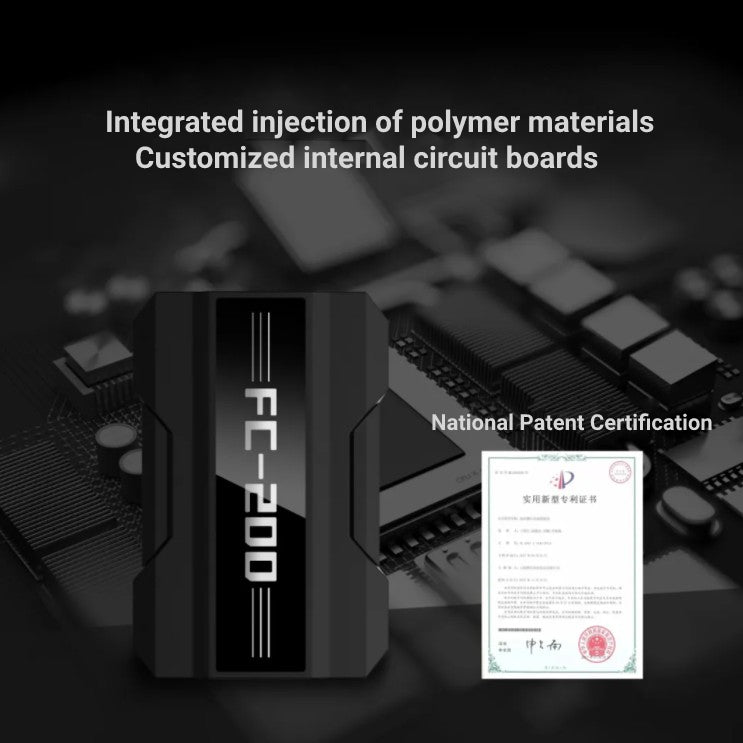 2. Exquisite design, easy to carry, can shield surrounding interference signals, adapt to various operating environments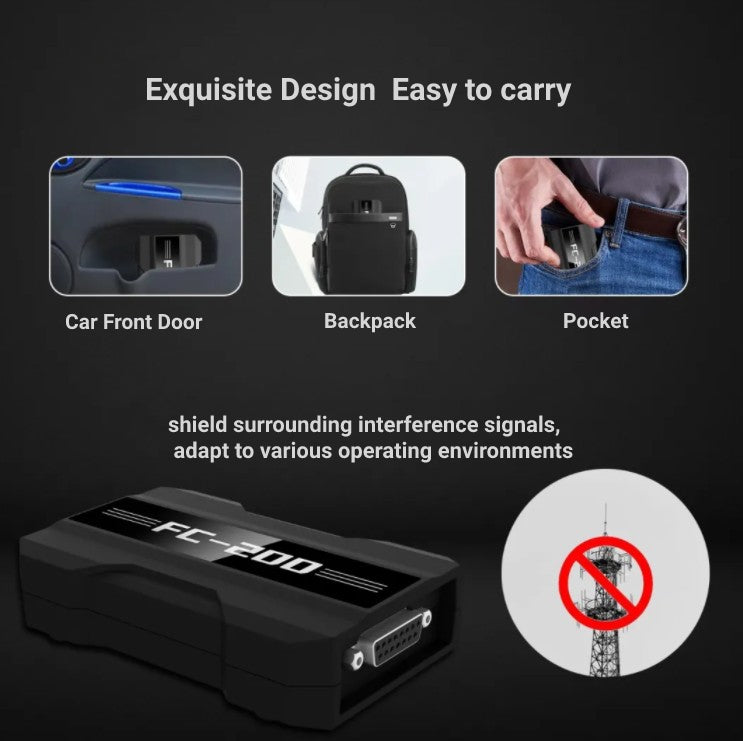 3. There are 3 expansion ports for peripherals, which are automatically diagnosed and identified. They are 12V power port, USB port and DB15 port. The DB15 port can be connected to a free-dismantling adapter and OBD cable.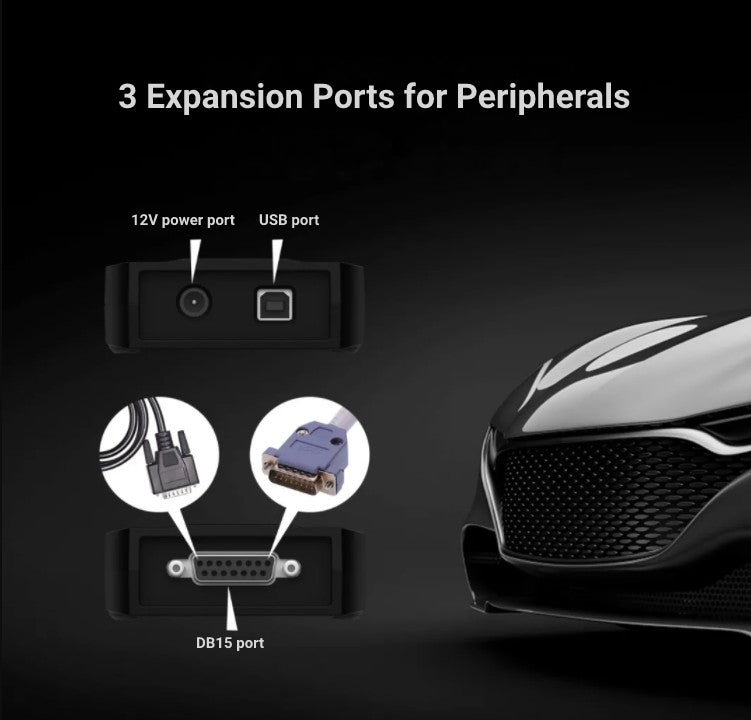 FC200 Interfaces and Cables:
1. Vehicle-grade wiring harness, made of synthetic metal, has excellent internal conductivity and can be used continuously for 10,0000 times.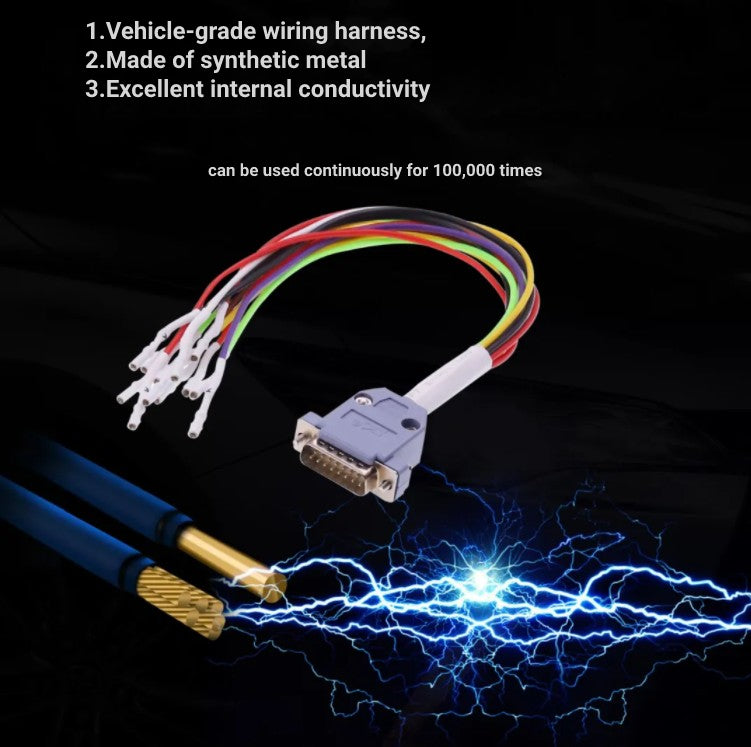 2. Tight design, seamless connection between ECU and host to ensure continuous communication and escort your operation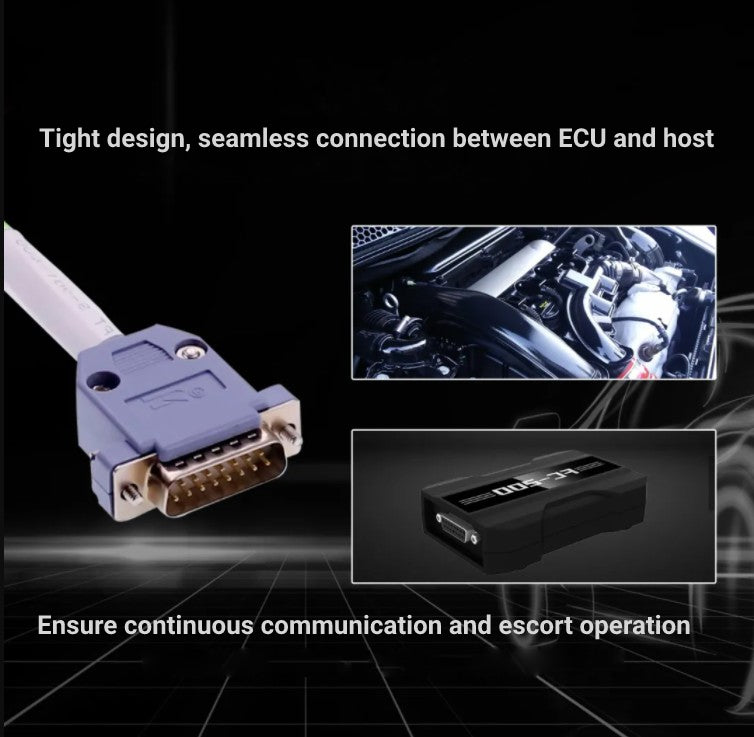 3. Equipped with B-type, C-type, D-type, F-type and G-Type pin interfaces, suitable for many types of ECU and EGS
OBD2 Cable
FC200 obd2 cable mainly suitable for BMW B48/B58 ECU at present, read ISN via OBD without disassembly.
110cm, made of synthetic material, resistant to high temperature water-proof, anti-corrosion
is designed according to OBD port of the vehicles, built-in anti-falling buckle make connection stable

FC200 Support Vehicle List:
Support 4200 kinds of ECU/EGS, covers 80% vehicles at the market.
Check details here: CG FC200 Car List
Package List:
1set x FC200 full version
Contact Us
Whatsapp: +86 136 1282 7578
Email: info@getobdtool.com