CG Pro 9S12 is the next generation of CG-100. CG Pro 9S12 programmer can perform automatic conversion BMW/Benz kilometer and BMW, Land Rover, Porsche key matching. It combines both CGDI BMW key programmer and CGDI Mercedes key programmer.
CG Pro 9S12 Programmer Overview
Software Version: V2.2.2.0 (2020-4-17)
Languages: English, Spanish
Operation System: Win7
Update: Download software on official website or contact us for details.
With free new CAS4 DB25 and TMS370 Adapter in package, reading CAS4 without demoulding (No Need to Remove Chip)
CG Pro 9S12 Key Programmer Full Version With All Adapters
Compared to CG Pro 9S12, this full version with more adapters.
1. HC705/908 Adapter, AM29FXXX Adapter, AM29Blxxx Adapter 
2. 35160WT adapter
3. CGPRO CAN V2.1 Adapter
You can save up to $100 to buy full version directly than buying adapters alone.
Operating HC705/908 Series Chip for repairing old anti-theft computer read write function and ELS lock of Mercedes-Benz, etc.
Operating AM29F200/AM29F400/AM29F800 series chips for automotive computer repair, anti-theft computer repair,etc
Operating AM29BL802 series chip etc used in automotive computer repair anti-theft computer repair or Wei Zhi anti-theft cancellation

35160WT Adapter works for the 35160WT and 35128WT chip design that cannot be erased, it can directly repair the original vehicle red dot and directly use the original car chip. This function is the first in the world. No more the need of the emulator, with the CG Pro and 35160WT adapter, you can fix the mileage without emulator.
CGPRO CAN V2.1 Adapter for CG Pro 9S12 Key Programmer support the following engine computer repair BMW E Series 3 Series or 5 Series, BMW F Series, BMW R Series (Mini), Bentley, Volkswagen MT60 MT80.
CG Pro 9S12 Programmer Highlights
- Support a variety of strong encryption chip crack, stable fast
- Software equipment using high-end technology, real-time monitoring, anti-loss
- This programmer is complementary to the CG-100
- With independent intellectual property rights, arbitrarily increase the chip model according to customer demand.
- Read and write any BMW CAS 1-4, Porsche BCM, Mercedes-Benz EIS, Audi BCM2 Etc anti-theft computer (100% stable security, subject to domestic test users alike)
Kindly Note:
The CG Pro 9S12 connector has changed since Apr 10th 2019, now the conectors is different from the old design. CG Pro 9S12 old and new design picture below.
If you have old adapters, get the new design CG Pro 9S12 main unit may cannot connect. Please kindly contact our team to get the old design.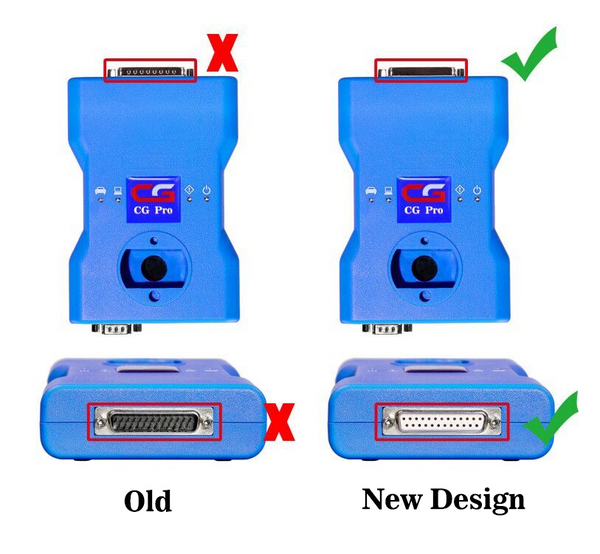 CG Pro 9S12 Freescale Programmer Features
1. Support Freescale 705 series 
2. Support Freescale 908 series 
3. Support Freescale 711 series 
4. Support Freescale 912 series 
5. Support Freescale 9S12 series
6. Support NEC V850 series 
7. Supports engine computer change and ISN read
8. Support automatic conversion BMW, Mercedes-Benz kilometers
9. Support for BMW, for Land Rover, for Porsche key programming
CG Pro 9S12 Key Programmer Support ECU IMMO List:
For BMW:
CAS4+     5M48H/1N35H    (9S12XEP100)
CAS4    1L15Y    (9S12XDP512)
CAS3    0L15Y/0M23S    (9S12XDP512 including CAS3+ series
CAS3    0L01Y    (9S12DG256)
CAS2    0L01Y/2K79X    (9S12DG256)
CAS2/E66    0L01Y/2K79X    (9S12DG256)
CAS1    0K50E    (912DT128A Write FLASH data online
EWS4    0L86D/1L86D/2L86D    (9S12DJ64)
EWS3    0D46J/2D47J    (MC68HC711EA9)
EWS2    1D47J    (MC68HC711EA9) 
( Support read/write data above for mileage correction and immobilizer reset )
For BENZ:
EIS   211  ST12 3L40K/1L59W/4L40K/1L85D/0L85D/2L85D/
EIS   211  HC12  0K50E/3K91D
EIS   209  ST12   3L40K/1L59W/4L40K/1L85D/0L85D/2L85D/
EIS  209  HC12  0K50E/3K91D
EIS   215  ST12   3L40K/1L59W/4L40K/1L85D/0L85D/2L85D/
EIS   215  HC08  2J74Y/4J74Y/1J35D(Can directly reset EIS data with 08 adapter;and read write EEPROM without extra adapter
EIS    220     HC05  
0D53J/0D59J/0D62J/0D69J/0F62J/0F82B/0G47G/
0H51A/1D59J/1D69J/1H52A/2D20J/2D59J
EIS   210     HC05
0D53J/0D59J/0D62J/0D69J/0F62J/0F82B/0G47G/
0H51A/1D59J/1D69J/1H52A/2D20J/2D59J
EIS      203  HC08  1J35D/2J74Y/4J74Y
EIS      164  ST12   3L40K/4L40K/1L59W/0L85D/1L85D/2L85D
EIS      169  ST12   3L40K/4L40K/1L59W/0L85D/1L85D/2L85D
EIS      639  ST12   0L01Y
EIS      639  HC08  0L02M/1L02M/4J74Y/1J35D/2J74Y
EIS      199  ST12   3L40K/4L40K/1L59W/0L85D/1L85D/2L85D
EIS      230  ST12   3L40K/4L40K/1L59W/0L85D/1L85D/2L85D
(Support all above data read/write for mileage correction and immobilizer reset)
For Roewe:
Roewe 750 IMMO   0M89C  (Read/Write)

For Land Rover:
EWS  ST12   3L40K/4L40K/5L40K
RFA   9S12XEQ384      (1M12S 2M12S 1M53J 2M53J ) 9S12XET512  ( 3M53J  2M53J 1M53J)

Support Dash Type:
For Benz
For BMW
For Domestic cars 9S12 dash
For Land Rover
For Mini
For Audi:
For Audi  A4/A5/Q5-BCM  NEC   D70F3634/D70F3380      
For Audi  ELV   HC08GR  4L35K
Key Programming:
For BMW, CAS3 , YES
For BMW, CAS3+, YES
For BMW, CAS4, YES
For BMW, CAS4+, YES
For BMW,  EWS4
For BMW, EWS3
For BMW, EWS2
For Porsche 911, BCM, YES
For Porsche Boxster, BCM, YES
For Porsche Cayman, BCM, YES
For Porsche Panamera, BCM, YES
For Porsche Cayenne, BCM, YES
For Porsche Macan, BCM ,YES
(Program key via eeprom data)
      
Support Chip List:
Microcontroller:
Motorola:
9S12 series:
9S12XDP512-0L15Y
9S12XDP512-1L15Y
9S12XDP512-0M23S
9S12XEP100-1N35H
9S12XEP100-5M48H
9S12XEx512-2M25J
9S12XEx512-3M25J
9S12D64-2L86D
9S12DJ64-0M89C
9S12DT128-1L59W
9S12DT128-4L40K
9S12DT128-1L85D
9S12DG128-3L40K
9S12DG256-0L01Y(CAS)
9S12DG256-2K79X
9S12XHZ384-1M80F

HC912 serie:
HC912DG128-0K50E
HC912DG128A-0L05H
HC912DG128A-3K91D
 
HC908 series:
HC908AZ60-4J74Y
HC908AZ60-1J35D
HC908GR16-4L35K
 
HC711 series:
HC711EA9-2D47J
 
HC705 series:
HC705-0D69J
HC705-0D53J
 
NEC:
D70F3634
D70F3380
 
 
CPU:
ST:
35080DQ
35160DQ
35080_3/6
35080VP/V6
 
8-foot chip:
24C01
24C02
24C04
24C08
24C16
24C32
24C64
24C128
24C256
24C01A
24C01B
24C02B
24LC01A
24LC01
24LC02
24LC04
24LC16
24LC32
25010
25020
25040
25080
25160
25320
25640
25128
25256
93C46
93C56
93C66
93C57
93C76
93C86
93A86
93CS56
93CS66
93S56
93LC46
93LC56
93LC66
93LC76
93LC86
95010
95020
95040
95080
95160
95320
95640
95128
95256
 
AMD:
AM29BL802CB
AM29F200
AM29F400
AM29F800
Package includes:
1pc x Main Unit
1pc x M35080_V1.0 Adapter
1pc x EEPROM&V850_V1.0 Adapter
1pc x USB Line
12P x Welding Line
1pc x DB25 Adapter
1pc x 711 Adapter
1pc x 12pin Welding Wire
1pc x CG Pro Integrated Adapter
1pc x 35160WT adapter
1pc x CGPRO CAN V2.1 Adapter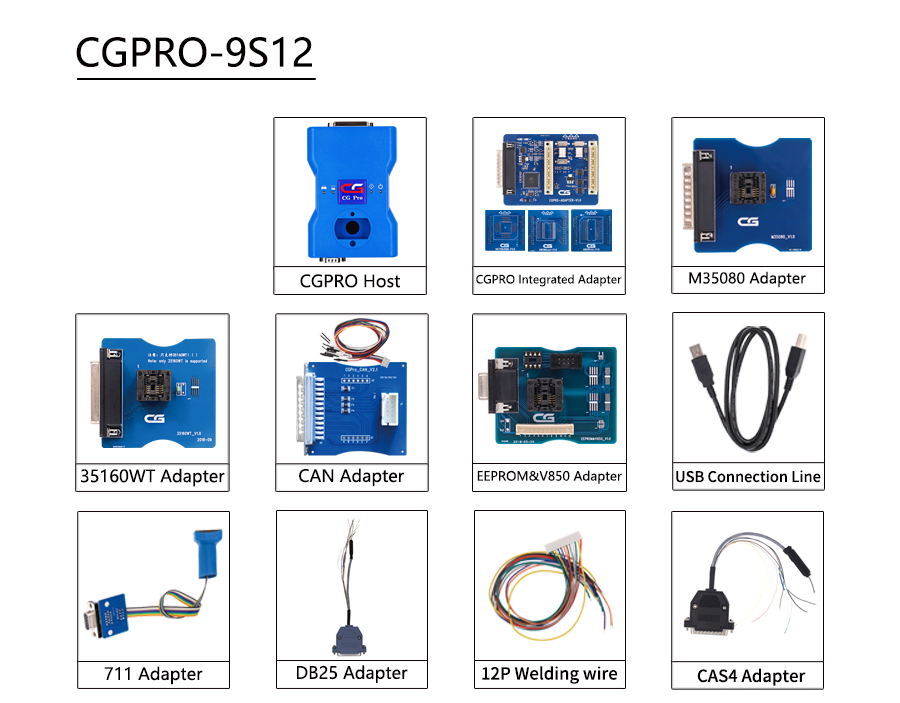 Contact Information
Whatsapp: +86 136 1282 7578
Email: info@getobdtool.com
Skype: getobdtool