Digital Microscope with wire control, suitable for Computer
This digital microscope has a high-definition large screen for taking pictures and videos; it can also be connected to a computer via USB, and can be accurately measured with measuring tools, and can support Windows/OS systems; it can output high-definition images in real time, and can be widely used in repairing electrical appliances and other work.
Product Usage:
Electronic circuit board inspection, industrial inspection, textile inspection, clock and mobile phone repair, skin inspection, scalp inspection, printing inspection, teaching and research tools, precision object magnification measurement, jewelry antique identification, coin identification, reading help, hobby research, etc.

Features:
Simple operation, complete functions, clear imaging, exquisite workmanship, 7-inch high-definition display screen, can be connected to a computer, and it is more convenient to operate with a remote control.
The bracket has an external fill light, and the battery can be replaced by itself, and it supports 13 languages.
(Note: Use the 18650 rechargeable battery, please use the charger to charge and activate the device when installing the battery for the first time and replacing the battery!)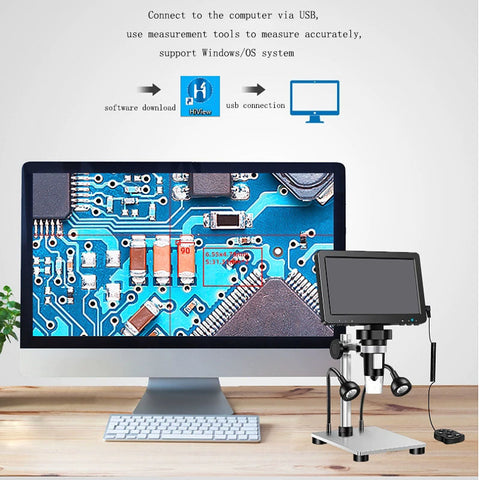 Digital Microscope Installation:
How to connect the bracket to the external fill light:

(Note: The bracket itself does not contain a battery, and the external supplementary light of the bracket is powered. It is necessary to connect the main body of the microscope to the bracket through the remote control; or use a daily mobile phone charger, power bank, etc. to power the bracket.)
Digital Microscope Parts and functions: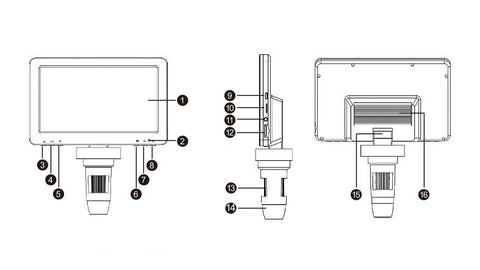 1. 7 inch display screen
2. Light hole
3. Select on
4. OK button
5. Next select
6. Take pictures
7. Menu
8. Power on/off key
9. Micro USB interface 10. TF card slot 11. Remote control jack 12. Brightness adjustment of fill light 13. Focus adjustment wheel 14. LED fill light 15. Movable arm 16. Battery compartment back cover


Digital Microscope's Packing List:


1 x usb
1×Microscope body + light cup holder
1×calibration ruler
1×wire remote control
1×packing box
1 x manual
1 x disc