GODIAG K100 is a professional hand-held device created specially for Chrysler/Jeep key programming. GODIAG K100 equipped with advanced software, support add keys, program remote, key number reading, pin code read, all key lost function etc.
GODIAG K100
 

Chrysler/Jeep 

Hand-held Key Programmer

GODIAG K100 Key Programmer adopts updated main board, making operation easy, fast and better customer experience, which can be widely applied to after market, auto technicians and individuals.

 
GODIAG K100 Software Highlights
- Pacific 2017 proximity add keys / all key lost / program remote
- Journey 2018-2019 proximity add keys / all key lost / program remote
- Dodge Ram pickup 2018  proximity  key programming
- Grand Cherokee 2016-2017 proximity key programming
- Jeep wrangler blade 2007-2018 key programming
GODIAG K100 Features
1. Fast and Stable Operation
2. HD Color Display Screen
3. Shockproof and Durable Design
4. Support High Capacity TF Card or USB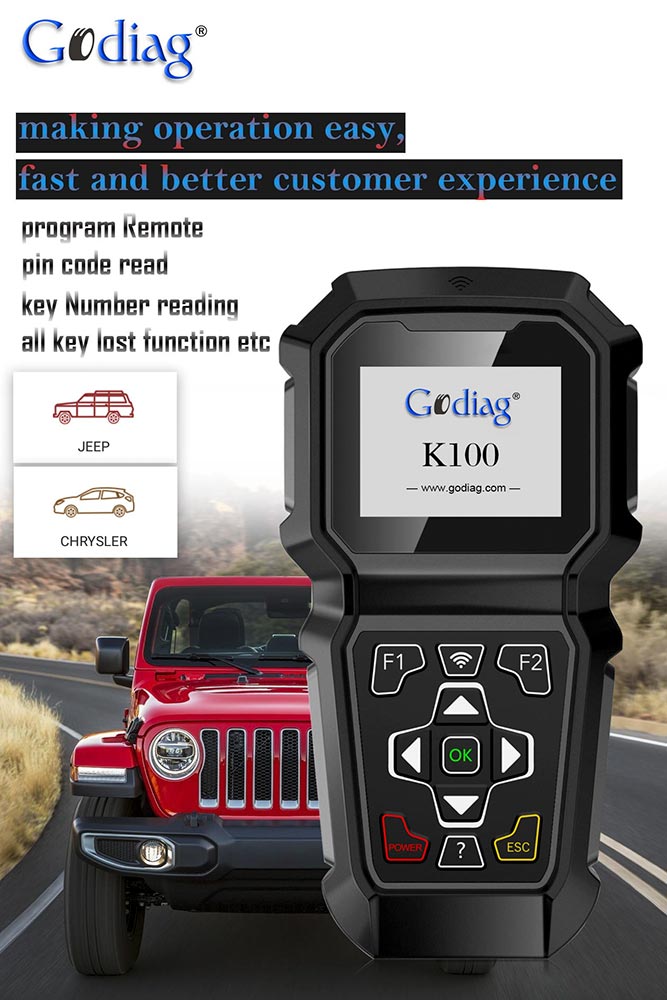 K100 Support Model List

GODIAG K100 Product Parameters
CPU: ARM7
Display Screen: TF 320x240
Dimension: 202x106x31.6mm
Power Supply: DC12V
Work Voltage: DC12V
Work Temperature: -20-60℃
GODIAG K100 Packing List
1pc x GODIAG K100 main unit
1pc x Main Cable
1pc x SD Card Reader
Contact Information
Whatsapp: +86 136 1282 7578
Email: info@getobdtool.com
Skype: getobdtool