New 4LED Red PCB KTAG 7.020 EU Online Version SW V2.70 No Token Limited Support Full Protocols
KTAG V7.020 Informations:
Hardware Version: V7.020
Software Version: V2.70
Alientech Master Version ECU Programming Chip Tuning Tool
No Tokens Limited,Unlimited Version
PC Supportes: Windows XP Professional/Win7/Win8
Update:By CD or Download link only
Langugaes: Italian Deutsch English French Portuguese Spanish
Very Important Note Tips:
1. Please DON'T update the KTAG online, it will damage the Unit can not use any more . (Only send back repair, buyer need pay more attention)
2. Please Close anti-virus program when run software
Description:
K-TAG ECU Programming Tool is designed entirely around the needs of our customers to be more responsive and reliable.
A true champion of innovation, K-TAG introduces another brand new novelty to Alientech world: J-Tag communication for Asian vehicles.
Available Protocols for K-TAG: BDM MOTOROLA MPC5xx
Support BDM Function Well, No Checksum Error
Support both Car, Truck ECU Programming
The new K-TAG is 100% J-Tag compatible, but in a completely different way. Usually J-Tag programmers are available only for big productions, never present in chiptuning devices. Using only the essential components, Alientech have merged J-Tag, Motorola BDM/Nexus and Bootloader FOR Mitsubishi/Infineon Tricore/ST communication lines into a single product.
K-TAG works in perfect harmony. Learn how to use K-TAG takes almost no time, because all the communication protocols operate along similar principles. Once you have learned to use a protocol, you will naturally use all the others. Alientech knows what it means to work in motion. For this reason the research methods of the protocols and choice of vehicles are detailed and ordered.
Unlike many ECU programming tools, with K-TAG you have at your disposal only the applications you really need. Once you have the hardware, you can choose which group of protocols to enable and then start working. In this page you can find a complete list of the ECU currently supported by K-TAG.
Just as the full range of Alientech programmers, K-TAG is available both in Master and Slave version. This way, Slave user can rely on the larger network of Master in the chiptuning field.The only thing that K-TAG does not do: OBD Communication. But for that you can count on
KESS Ksuite V2
.
To use K-Tag at best on any kind of Electronic Control Unit, Alientech offers you a wide range of special adapters, to be soldered on the ECU or to be used on the positioning frame.
New Update 4LED Indicator on PCB:
ECU ON/KEY ON/POWER/DATA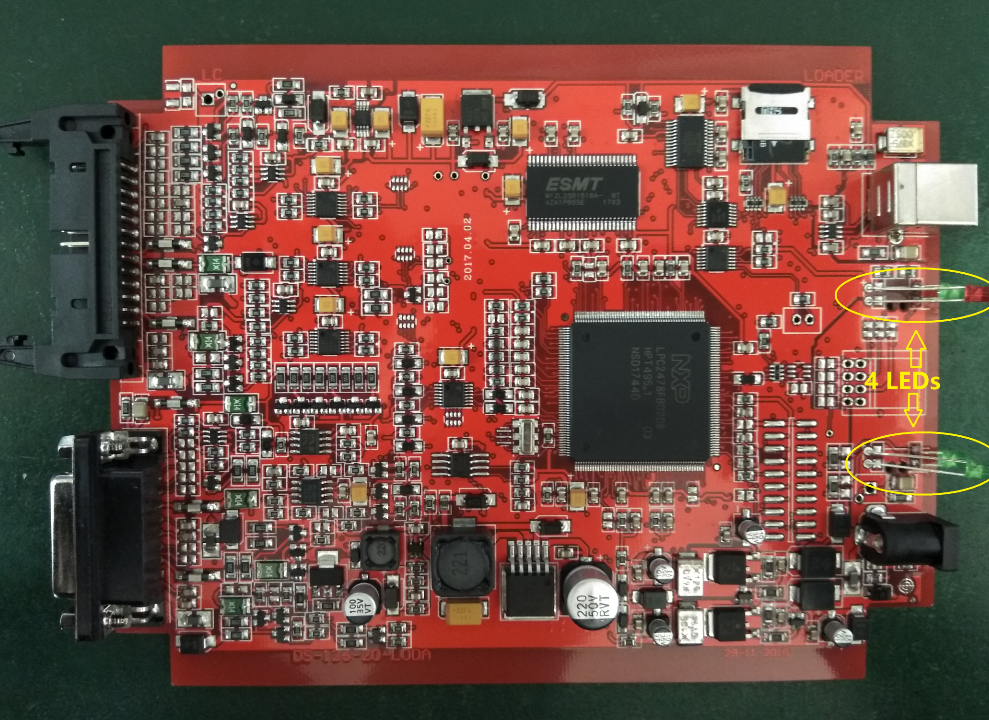 Fllowing details of the accessories available in car list catalog per each group of protocols of communication:
 
BDM Motorola MPC5XX
14AS00T01S: Adapter to be soldered to the ECU
14AS00T02S: Cable with connector to be soldered to the ECU
14AS00T03S: Adapter to be soldered to the ECU
14AS00T04S: Adapter to be soldered to the ECU
14AM00T00M: Board for connection through positioning frame
14AM00T01M: Board for connection through positioning frame
14AM00T02M: Board for connection through positioning frame
14AM00TBAS + 14AM00TB01: Board for connection through positioning frame, with pull-out tip 14AM00TB01
14AM00TBAS + 14AM00TB02: Board for connection through positioning frame, with pull-out tip 14AM00TB02
14AM00TBAS + 14AM00TB03: Board for connection through positioning frame, with pull-out tip 14AM00TB03
 
J-TAG Nexus MPC5xx
14AS00T05S: Adapter to be soldered to the ECU
14AM00T05M: Board for connection through positioning frame
14AM00T06M: Board for connection through positioning frame
 
J-TAG RENESAS SH705xx
14AM00T07M: Write Board for connection through positioning frame
14AM00T08M: Write Board for connection through positioning frame
14AM00T09M: Write Board for connection through positioning frame
14AM00T10M: Read Board for connection through positioning frame
14AM00T11M: Read Board for connection through positioning frame
 

BOOTLOADER INFINEON TRICORE
14P600KT04: Board for connection through positioning frame
 

BOOTLOADER ST10
14AM00T03M: Board for connection through positioning frame
Available protocols for K-TAG:
BDM MOTOROLA MPC5xx
TYPE BRAND ECU ECU_TYPE K-TAG
 
J-TAG NEXUS MPC5xx
TYPE BRAND ECU ECU_TYPE K-TAG
 
BOOTLOADER FOR MITSUBISHI MH72xx/MH8xx
TYPE BRAND ECU ECU_TYPE K-TAG
 
BOOTLOADER ST10
TYPE BRAND ECU ECU_TYPE K-TAG
KTAG V2.70 Software Download Link
https://mega.nz/file/oehjkIJB#TJ9lEf0hBlvmjQ3IEJOqu8I39hBy7KltfVY7IEq6kT4
KTAG V2.25 Software Download Link