LAUNCH BST-500 Car Battery Tester Cranking and Charging System with Printer Test 6V 12V 24V Load Tester 100-2000 CCA
LAUNCH BST-500 battery load tester is your savior! All the battery-related tests can be conducted with a simple click. As for the test results, it will be presented to you in seconds to deeply understand the battery health status and avoid unnecessary losses.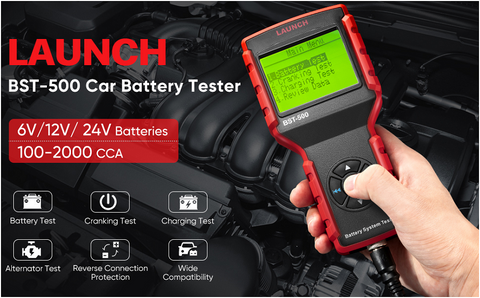 Why You Need A LUANCH BST-500 Car Battery Tester?
1. Portable & Easy to Use
Support both in-vehicle and out-of-vehicle tests, no need to remove the battery from the vehicle. Compared with traditional load battery testers, the battery alternator tester is easy-to-use and can get accurate results in seconds.

2. Fast and Accurate
High precision amplifier and calibrated by professional instruments give you reliable results in seconds!

3. Wide Compatibility
Works on all 6V -30V lead-acid batteries ranging from 100 to 2000 CCA (testing range:30-220AH).

4. Safe to Use 
Fully Insulated Alligator Clips are built with user safety in mind through spark-free operation and reverse polarity protection.

5. Battery & Cranking & Charging Test
With this LAUNCH BST-500 car battery tester, you can check the overall health of the battery including the cranking test, and run a complete system charging test. 

6. A Must Tool For DIYERS & PROS
Applying the advanced conductance testing technology, Fit in your glove box, it's a handy device for automobile factories, garages, auto battery manufacturers, and DIYers.

7. Multi-Language Support
English, Spanish, French, German, Russian, Polish, Italian, Portuguese.
Launch BST-500 Car Battery Tester Features:

* Test 12 and 24-volt batteries
* Tests multiple battery types— VRLA, GEL, AGM, EFB, and regular flooded batteries
* 100-2000 CCA testing capacity
* Ideal for cars, light trucks, RVs, motorcycles, ATVs, boats, etc.
* Battery check, cranking check, charging check
* More fast and accurate result presentation
* Reverse polarity protection
* Firm and secure battery clamps
* Small and compact design
* Operation is guided through each step in the testing process
* Ergonomic design for better grip
* The latest test can be retrieved in the data review section
* Multi-language support
* Save a lot of money down the road
* 2. 4" LCD for clear test results showing
* No harm to batteries

Launch BST-500 Car Battery Tester Specification:

Launch BST-500 Car Battery Tester Package Includes:

1pc*LAUNCH BST-500 car battery tester