Mechanic Glove 10 Pair Auto

 Repair Glove

The Mechanic Glove 10 Pair offers sophisticated protection and flexibility for any mechanic project. Crafted with quality materials, these gloves feature superior dexterity and grip that won't sacrifice comfort. Enjoy a sleek and luxurious feel while you work, knowing you are protected from the rigors of the job. Luxury and protection - all in on glove.
Black Mechanic Glove specification:
Color:Black Mechanic Glove
Material:Nylon & PU
Useage:Auto Repair or Home Garden protection
Features: non-slip, Wear-resistant, prevent oil pollution
Why You Need A Mechanic Glove?
1. Extra protection while handling sharp circuit boards.
2. Reusable. Machine washable, Washable, resistant to chemicals, water, and ultraviolet light
3. Seamless construction offers increased comfort and breathability
Polykor blended shell is lightweight and provides excellent dexterity, tactile sensitivity and cut resistance
Foam Nitrile coatings are breathable and durable, designed with a cell structure that disperse fluids on contact for an improved grip
4. Reinforced thumb crotch for extended glove life, enhanced comfort, increased abrasion resistance and added durability in a high-wear area
5. Knit Wrist helps prevent dirt and debris from entering the glove
How to choose Right Size Mechanic Glove For Yourself?

Note: before you place order, please remember choose the right size.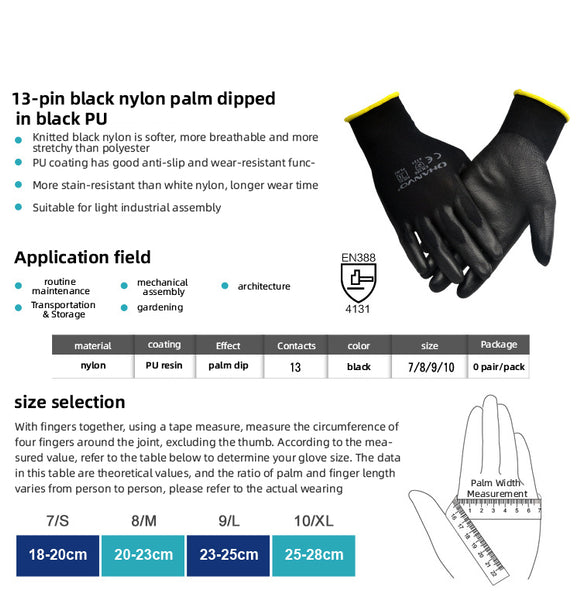 GETOBDTOOL Best Mechanic Glove Real Application:
Packing list:
10 pair/box Mechanic Glove