Piwis 2 V18.100 Software Hard Drive Works For
Porsche Diagnostic & Programming Support Multi-Languages.
Piwis Tester 2 V18.10 Software HDD:
1. Software Version: 18.100 (Win7) 
2. HDD Type: Internal hard drive use only
3. Hard Drive Size: 320G/500G HDD, 256G/512G SSD
4. Compatible Hardware: Piwis Tester II Samtec Hardware
5. Operation System: Win7 (If you need WinXP system with V18.150.500, please leave notes or contact our sales to arrange it)
6. Support Languages: Russian, English, French, Spanish, Italian, German, Portuguese, Japanese, Chinese, Dutch
7. PC compatible: Dell, Lenovo, Panasonic laptops.
8. Update Method: By HDD, One Year for Free, It can not be updated online. (Software contains operating system already, you just need to insert into your computer and use it.)
What's the Difference Between V18.100 and V18.150.500?
1. V18.100 is Win7 System, V18.150.500 is WinXP System
2. V18.100 Wiring Diagram only with Chinese Language, cannot change, if you mind this, please choose V18.150.500 in WinXP system directly
3. V18.150.500 with WinXP system defect ratio is high, we got many problems with it, so we ship out Win7 system with V18.100 usually.
Notice:
1. This HDD/SSD harddisk software is internal software, need to put it inside laptop to boot laptop, please don't use as external. Otherwise we cannot provide after sale services for this reason.
2. This HDD/SSD harddisk software needs to be activated, when you get the software, just send the Teamviewer ID and pasword to us (info@getobdtool.com), we will activate for you.
Piwis Tester 2 Software Main Functions:
Read/clear error code
Catch data stream
Computer programming match
Component test
Maintenance information consult
Components site drawing, Wiring diagram
Piwis Tester 2 Developer (Engineering) Mode Functions:
1. Start/stop "LAST MODE" wait for stopping the engine and change memory
2. Spoiler" lesson time when the car starts
3. Spoiler "fixed"
4. Spoiler "change angle"
5. Change VO code
6. Close Air Mercury
7. Upgrade power
8. Remove the tire pressure sensor
9. Install reversing camera
10. Install USB/BT
11. Close the seat belt warning
12. Change CDR/PCM operation interface
13. Air condition memorization
14. Start CDR_AUX
15. Open the PCM function
16. Manually set codes
17. Automatically set codes
18. Manually do programming
19. Automatically do programming
Piwis Tester II V18.10 Software HDD For Porsche Vehicle Coverage:
1. 911(997) (991)
2. Boxster/Cayman (987)
3. Cayenne up to MY 2010
4. Cayenne from MY 2011
5. Panamera
6. Support 2017 year Porsche car models
Piwis Tester 2 Software Included:
For Porsche PET 7.3
For Porsche workshop manual
For Porsche maintenance database
Piwis Tester II Support Systems:
OBDII system
ENGINE automatic transmission
Air-conditioner
SRS
ABS
ASR
MPL
GM
Original Antitheft System
KEYLESS-GO System
Packing List:
1pc x Piwis Tester II Software HDD/SSD
OEM PIWIS III for Porsche with Piwis Software Installed on Lenovo Yoga Touch Screen Laptop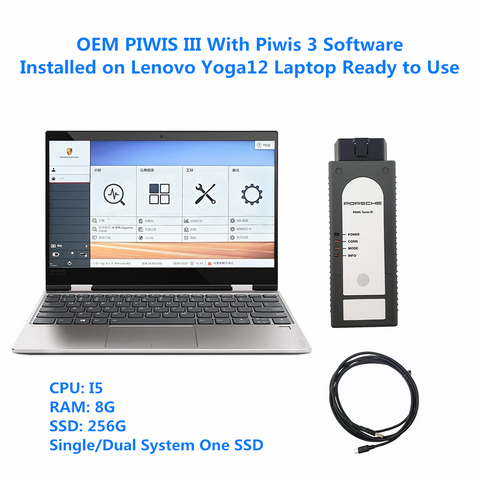 Contact Information
Whatsapp: +86 136 1282 7578
Email: info@getobdtool.com
Skype: getobdtool