Thinkcar SF100 OBD2 Code Reader SRS ABS System Oil Lamp,Oil Reset Service ODB 2 Scan Tool Car Diagnostic Tools OBD2 Scanner
Thinkcar SF100 Features
1) Live Data on Graph
2) Auto Vin Reading, Makes Diagnostic More Fast
3) Screenshot & Screen Recorder, Scan the QR to Share & Print Diagnostic Report
4) One-click Free Update, lifetime Free update
5) DTC lookup
This innovative Thinkcar SF100 Scan Tool, it doesn't only have basic OBD2 Check, but also support diagnosis of ABS and airbag faults, ABS Bleeding, Oil Light Reset and Electronic Parking Brake Reset.This new scanner is just the perfect tool that DIYer and Car Owner can't wait to have.
Diagnostic ABS & SRS Airbag
Anti-Lock Braking System (ABS system)

Diagnosing an ABS problem should always start with a visual inspection of all brake components, next you will need to retrieve ABS codes to tell you where the problem is, and this is what this scanner does for you

ABS Bleeding

-Get a firm brake pad after air exhaustion.

Supplemental Restraint System (SRS System)

SRS, safety restraint system, is made up of impact sensors, a control module, and the airbags themselves, and this diagnostic device can detect every electronic parameter to check its health status
2 Free Reset Service for your model
Oil Reset

The lightening of the car maintenance light indicates that the vehicle needs maintenance.Reset the mileage or driving time to zero after the maintenance, so the maintenance light will go out and the system will start a new maintenance cycle.

Electronic Parking Brake Reset

lf the brake pad wears the brake pad sense line, the brake pad sense line sends a signal sense line to the on-board computer to replace the brake pad.After replacing the brake pad, you must reset the brake pad.Otherwise, the car alarms.
Oil Reset and EPB Reset Support Brand List
Full OBD2 Check
1) Read extensive current, pending and permanent codes in OBD system quickly

2) Clear detected fault codes and turn off the Check Engine Light efficiently

3) View graphical live data of vehicle's computer module(s) for easy analyses

4) View the vehicle's operating parameters at the moment a DTC is detected

5) Read I/M readiness status to have a vehicle inspected for state emissions compliance

6) Perform O2 sensor test to check fuel efficiency and vehicle emissions

7) Read the results of on-board diagnostic monitoring tests for specific components/systems

8) Retrieve the vehicle information of VIN, CINs, and CVNs completely

9) Perform the component Test by allowing initiating a leak test for the vehicle's EVAP system
 Optional 28 Reset Service
you can purchase more reset service in Thinkstore
Thinkcar SF100 Support Language
English, Russian, Spanish, Italian, French, Japanese, German, Portuguese.
One Click Upgrade Via WiFi, Lifetime Free
Share Diagnostic Report
Generate Diagnostic report with one clicj, share the diagnostic report with your friends, find out the problem quickly and easily.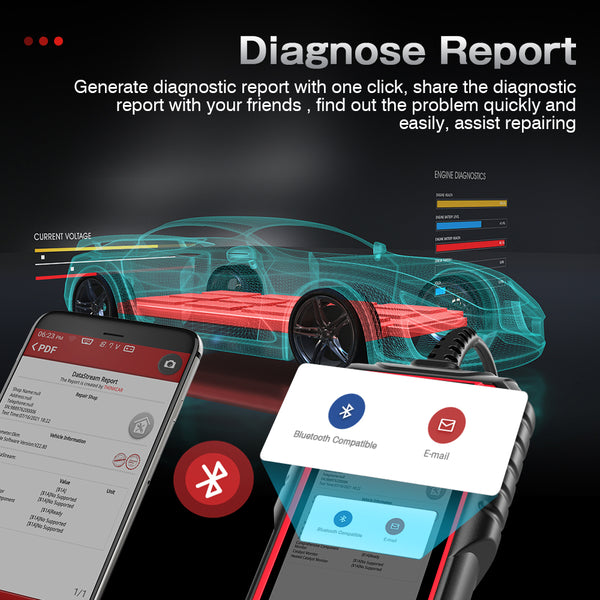 How to make a feedback online?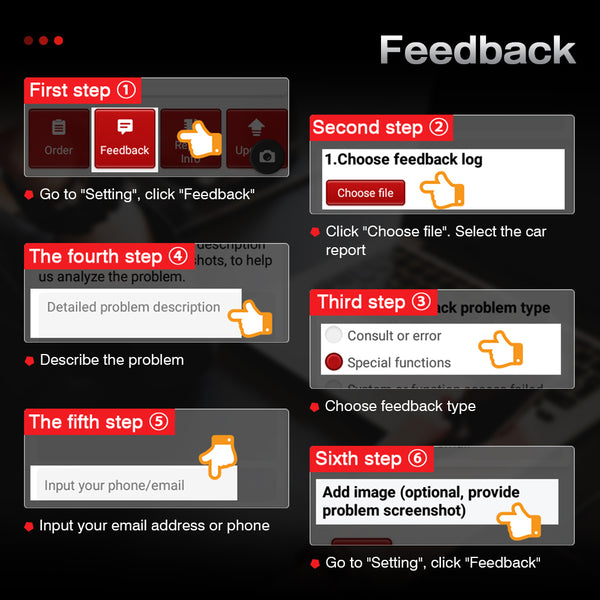 Product Parameters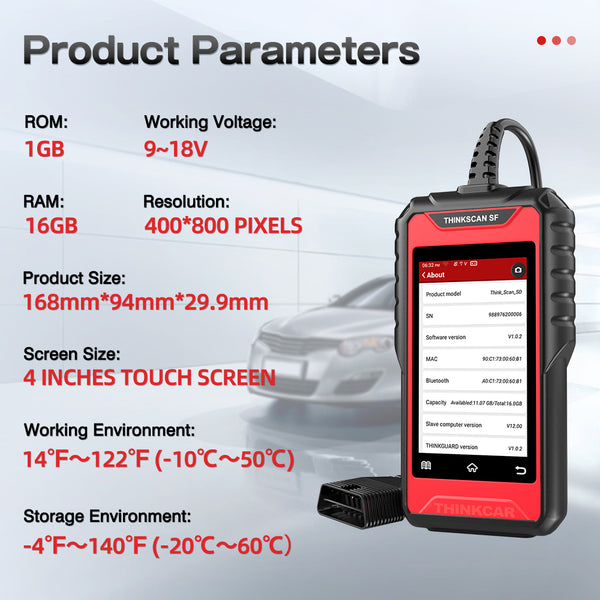 Pack List

1x Thinkcar SF100
1x USB Cable
1x Packing Box
1x Instruction Manual