Toyota Lexus Denso/Fujitsu Ten ECU Flasher
Note: work offline mode.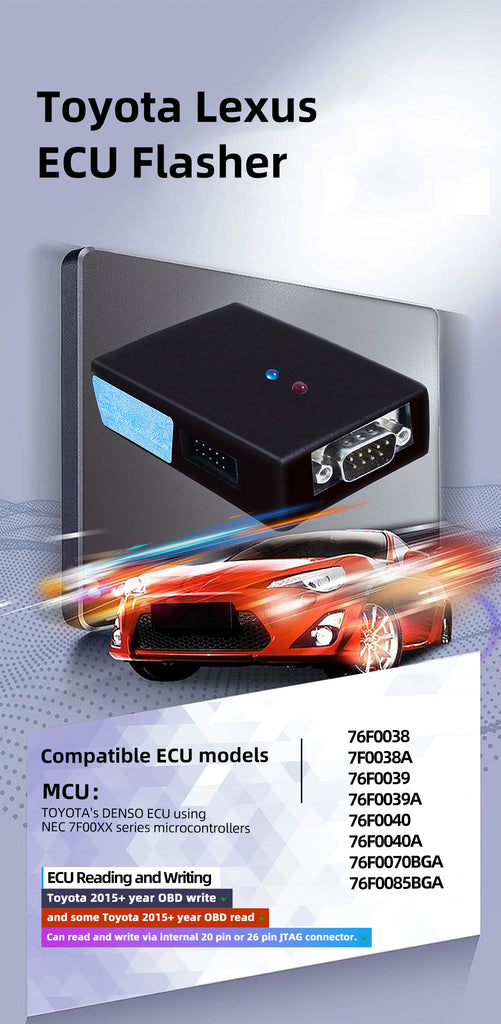 Top reasons to own one: 

1. Professional Toyota Denso ECU programmer
2. Support Toyota/Lexus 2015 + OBD Write
3. Support Some Toyota/Lexus 2015 + OBD Read
4. Can Read and Write via internal 20 pin or 26 pin JTAG connector.
5.Files can be stored in an open format, promoting ease of access and utilization.
6. Firmware integrity is fortified through checksum validation and recalculation, assuring data reliability.
7. No annual or monthly subscription
8. Its proprietary hardware interface ensures seamless operation, mitigating compatibility issues and driver complexities.
9. It guarantees unhindered access to ECU memory, executing operations at remarkable speeds surpassing 100 KB/s.

Storing Data: Standard mode storage
Free from any master-slave dependencies
Exclusive to the master device
Support Automated CHECKSUM CORRECTION 

Compatible Systems:

TOYOTA's DENSO ECU using NEC 7F00XX series microcontrollers, including: 
76F0038
7F0038A
76F0039
76F0039A
76F0040
76F0040A
76F0070 BGA
76F0085 BGA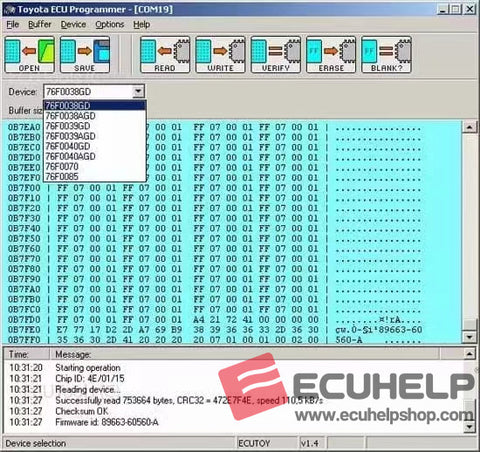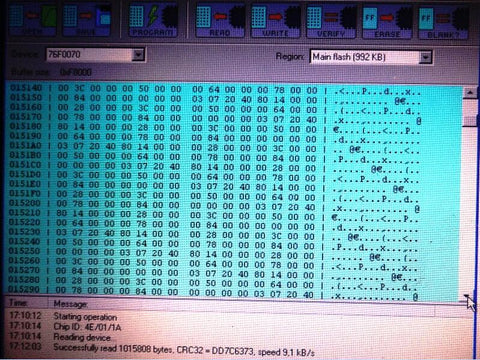 Read Toyota Denso 7600F70 100% OK: 
DO NOT USE: 
External 12V power for programmer powering in OBD mode!!!
USB powering ONLY !!!

Packgage List: 
1pc*Host device of Toyota Lexus Denso ECU Flasher
1pc*12V/3A power out
1pc*16pin cable for ecu reding by OBD
1pc*cable for BDM function
1pc*adapter for mitsubshi reading by boot
1pc*USB cable to connect the tool to computer 
1pc*adapter 
pcs*pins
1pc*Suitcase