V-AS 5054 with OKI Chip is Bluetooth VAG AUDI VW Bentley, Lamborghini Diagnostic & Programming Tool.
V-AS 5054 with ODI-S software Support diagnostic and online programming For Vag Cars.
V-AS 5054 Description
Why to Get V-AS 5054 diagnostic and programming tool?
1. V-AS 5054 from getobdtool.com as original dealer level device with full version chips Thailand M6636 OKI chip, AMB2300, Index, BT 4.0 and buzzer! Support UDS protocol and PWM.
2. VAS5054 with ODI-S software, full license support online coding for Volkswagen, Audi, Seat, Bentley, Lamborghini etc.
3. Getobdtool.com have latest ODI-S with Elsawin, ETKA parts catalog all software installed in HDD for sale. 
4. We also offer V-AS 5054 ODI-S Coding Account Service for customer, you can contact us online if you need this service.
ODI-S Softwares with ETKA, ELSAWIN, OID-S engineer software HDD Highlights:

1. Software Included:
(1) ODI-S 7.11 for Audi, for VW, for Seat, for Skoda, for Bentley, for Lamborghini etc.
(2) ODI-S Engineering Software: V12.1 Version
(3) ETKA 8.2 Multi-language
(4) Elsawin 6.0
2. HDD Size: 320G/500G, SSD Size: 256G/512G
V-AS 5054 For VAG Diagnostic & Programming Interface:
Software Version: ODI-S V 5.1.6 in CD (We may cannot help installation for CD Software)
Support Cat Model: works for VAG all 9 Brands from 1995 to 2020 (for VW, for AUDI, for SEAT, for Skoda, for Lamborghini, for MAN, for VW Nutzfahrzeuge (Commercial vehicles), for Bugatti and for Bentley).
Supported Multi-language: English (GB), English (US), French (FR), German (DE), Spanish (ES), Russian (RU), Greek (GR), Danish (DK), Croatian (HR), Italian (I), Hungarian (HU), Netherlands (NL), Polish (PL), Portugal (PT), Romanian (RO), Slovenian (SLO), Finish (FI), Swedish (SW), Turkish (TR), Czech (CZ), Japanese (JP), Chinese (CN), Korean (KO).
Add new car models Bentley and Lamborghini (If you want CD of Bently and Lamborghini, please leave message when you place the order on our website)
Connection: USB/Bluetooth Version (Bluetooth Connection Password: 082145725)
Computer Windows System Requirements: Windows XP, Win7 professional or ultimate, System C:// have to be NTFS format, need to have at least 10GB space for installing V-AS 5054
getobdtool.com Kindly Note:
V-AS 5054 come with ODI-S 5.1.6 software in CDs, we only offer installation video guide do not offer free installation service.
Customer can choose the latest ODI-S Software HDD installed ready to use. Or order with HDD/SSD Software directly.
V-AS 5054 ODI-S VAG Supported Protocol:
K line (ISO9141-2)
High-speed CAN (ISO 11898-2)
Low-speed CAN (ISO 11898-3)
J1850 (SAE J1850)
UDS Protocol
PWM Protocol
Dell E6430 Configuation:
Model: DELL E6430 
CPU: I5 2520
Memory: 4G

 
V-AS 5054 Specification:
The vehicle protocols are handled directly in the V-AS 5054.
This ensures fast response times and a reliable real-time behavior independently of the PC operating system. Every time a connection is established, the V-AS 5054 software is identified with the version installed on the application PC.
The V-AS 5054 thus automatically adopts any new features provided after a new software version has been installed on the application PC. The diagnostic application and the associated Diagnostic Base System are installed on the application PC.
The diagnostic base system can access the V-AS 5054 via Bluetooth or USB:
Access via Bluetooth: After a connection to the V-AS 5054 has been set up, the Bluetooth software provides a virtual serial COM port (Bluetooth Serial Port Profile). The Diagnostic Base System uses this COM port to communicate with the V-AS 5054.You need to specify this port when you install the diagnostic application.
Access via USB: You can also connect the V-AS 5054 to the application PC by using the supplied USB cable. Windows detects the V-AS 5054 through Plug and Play, and automatically installs the drivers copied when you installed the diagnostic application. Setup of the V-AS 5054 is then complete and the device is ready for use by the diagnostic application.
VAS 5-054 ODI-S Software V7.11 Display: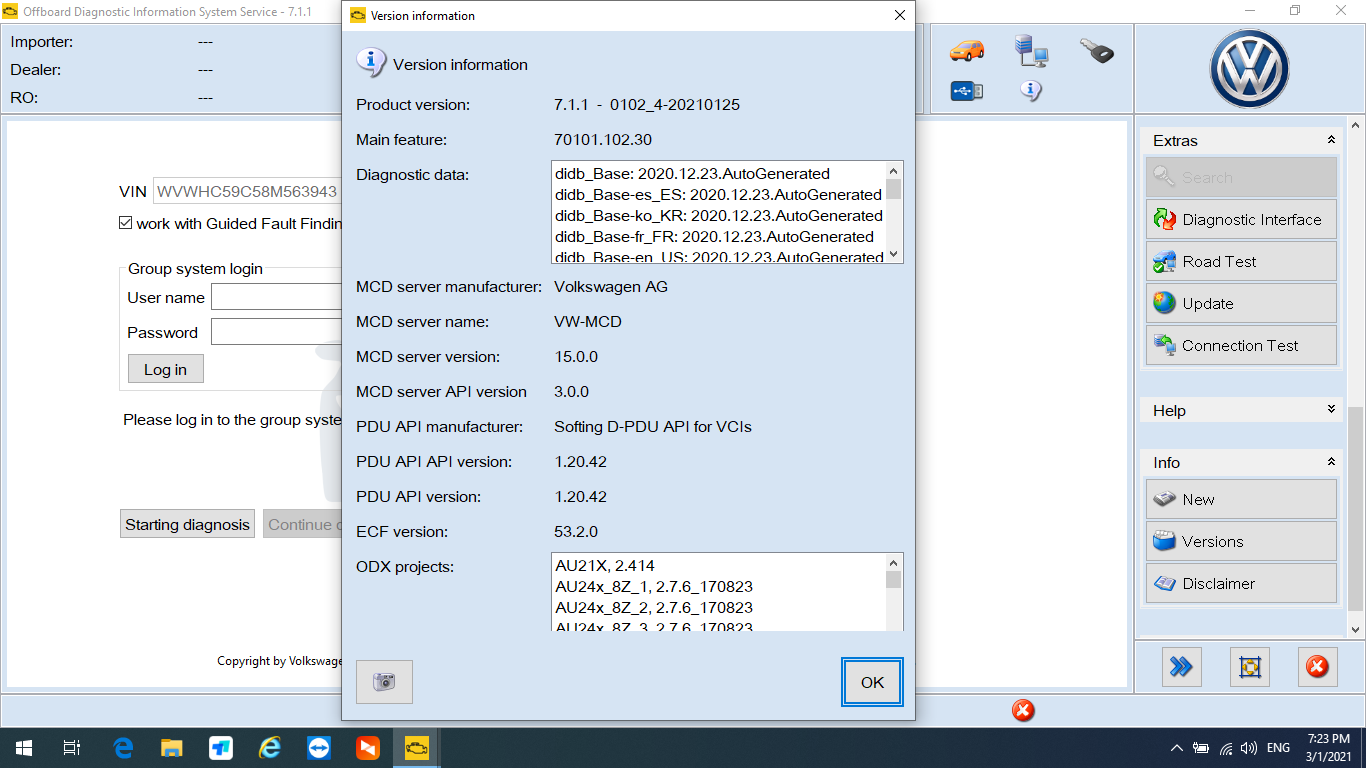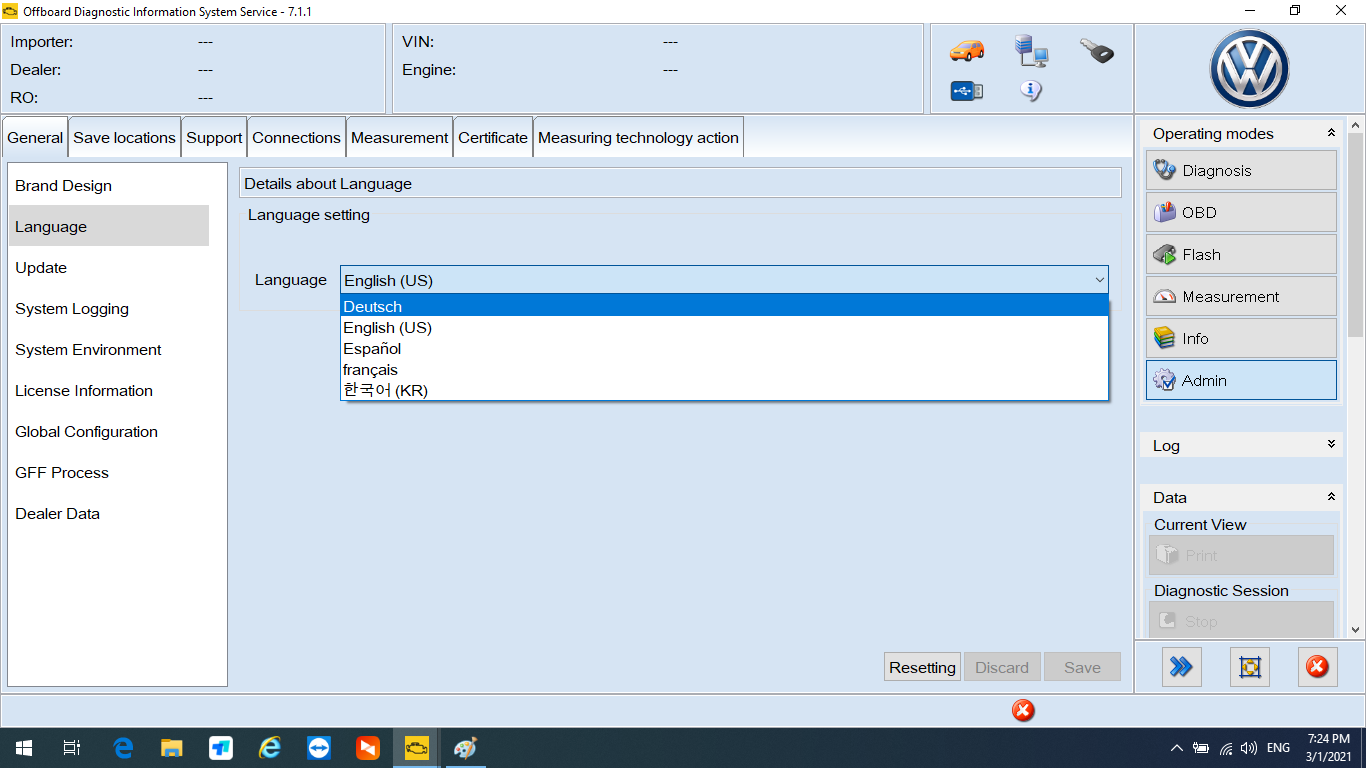 V-AS 5054 PCB Board Display:
Package List:
1 x V-AS 5054 main unit
1 x USB Cable
1 x USB Bluetooth adapter
4 x CD (odi-s 5.1.6 included)
Contact Information
Whatsapp: +86 136 1282 7578
Email: info@getobdtool.com
Skype: getobdtool