V-AS 6154 Driver VAG Interface With Lenovo T420 Laptop installed ODI-S Software 256G SSD Full Set Completed Ready to use. 
V-AS 6154 is professional VAG (for VW, for Audi, for Skoda) diagnostic tool, with OKI chip, support UDS Protocol, support WiFi and USB connection.
V-AS 6154 Driver Wifi Diagnostic Tool Highlights
1. Multi-language: English, Japanese, Portuguese, Romanian, Korean, Dutch, Polish, Turkish, Spanish, French, Italian, Croatian, Danish, German, Swedish, Finnish, Slovenian, Czech, Russian, Greek, Chinese
2. Latest software version: V7.11 (HDD/SSD)
 Software Included:
(1) ODI-S V7.11 includes: Audi, Skoda, FAW-Volkswagen, Volkswagen, Shanghai Volkswagen, Volkswagen Commercial, Bugatti, Lamborghini, SEAT, MAN, Bentley, V CDS 20.12

(2) ODI-S Engineer Software: V12.1 Version 

(3) ETKA 8.2, data updated to 2021.3

(4) Elsawin 6.0, support VW, Audi, data updated to 2016.1

(5) V CDS V20.12, need to work with V-CDS cable or V-CDS Hex-V2
3. Operating system: V-as 6154 works perfect with windows 10 system​.
4. Support WIFI & USB Connection: With wireless communication technology, can achieve wireless communication of the vehicle and diagnostic interface
5. Support for VW for Audi for Skoda vehicles from 2000 onward including NEW & FUTURE MODLES under production.
6. With OKI Chip, support UDS protocol
7. This V-AS 6154 Interface is the latest interface for the diagnostic and programming applications VAG ODI-S (Service) and ODI-S-E (Engineering), it replaces the V-AS 5054.
8. Lenovo T420 Laptop Details: 
CPU: i5/2524
RAM: 4G
Harddisk: 256G ODI-S SSD
Note: Laptop is used one without logo, not brand new. If you need logo, please contact our sales to confirm.
9. ODI-S software is support online coding, if you need VAG online account, please click the picture
10.  If you need V-AS 6154 hardware only or with ODI-S software , you can click the picture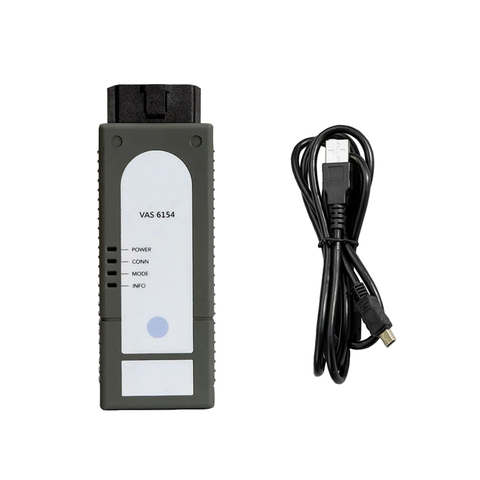 V-AS 6154 New Functions:
Estimated remaining times are shown for ECU flash operations.
Diagnostic protocol contains interruptions of GFF sessions, extended measurement values, improved ECU communication view, used diagnostic hardware, connection type of diagnostic hardware, operating system, the hotfix used and submissions of support requests
The measured value display has been improved.
Documents in GFF are displayed in separate windows.
One message box will be shown at the beginning of the test drive mode.
GFF hotfixes can be integrated during diagnostic sessions.
Danger messages have been revised.
Stopping of diagnostic sessions may be interrupted.
Automatic deletion of autosave diagnostic protocols after successful transmission.
Selection of PassThru diagnostic hardware has been improved.
ODI-S Service Software update has been stabilized
Support UDS Protocol
Support Car Vehicle 
Support all  for VW for Audi for Skoda vehicles from 2000 onward including NEW & FUTURE MODLES under production.
The following countries can use both WIFI & USB Connection:
Australia, Bosnia, Herzegovina, Brazil, Canada, Switzerland, Cyprus, Czech, Danmark, Estonia, Finland, Greece, Hongkong, Israel, India, Ireland, Italy, Lativia, Mexico, Netherland, New Zealand, Poland, Russia, Argentina, Korea, Singapore, Slovenia, Turkish, Ukraine, UAE, United States, United Kindom.
V-AS 6154 PCB Display
Package Includes:
1pc x V-AS 6154 Diagnostic interface
1pc x USB cable
1pc x ODI-S 256G SSD Software
1pc 
x Lenovo T420 i5 4G laptop (Used laptop, not brand new)
Contact Information
Whatsapp: +86 136 1282 7578
Email: info@getobdtool.com
Skype: getobdtool