XTOOL A80 Pro Master with VCI Programmer J2534 supports KC501 KS01 OBD2 PK 908P
A80 Pro Master is the latest car diagnostic platform made for technicians.

It is an 8 inch industrial capacitive touch screen tablet with 2G RAM and 64G built-in memory.

By adding DC / Type-C / VGA data transfer ports, it makes data transfer and image mapping more convenient and faster.

A80 Pro Master supports 14 kinds of languages: English, Simplified Chinese, Traditional Chinese, Spanish, French, German, Polish, Italian, Japanese, Korean, Arabic, Portuguese, Turkish, Russian

After receiving the product, please tell us your machine SN to activate the language you need.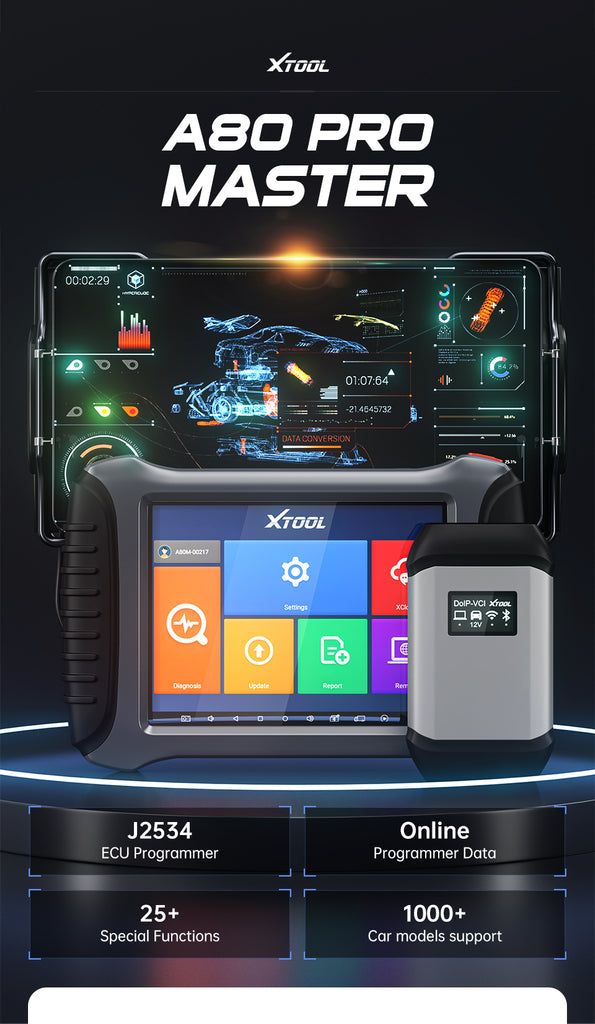 The diagnostic tool comes with a free J2534 ECU programmer device that helps Benz, ForBMW, VW, Audi, Land Rover, for Ford ....

Users replace existing software / firmware on the ECU, program new ECUs and fix problems driving performance and emission control software.

J2534 ECU Programming Tool (also used as VCI Box) which is SAE J2534-1 & -2 compliant reprogramming interface device.

Using updated OEM software, it can help users to replace existing software / firmware in Electronic Control Units (ECU), program New ECU, and troubleshoot software controlled drivability and emission issues.

It supports BT and USB communications and can transmit vehicle data to the A80PRO master display tablet with a physical connection.

The coding function is used to re-flash the vehicle's control modules, allowing you to update the computer software in the vehicle to the latest version, as well as to reprogram the adaptation data of certain components, providing ways for problems drivability, fuel efficiency, energy loss, fault codes, durability of mechanical parts.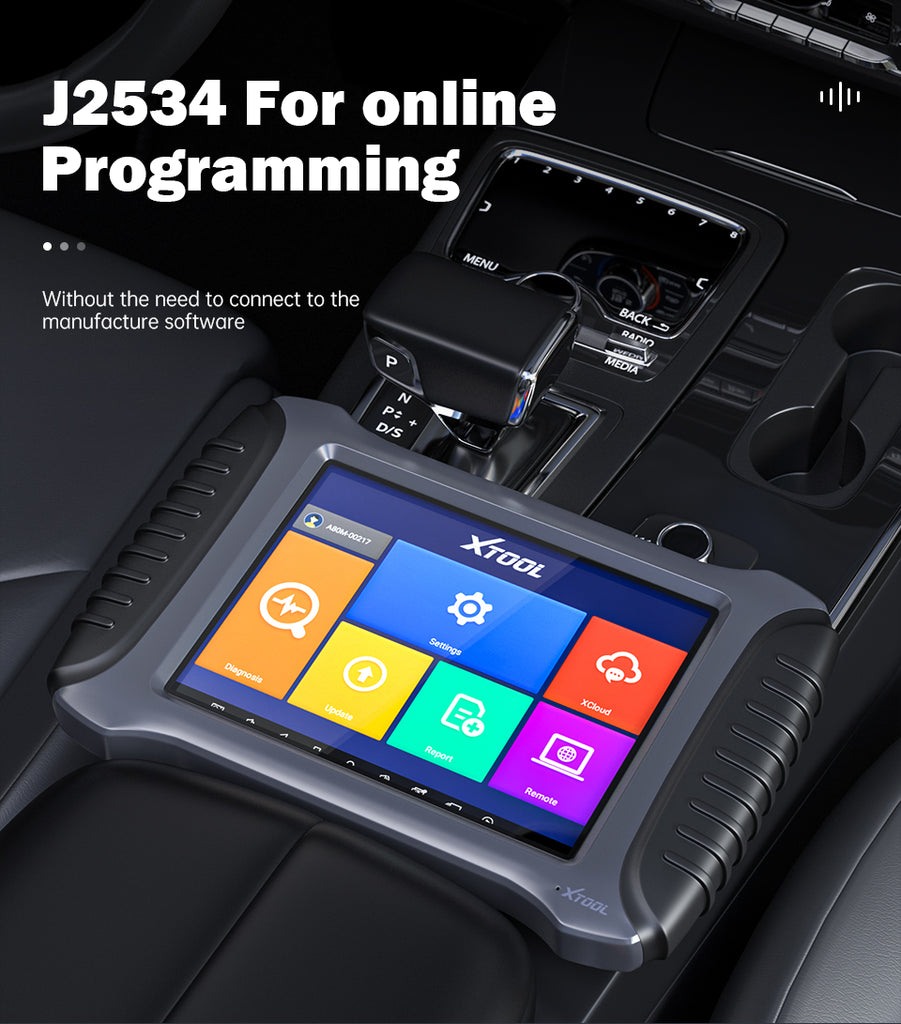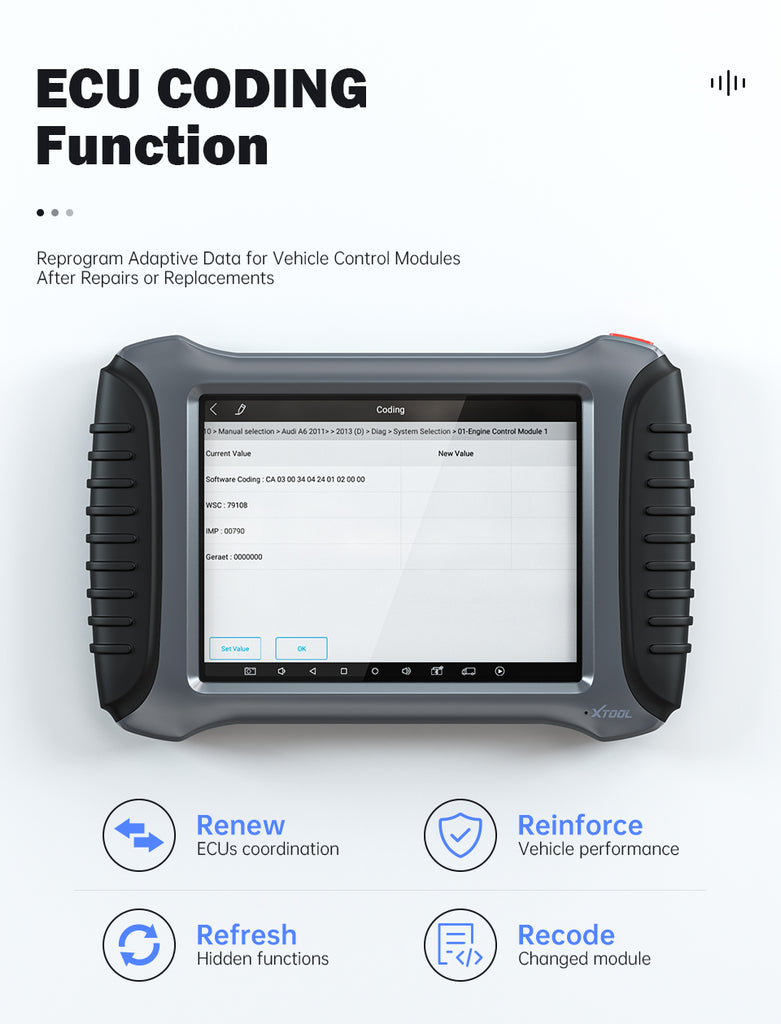 Complete diagnostic systems
Simply access diagnostic modes through AutoVin or Control Unit, and you can perform a diagnostic on all vehicle ECU systems to locate fault systems and retrieve DTCs.

ECU Information: Provides the retrieved ECU information in detail.Read Codes - displays detailed information from DTC records retrieved from the vehicle's control module.

Clear Codes - clears DTC records and other data from the ECM.

Live Data: Retrieves and displays the live data and parameters from the vehicle's ECU.

Test asset
The process of sending and retrieving information from a vehicle control module with a device is known as actuation test or bidirectional control.

The main purpose of the drive test function is to request the control module to perform a specific function that includes system tests, actuator tests, functional tests, inspection tests, reprogramming or resetting, thus saving diagnostic time.

For example: plugging in a fuel pressure gauge, cycling the key and cranking the engine, but nothing could be found regarding fuel pressure.

With the drive test function of this diagnostic tool, you can send a fuel pump command with instructions and see the proper fuel pressure, find out if there is a problem with the fuel pump or circuit.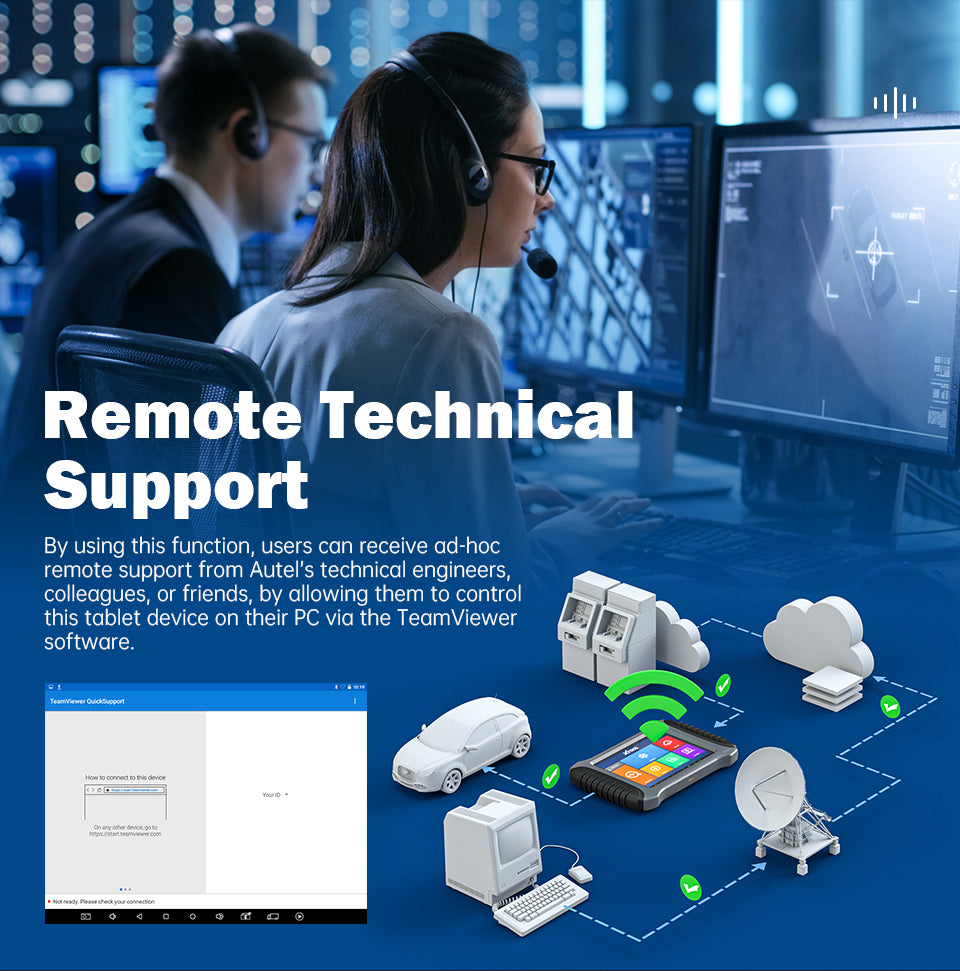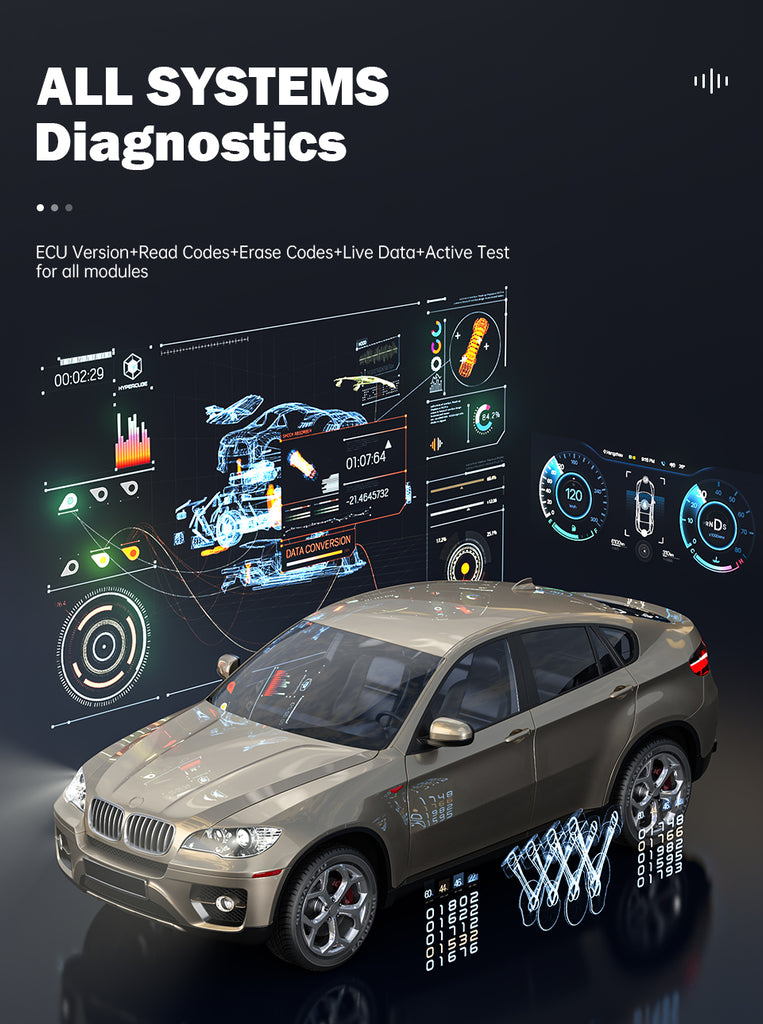 25 service functions for various scheduled services and maintenance performances including: Oil Reset, EPB, TPMS, BMS, Brake Bleed, DPF, Immo Keys, Injector, SAS, Suspension, Throttle, WIN DR ROOF, Seats, Change Lang, Headlight, CHG tire size, TEC Learning, ABS / SRS, Cylinder, Turbocharge, Limit, Clutch, Trans adaptation, Airbag reset.

Provides component matching or assorted coding functions for custom configurations, and also allows you to reprogram the matching values for certain components after making repairs.
The most commonly performed service functions include:

Oil reset service: Allows you to reset the engine oil life system, which calculates an optimal oil life change interval depending on the vehicle's driving conditions and weather.

EPB service: Helps to maintain the electronic braking system safely and effectively to deactivate and activate the brake control system ...

help with brake fluid control opening and closing of the brake pads and adjusting the brakes after disc or replacement?

SAS service: Allows you to perform the Steering Angle Sensor calibration, which permanently stores the current steering wheel position as the straight position in the Steering Angle Sensor EEPROM.

The DPF Service: It allows you to carry out numerous functions in the diesel particulate filter system.

TPMS Service - Allows you to quickly search for tire sensor IDs from the vehicle's ECU, as well as perform TPMS programming and reset procedures after replacing tire sensors.

IMMO service: Program a new anti-theft key and perform a key match when the ignition switch, combination instrument panel, ECU, BCM or remote control battery is replaced.

And many more…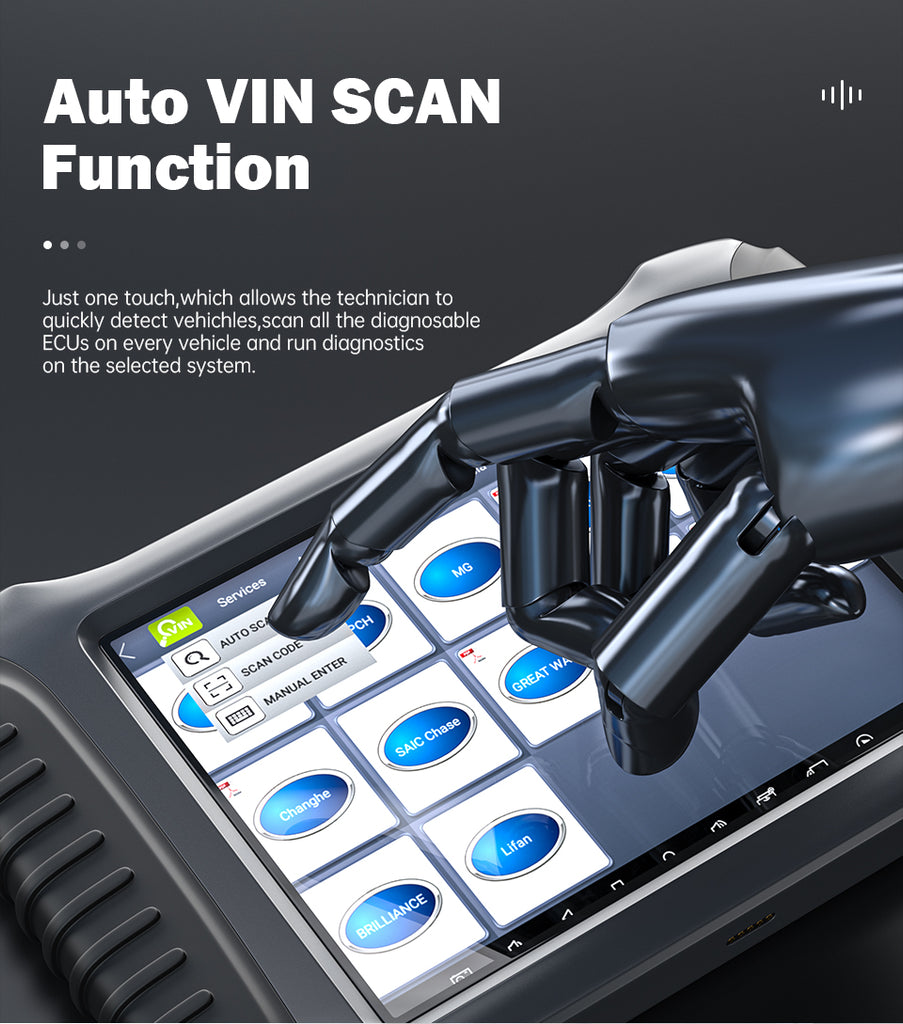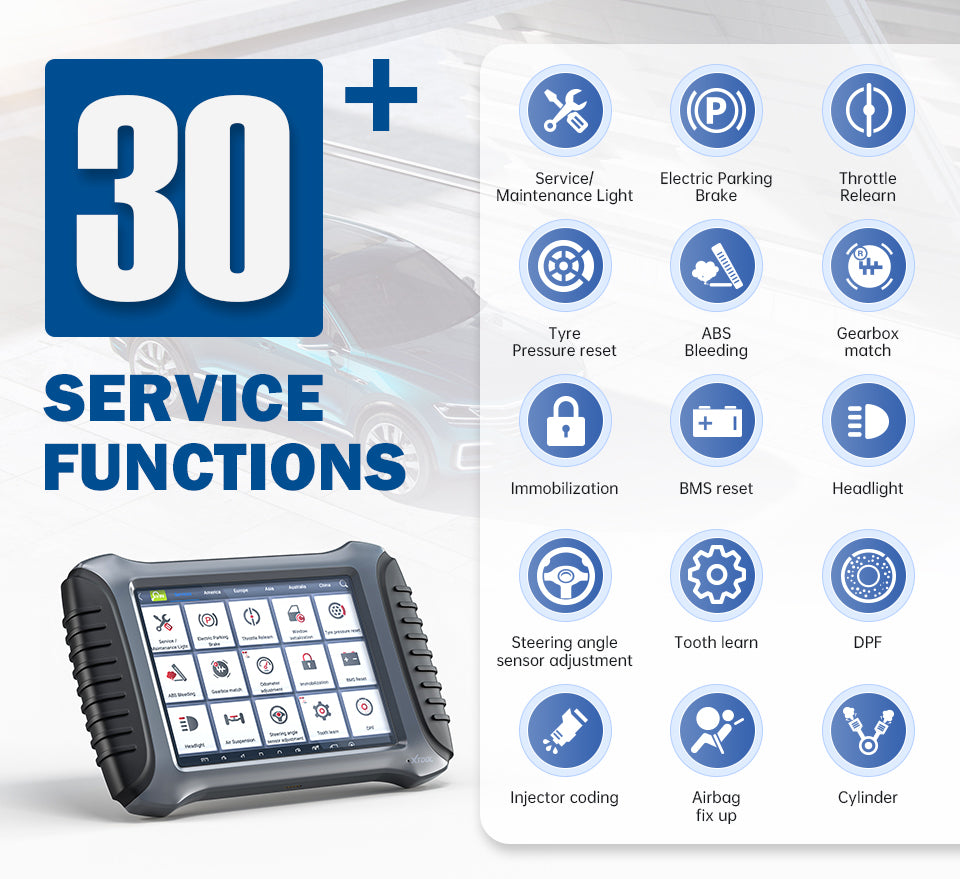 1. DC port: Provides 12V DC power supply.

2. USB port: provides data communication and 5V DC power supply. (The USB type B port provides dataCommunication and power supply for our device, PC and KC501.)

3. Pin 26 DB port: connect with Mercedes Benz infrared cable, ECU cable, MCU cable, MC9S12 cable.

4. Cross signal pins: Holds the MCU board, MCU replacement cable or DIY signal interface. (The signal pin in the shape of a cross isIt is used to put the MCU board, MCU replacement cable or DIY signal cable to read or write MCU and ECU chips.)

5. Locker: Locks the transponder slot of the EEPROM component to ensure proper operation. (Used to place EEPROMChip or socket to read or write EEPROM data.)6. Component EEPROM transponder slot: Holds the EEPROM plug-in transponder or EEPROM plug.

7. Status LED - Indicates the current operating status.

8. IC card induction zone (used to read and write IC card data).

9. Display screen (used to display remote frequency or transponder ID).

10. Remote frequency button (Press this button to show remote frequency on the display screen).

11 Transponder ID button (press this button to show transponder ID on the display screen).

12 Transponder slot: holds the transponder. (It is used to hold the transponder to read or write transponder data).

13 Vehicle Key Slot - Holds the vehicle key. (Used to hold the vehicle key to read or write vehicle key data.)

14 Remote Control transponder induction area (used to read and write remote control transponder data).

15 Mercedes infrared key slot: Holds the Mercedes infrared key. (Used to keep the Mercedes infrared key to read orWrite the data of the Mercedes vehicle key.)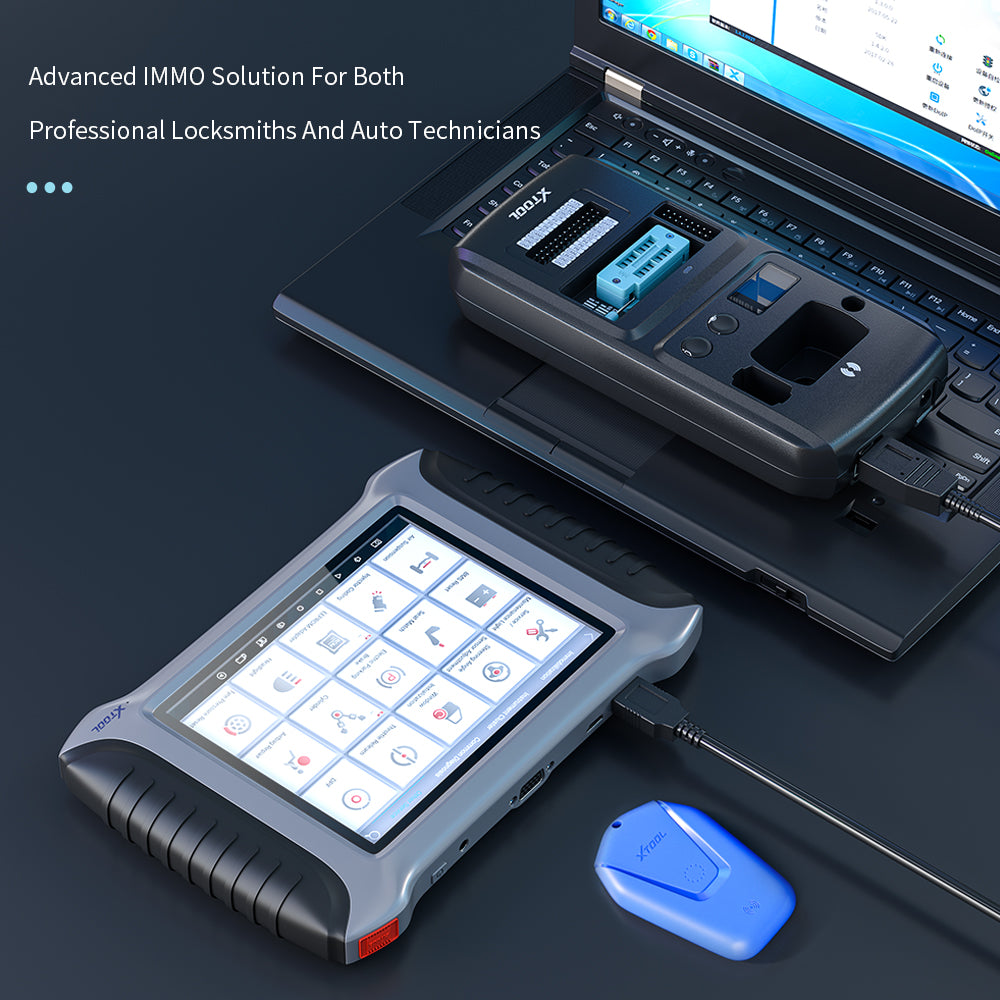 KS-1 emulator features:
(Not Included in this package!!!)
1.For Toyota / Lexus key lost without disassembly

2. Support for Toyota / Lexus and disassembled all lost, read the original OBD car data to generate the emergency simulation key, directly drive the car without disassembly, smart and efficient

3. Intelligently generate new keys

4.Through reading the original car data, a smart key is generated, which can work according to the process of adding a key, supporting the generation, copying, and key chip simulation functions.

5 more cars

6. Compatible with a-yot-a 94 / D4, 98, 39, 88 / A8, A9 all lost type smart keys, the matching speed is fast.

7 reusableAfter pairing the key, please turn off the power or remove the battery to restore the initial state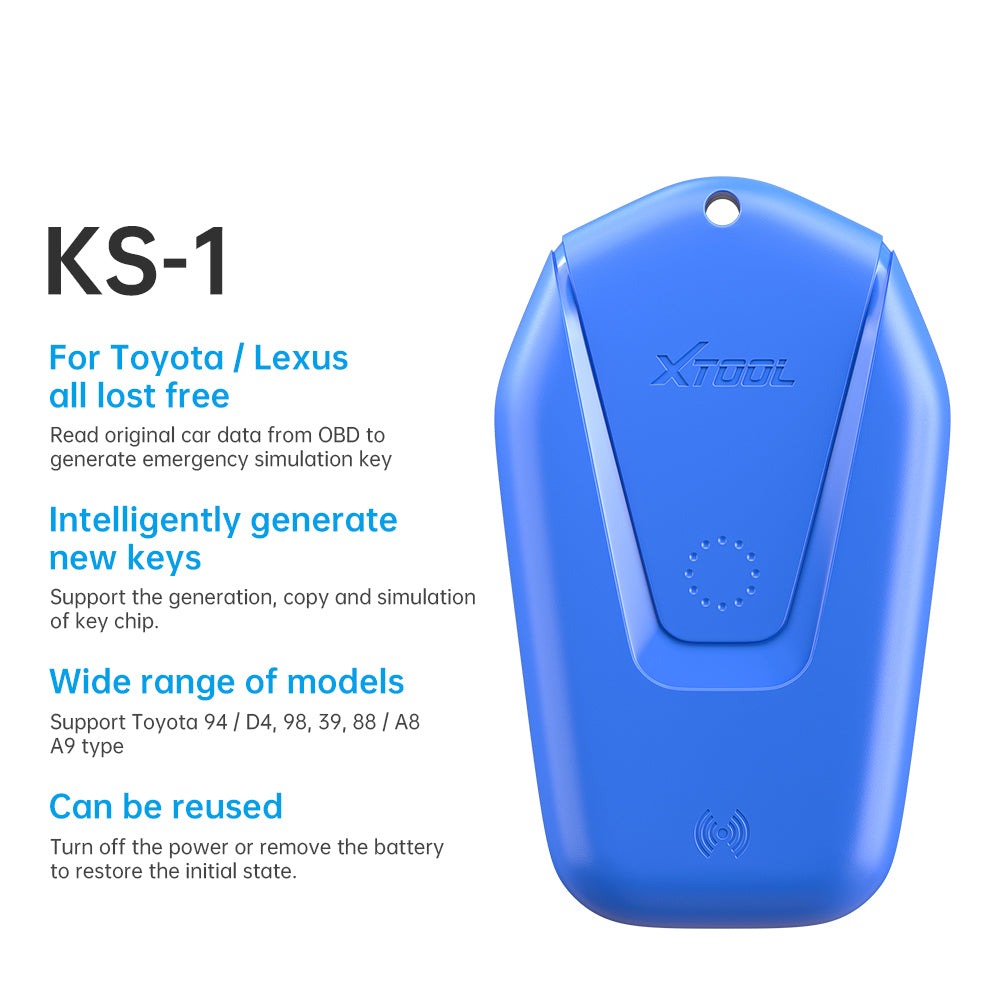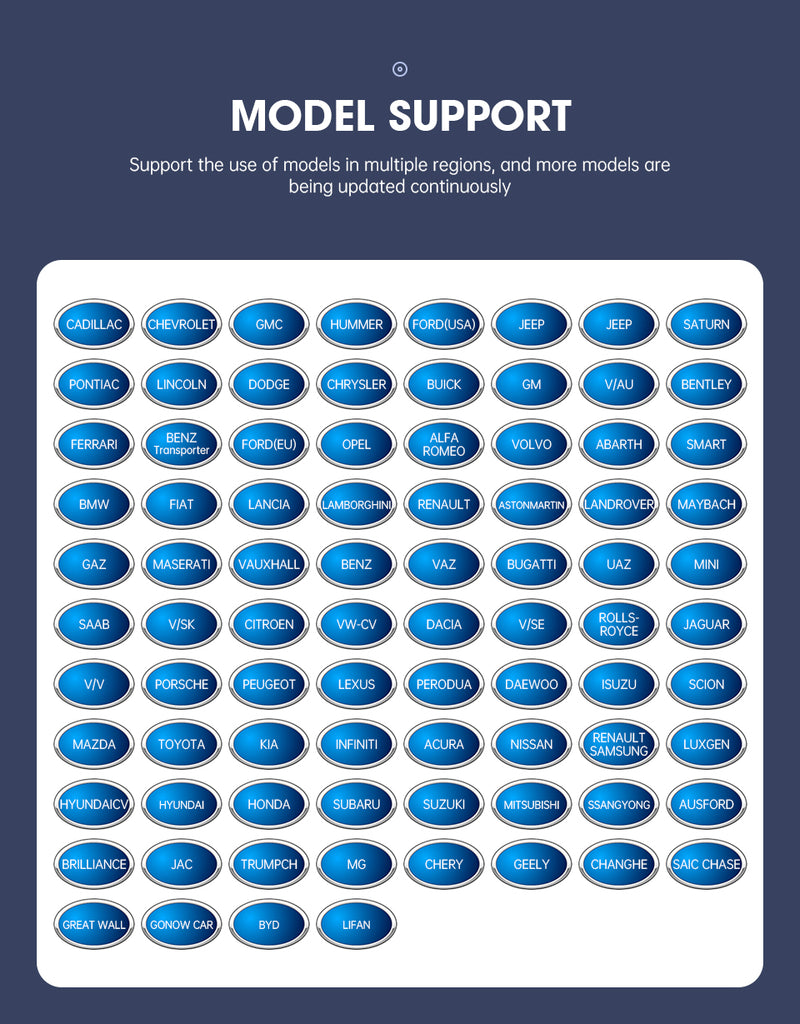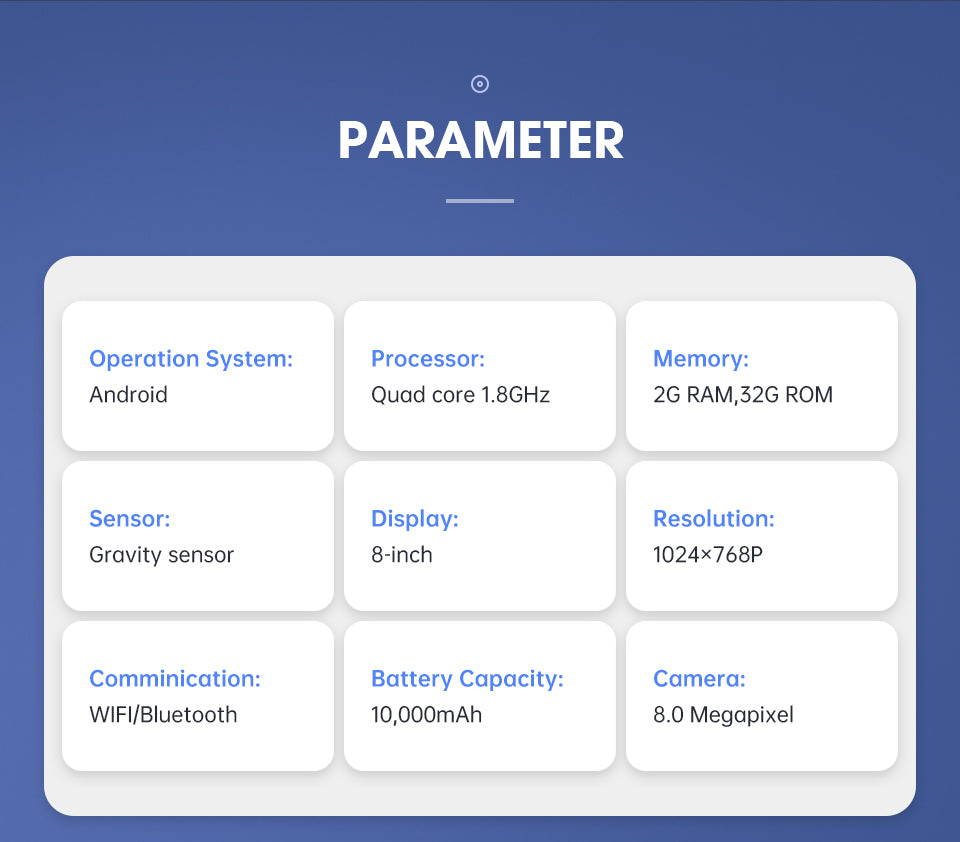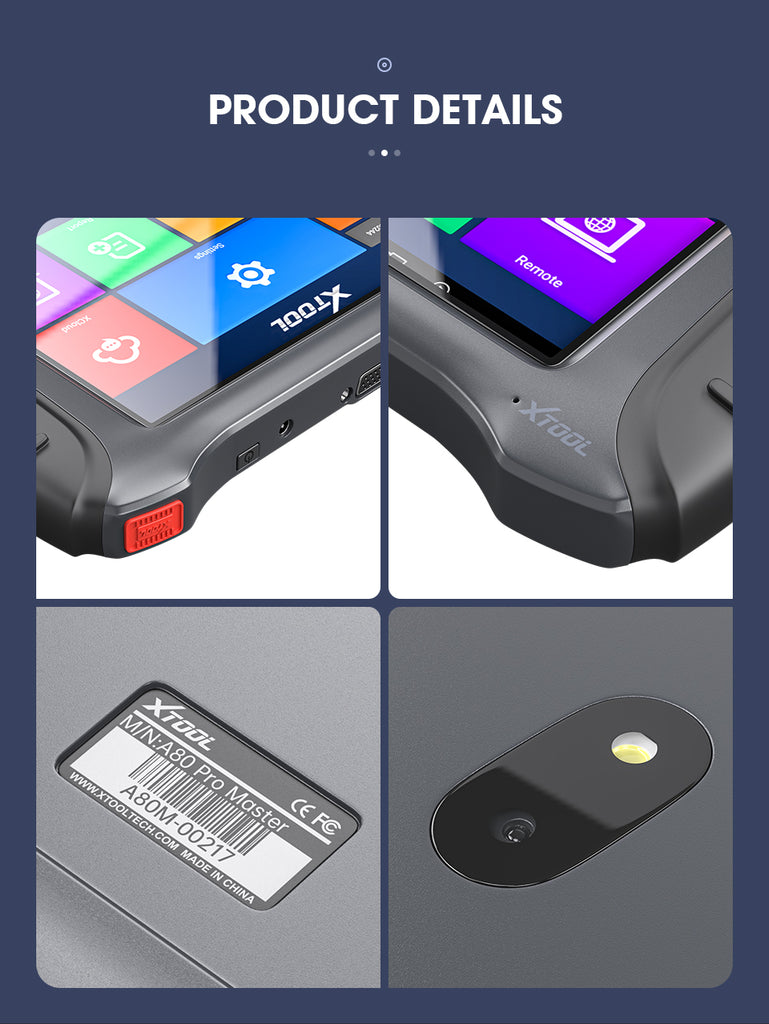 Packing list: 
1PC X A80 Pro Naster

1PC X VCI+

1PC X Glue Box

1PC X Paper Box

1PC X OBDII-16

1PC X KIA/HYUNDAI-10

1PC X Main cable

1PC X FIAT-3

1PC X UnNIVERSAL-3

1PC X TOYOTA-17

1PC X BMW-20

1PC X OBDll+USB Cable

1PC X HAIMA-17+2

1PC X HONDA-3

1PC X DB9 to USB3.O

1PC X Battery cable

1PC X KIA-20

1PC X MITSUBISHI 12+16

1PC X QINGLING-3

1PC X USB cable

1PC X Cigar lighter cable

1PC X Charger cable

1PC X Power cable US

1PC X User Manual

1PC X Packing List