XTOOL KS-1 Smart Key Emulator for Toyota Lexus All Keys Lost No Need Disassembly Work with X100 PAD2/PAD3.
Xtool KS-1 Description:
KS-1 The five-in-one simulation card can eliminate the need to disassemble the smart box and other modules.
As long as the original car data is read from the OBD to generate the simulation card, the ignition switch can be turned on to realize the function of clearing and adding the smart key.
Xtool KS-1 supports Toyota / Lexus all keys no need disassembly, five-in-one simulation card for generating keys.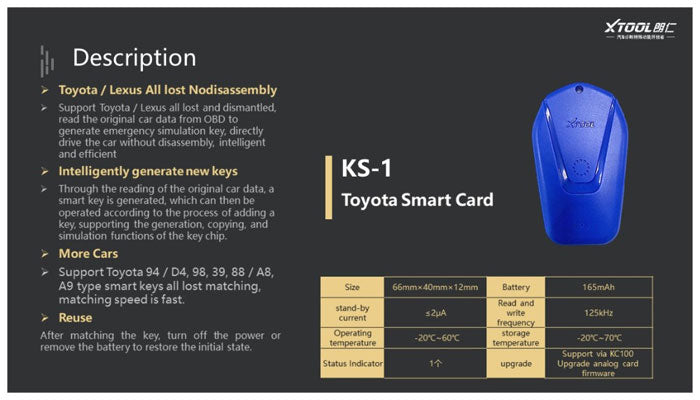 Compatible Tools:
XTOOL X100 PAD2 (need buy kc100)
Xtool A80 (need buy kc100)
Xtool PS90 (need buy kc100)
H6 (need buy kc100)
Xtool X100 PAD3
X100 PAD Elite (need buy kc100)
Xtool KS-1 Features:
1.Toyota/Lexus All Lost No Need Disassembly

2. Support Toyota/Lexus all key lost and dismantled,read the original car data from OBD to generate emergency simulation key,directly drive the car without disassemble, intelligent and efficient
3. Intelligently Generate New Keys
4. Through reading of the original car data, a smart key is generated, which can be operated according to the process of adding a key.
Supporting generation,copying and simulation functions of the key chip 
5. More Cars
Support Toyota 94 / D4, 98, 39, 88 / A8, A9 type smart key all-key-lost matching. Matching speed is fast
6. Reuse
After matching the key, turn off the power or remove the battery to restore the initial state

Xtool KS-1 Key Type Support List: (Keep Updating)
No. Vehicle     Year          Key Type     Support or Not        Remarks
1.    RAV4       2015           88                Yes
2.    Alphard   2013           94                Yes
3.    Alphard   2015           A9                Yes
4.    Previa      2008           94                Yes
5.    Crown     2010           98                Yes
6.    Crown     2015           A8                Yes
7.    Crown     2016           A8                No                          After 2016,Toyota Crown is not supported
8.    Prado      2011           98                Yes
9.    Previa      2013           94                Yes
10.  Reiz         2011           98                Yes
11.  Innova                        39                Yes                          The car is being tested for the Indian Tango
Xtool KS-1 Specifications:
Parameter Index
Battery CR2025 3V 165mAh
Standby current Standby current≤2μA
Reading and writing frequency 125kHz
Status Indicator Lamp 1pc (mode: turn on and light up for 2s and then extinguish; Flicker, flash, 0.5s/ time when writing or reading)
Update The simulation card firmware can be updated with KC100
Working temperature -20℃~60℃
Storage temperature -20℃~70℃
Structure size 66mm*40mm*12mm
Package List
1pc x KS-1 Emulator
Contact Information
Whatsapp: +86 136 1282 7578
Email: info@getobdtool.com
Skype: getobdtool