Modern automotive diagnostics have come a long way, thanks to advanced tools and technologies. In this blog, we will explore the process of diagnosing a SIMOS 6.3 Engine Control Unit (ECU) using two powerful tools - the Launch X431 V Pro and the Godiag GT100+. These tools combined provide a comprehensive solution for diagnosing and troubleshooting vehicle issues. We will guide you through the steps involved in connecting the tools and performing essential diagnostics on the SIMOS 6.3 ECU.
Tools Required:
SIMOS 6.3 ECU
Steps for Diagnosing SIMOS 6.3 ECU:
Prepare Your Tools: Before you begin the diagnostic process, make sure you have your Launch X431 V Pro, Godiag GT100+, and the SIMOS 6.3 ECU ready for use. Please contact We GETOBDTOOL team if you have any questions about the tools.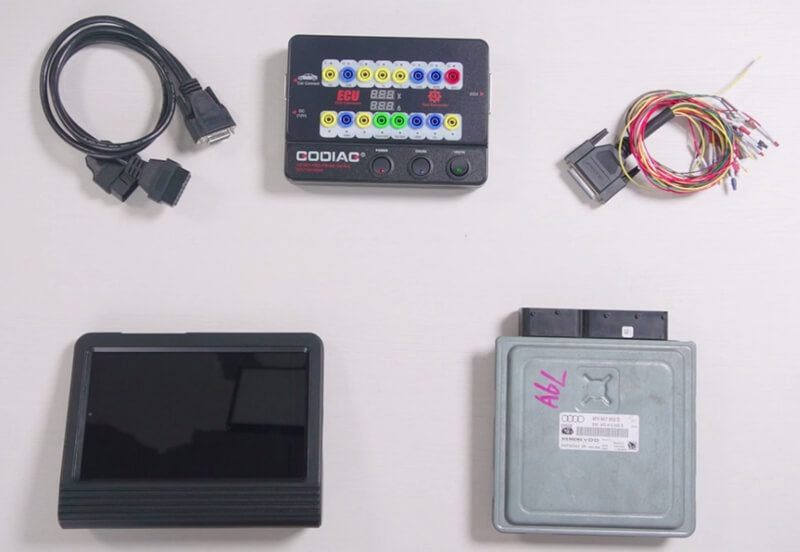 Connect the GT100 Plus and Launch X431 V Pro VCI:
Begin by connecting the Godiag GT100+ to the Launch X431 V Pro Vehicle Communication Interface (VCI). This connection is essential to ensure proper communication with the ECU.
Connect the ECU According to the Wiring Diagram:
Refer to the wiring diagram specific to your vehicle and SIMOS 6.3 ECU to ensure correct connections. This step is crucial for establishing a secure link with the ECU.
Connect the Power Supply: Connect the power supply to the SIMOS 6.3 ECU. Proper power supply is essential to maintain stable communication during the diagnostic process.
Access the Launch X431 V Pro Software:
Power on the Launch X431 V Pro and navigate to the relevant diagnostic software for your vehicle.
Perform Diagnostics:
Once you've accessed the software, follow these steps for diagnosing the SIMOS 6.3 ECU:
Click "Local Diagnose"
This initiates the local diagnostic process for your vehicle.
Read I/M Readiness (Model $01):
I/M readiness is essential for determining the status of your vehicle's emissions systems.
Read Live Data (Model $01):
Accessing live data provides real-time information about the ECU and its sensors, helping you pinpoint issues.
Read Fault Code (Model $03/07/0A):
Identifying and reading fault codes is crucial for understanding the specific issues your vehicle may be facing.
Read Vehicle Information (Model 09):
Gathering vehicle information helps you tailor the diagnostic process to your specific make and model.
Click EU OBFCM:
Depending on the diagnostic software, you may need to select the EU OBFCM option to access certain ECU functions.
Click Clear Fault Code (Model 04):
If fault codes are detected, clearing them is the final step in the diagnostic process.
Completion:
After following these steps, the Launch X431 V Pro and Godiag GT100+ should have successfully diagnosed the SIMOS 6.3 ECU. If any Diagnostic Trouble Codes (DTCs) were detected, they will be cleared, and you will have a clearer understanding of your vehicle's condition.
Conclusion:
Diagnosing a SIMOS 6.3 ECU using the Launch X431 V Pro and Godiag GT100+ is a straightforward process when you follow these steps. These advanced diagnostic tools ensure that you can effectively identify and clear fault codes, helping you keep your vehicle running smoothly and efficiently. Whether you are a professional mechanic or an automotive enthusiast, having access to these tools can make your vehicle diagnostics more precise and hassle-free.
Contact Us
Whatsapp:+86 136 1282 7578
Email: info@getobdtool.com
Skype: getobdtool